This is the latest contribution to our media watchdog series on the Best and Worst International Reporting on Rio's favelas, part of RioOnWatch's ongoing conversation on the media narrative and media portrayal surrounding favelas.
After a seven-year crescendo of English-language coverage of Rio de Janeiro's favelas building towards the 2016 Olympics, perhaps the most noticeable aspect of favela coverage in 2017 was the sharp drop in quantity. The demand for Rio news from international news desks has diminished, and many of the foreign correspondents and freelancers who moved to the city ahead of the mega-events have since left. In this context, there are worrying signs of a return to trends in which the majority of international favela coverage is reactive reporting on incidents of violence. This kind of coverage is not always the explicitly stigmatizing, inaccurate journalism that we typically feature in our worst reporting analyses, but a disproportionate emphasis on violence is still an insidious form of stigmatization.
For this reason, our take on this year's reporting starts with a general analysis of the coverage that exploded around an outbreak of violence in Rocinha, before deconstructing a few of the worst examples of favela reporting and celebrating some of the year's best. Compared to 2013 when we struggled to identify a clear cohort of excellent favela coverage to highlight, 2017 brought a number of pieces that stood out for originality, in-depth analysis, and stigma-busting content, and offer some hope for global favela coverage going forward.
Spotlight on Rocinha
With the deployment of the army to Rocinha on September 22 after five days of shootouts, texts and images by AFP, the AP, and Reuters were picked up and republished by publications from around the globe. The death of a Spanish tourist at the hands of police in October received similar attention, as did the recent capture of a trafficker tied to the Rocinha power dispute. The Google alerts we monitor showed how each chapter in this story reverberated for weeks across seemingly countless websites. The vast majority of these platforms had not published anything else about favelas this year, leaving their readers with images of favelas centered on drug traffickers' violence and dangers for tourists.
On the positive side, AFP, the AP, and Reuters largely avoided the tired descriptive clichés that we have criticized in past analyses. In fact, Reuters reported that "the tight-knit neighborhoods are home mostly to working class people, but have suffered from decades of being ignored by the government, creating vacuums filled by gangs." While Reuters and the AP used the inaccurate translation of 'slum' for 'favela,' AFP managed to avoid problematic terms, by instead describing Rocinha as a "built-up community" and "a teeming collection of small houses on steep hillsides."
However, none of these three wire reports mentioned concerns about the use of armed forces to occupy, even temporarily, a neighborhood that has already struggled with police brutality and violence. And across other international coverage, journalists reported that the military "restored order" and got the favela "back under control," without acknowledging many favela activists' critique that tanks position residents as an 'enemy' population, "[serving] for everything except to protect the resident," as one Rocinha resident wrote in September. Also missing from most English-language reports was an acknowledgement that the government and media reactions to shootouts in favelas outside the South Zone are considerably more muted. All these concerns were raised by favela residents on social media but residents' perspectives have, in general, been sorely missing from most international coverage of the recent months' events in Rocinha. This trend must change, as the inclusion of favela voices in the public security debate is essential for the development of more productive policies.
Finally, across the Rocinha coverage, we've noticed inaccurate translations for 'favela' like 'shantytown' in this NPR report and 'slum' in this Wall Street Journal article are creeping back into use in publications that had previously abandoned them. Prior to the Olympics, for instance, the Wall Street Journal adopted the phrase—"working-class neighborhoods known as favelas"—which we highlighted as a good example of how to translate 'favela' for English-language audiences.
Worst Reporting
The truly worst reporting on favelas this year was mainly limited to publications from which we have come to expect nothing else. The Sun used this year's conflicts in Rocinha to randomly reference a celebrity, recalling how UK TV personality Joey Essex "thought [he] was going to die" when he visited Rocinha in 2014. "His fears have been proved well-founded after yesterday's massive military operation," the journalist writes, casually disregarding the passing of time and the fact that September's shootouts didn't represent conditions in Rocinha for most of this year, much less the situation in 2014 when security was generally stable in South Zone favelas.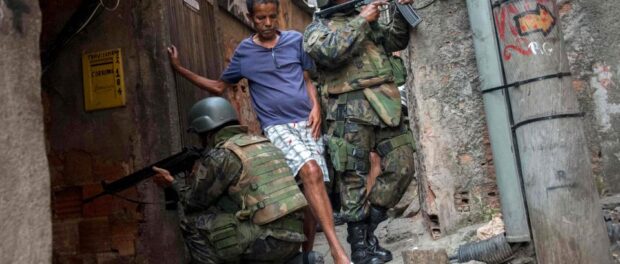 A number of publications took note when Madonna received criticism on social media for posing for a photo with heavily armed police in Providência. But the Daily Mail outdid the rest by mistakenly identifying the favela as Rocinha, and accordingly claiming Madonna had visited the same favela where a Spanish tourist had just been killed and where the army was deployed the month prior. The mix-up of two of Rio's most famous favelas reflects a disregard for the diversity of Rio's favelas, which paves the way for the logical fallacy that if there is violence in one favela, other favelas must be violent too.
High Times managed to report on the right favela but the wrong part of the city, implying all favelas are in "the north of the city." The article labels Rocinha as "the most notoriously violent of Rio de Janeiro's favelas," which seems to be a label some reporters will apply to whatever favela they happen to be writing about that day. The author states that "the cocaine trade is virtually the only economy" in Rocinha and its neighboring favelas–this about a community that boasts 6529 businesses. Anyone who visits a favela knows such a claim to be false: the wide range of businesses on display contribute to the R$38.6 billion in commercial activity that Brazil's favelas are estimated to generate each year.
Best Reporting
AFP's innovative multimedia report, "Stray Bullets—Violence and Broken Lives in Rio de Janeiro," features video interviews with the family members of six victims killed by stray bullets, and with two individuals who were injured. The videos are beautifully shot, focused closely on the speakers as they speak openly about their pain and loss. The narratives capture emotional complexity, such as that of the police officer who hasn't felt pride in his profession since his two-year-old daughter was killed but who wants to return to the job to "defend society as best as possible." The project also contextualizes these individual stories with data on shootings, injuries, and deaths in the neighborhoods of the featured families as well as across Rio. Although the claim that "clashes between police and heavily armed drug traffickers can erupt across Rio de Janeiro anytime and anywhere" risks minimizing the spatial concentration of violence that disproportionately threatens poor, predominantly black communities, this report is a productive and moving spotlight on urban violence.
Jo Griffin's article titled "One man, one city, three evictions: the human cost of Rio's growth" and the accompanying video explore the phenomenon of evictions over the decades in Rio through the lens of one man's story. Produced for Place, a Thomas Reuters Foundation initiative, the piece focuses on Altair Guimarães who was forced to move by the government in 1969 from Ilha Dos Caiçaras (in the South Zone), in the early 1990s from City of God, and finally in 2015 from Vila Autódromo. Apart from telling a tumultuous human story, this article underscores that the recent wave of evictions ahead of the Olympics must be understood in the context of the historical pattern of favela removals when the City wants to clear land for development. It is also important historical context to emphasize in light of the current eviction threats facing low-income communities.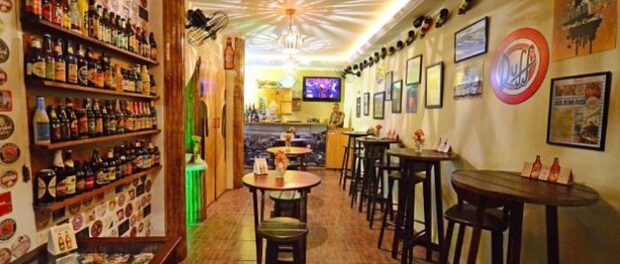 Americas Quarterly has stood out this year for consistently high-quality and original coverage pertaining to Rio's favelas. Soledad Dominguez's profile of MC Martina from Complexo do Alemão acknowledges "the racism, the violence, the inequality" she confronts on a daily basis, but contrasts them with the pride the 19-year-old rapper feels towards her community, leaving readers with a realistically complex notion of the neighborhood. Jill Langlois' feature on Bistrô Estação R&R, a bar selling artisanal beer in Alemão, is jam-packed with stigma-busting content. "I always say that people who are poor, black and favelada are born entrepreneurs," one of the bar's owners states in the article.
A regular on our best reporting list, The Guardian's 'View from the Rio Favelas' series by favela-based authors returned for the one-year-since-the-Games milestone with analyses of Rio's Olympic legacy by three favela journalists: Daiene Mendes from Complexo do Alemão, Thais Cavalcante from Complexo da Maré, and Michel Silva from Rocinha. The journalists continued their trend of contextualizing security and violence in broader assessments of mega-event legacy promises or corruption, and also highlighting local successes like growing entrepreneurship or the budding youth movement organizing around drug policy. This year The Guardian also published a fourth piece by a favela resident, Vila Autódromo activist Maria da Penha, whose personal account of resisting eviction is an essential testimony to the real cost of the Rio Olympics.
Honorable Mentions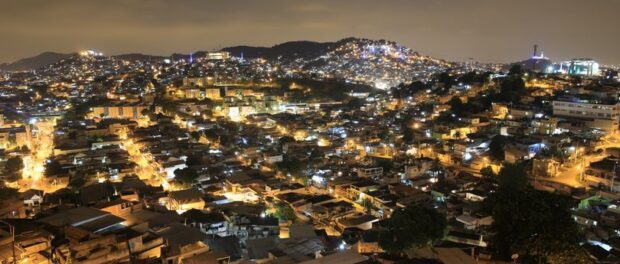 With so many international media outlets jumping to cover violence in Rocinha, articles that stood out for their productive originality included Misha Glenny's in-depth analysis of "a city in chaos" for The Intercept, Tiago Coelho's close coverage for Piauí on how shootouts prevented some Rocinha students from taking college application exams, and Kiratiana Freelon's smart look in Next City at how tour guides from favelas are organizing in spite of deteriorating security's threat to favela tourism. Meanwhile, the HuffPost's Travis Waldron responded constructively to the Madonna photo 'scandal' by contextualizing it in informative data on police violence in Brazil.
Andrew Purcell and Mimi Whitefield produced excellent coverage of favela-based community media for OpenDemocracy and the Miami Herald, respectively. WIRED's report on how "Rio's favelas are crowdsourcing crime data to keep people safe" offered fascinating detail into how Rio's violence-monitoring applications actually work. And Jennifer Chisholm's article for NACLA explored how neighborhoods currently threatened by eviction are framing their sustainable relationships with the land as an argument for their permanence.
Finally, although not favela-focused reporting, we'd also like to highlight the Olympic legacy coverage by Anna Jean Kaiser for The New York Times and Andrew Purcell for The Age, as well as Juliana Barbassa's explanation in Americas Quarterly of why the Rio Olympics were a "raging success" for the elites who sought to profit from them. NPR continued to push forward conversations on race in Brazil with an enlightening podcast titled "Brazil in Black and White." We also recommend Jonathan Watts' in-depth overview of Brazil's Lava Jato corruption scandal in The Guardian, which is a useful explainer of an incredibly complicated mess.