At least two evictions mark Vila Kennedy's history.
The first, after the 1964 military coup, was when families were evicted from Favela do Esqueleto. The state government carried out the eviction to make way for the construction of the State University of Rio de Janeiro (UERJ). The evicted families were resettled in the newly created Vila Kennedy and Vila Aliança, named for the recently assassinated US president and his Alliance for Progress. The latter was a cooperation program between the United States and Brazil, financed by the US in the context of the Cold War as a renewal of its Good Neighbor policy, which aimed to secure Latin America as an American area of influence.
The second, on March 9, 2018, was the eviction—this time by the city government—of the kiosks in Praça Miami, a bustling area of commerce situated at the main entrance to the community.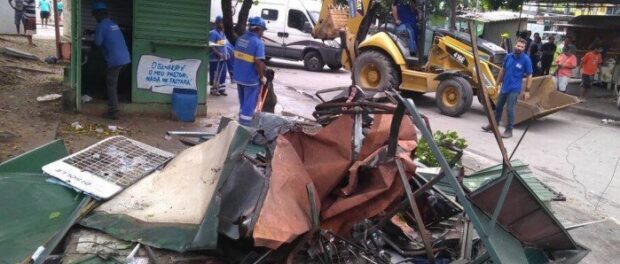 Grasiele Gomes wasn't alive for the first eviction. But she is "42 years old with 42 years in Vila Kennedy," as she says, and she is one of the vendors who had their kiosks destroyed. Gomes made and sold take-away meals in the square. "I have been a hotel maid, I have sold natural cosmetics. I have always found a way to get by. But I've always really loved to cook."
"And her food is delicious," comments one resident who is passing by and joins in on the conversation. "We used to eat her food here in the square."
"Yeah, there's even a WhatsApp group," Gomes says with a smile. "People call me asking 'Grasi, when are you coming back?' I made roast chicken, ribs. It was me, my husband, my mother, and my daughters helping me. I sold food to the other stallholders, to bus drivers and passengers, because this is the end of the line here, so there is a lot of movement. People came from other neighborhoods, from Coqueiro, from Catiri, from Bonsucesso, to shop at the market here, which is famous, and they used to eat my food. And it was good for the community's economy, it generated income, right? Because I shopped here in the market, I bought from the market vendor and I sold my meals to him."
That is, until the day her kiosk was bulldozed by the City without any warning. "I was heading down to work at about 8am, and people said to me 'Grasi, run, they're going to destroy everything.' A movie flashed through my head: 'I haven't fought with anyone, I haven't done anything wrong, who would want to destroy my stuff?' They arrived without warning, the City had never threatened to do this, it had never said anything."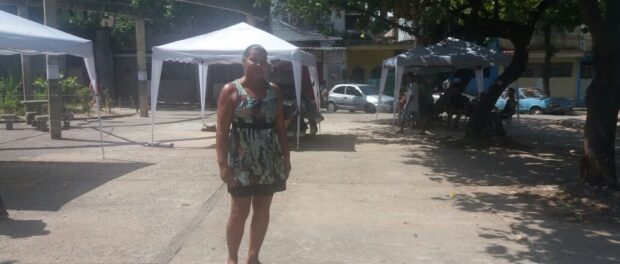 "Since then I've stopped everything. I was trying to make the food at home, but I don't have what I need. It destabilized me in a way that I could not come back from. Five years I worked here. My household depends entirely on me. My husband has been unemployed for two months. It impacted my sense of self," she explains, getting emotional. "I was the household's provider. I have five children, two grandchildren. I help my eldest son who doesn't live with me, his wife is pregnant. You'll rarely see me asking for anything, I like to work. When my son comes and says, 'Oh, Mom, give me a little money to have an açaí with my girlfriend,' I want to be able to say, 'Take this.'"
"Now I'm sleeping until 11 in the morning. I feel sick. I'm living from day to day. They pulled the rug from under me. My life project, my dreams. For me that kiosk was just the beginning. I wanted to open a restaurant. Not that the dream is dead, but they have dealt it a serious setback."
The City claims the kiosks were demolished because people were working illegally. "Some of the vendors who have stuck with the City came to the meeting and said: 'We have to understand that we were illegal.' Fine, we were illegal, but the City did the wrong thing in regards to our illegality. Its actions were even more illegal because the government knows the law and we don't. The City's mistakes were worse than mine," Gomes argues.
Since then, stallholders have been granted permits to work and some have registered as Individual Microentrepreneurs (MEI) to gain access to the promised loans. But the MEI requires a monthly payment of more than R$50 (about US$15), another cost to venders that didn't exist before. In addition, the City has begun to install standardized kiosks, which are much smaller in size than most of the previous kiosks. If the only thing missing to continue working in the same place was a formal legalization process, why did the kiosks need to be bulldozed?
"I believe there was a different reason," Gomes says. "There was really a lot of conflict, shooting every day here. The guys and the police and the stallholders were targeted. They came and bulldozed everything because the kiosks prevented police from seeing what was going on. But were the kiosks what was preventing order in the community? They came and destroyed everything, they had no intention of legalizing anyone, they had no relocation plan, they wanted to destroy everything and leave it at that. It was only when it started getting attention, when the press came, that the City had to respond."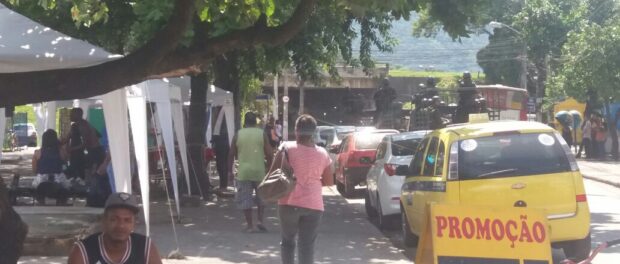 "At the time, nobody said anything. The City employees didn't speak, they were silent. When a stallholder asked for an explanation he was assaulted, he was pushed. No one told us what we could do, what our rights were. After the press coverage, the mayor put out a statement and called a meeting with the stallholders. The next day, we met with the mayor at his City Palace office," she says, remembering how much it cost her to travel to the city center. Her son, who has begun work as a young apprentice, loaned her his transport card for her to go.
At the meeting, Mayor Crivella announced a microcredit line, of R$12-15,000 (US$3,500-4,500), for the stallholders to buy what they had lost and start over. "They wanted to frame it as if I had been asking for this. But the City offered [the microcredit] and now I'm going to demand [it as] my right, now that I'm in this situation. But it's all bureaucracy. 'Oh, we're seeing which bank has the lowest interest rates,' they told us. Small detail: we're the ones who will repay the loan later. So what's all this for?"
"Really we wanted an immediate response, because we have bills to pay. I said that on the day of the meeting. [Development, Employment, and Innovation Secretary] Clarissa Garotinho suggested, in her ignorance, that I deliver my food. Maybe I could do that if I had a car or a motorcycle. But it would still cost a lot in gas. I had a stove, a refrigerator, a gas cylinder in my kiosk; I used to buy everything I needed and take it straight there. Am I going to submit to this? I'm going through such difficulty."
Commerce continues in the square. White beach-style tents, made available by the City a few days after the demolitions, were installed where the bulldozed kiosks had previously stood. "If the sanitation inspectors come, they will say that we are doing things wrong and we will lose everything again, even though it's the City that told us to do this," another stallholder says. "I said that the tents wouldn't be viable. I asked if there would be support, working conditions. Clarissa Garotinho asked what kind of support I needed. I need a sink, for example. She said that they would install it," Gomes says, but a quick glance confirms that the tents have no infrastructure. Rain gets in, the food is not safe.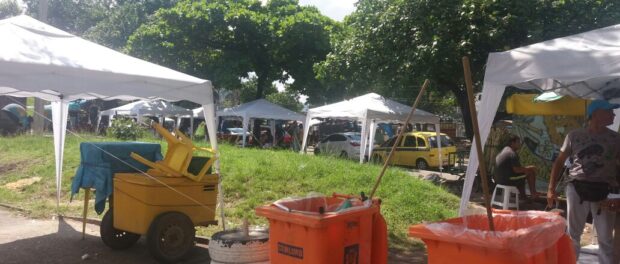 Most of the tents are businesses that don't sell food. A barber, a cellphone case vendor. In another, the snacks are on display and there are stools for the customers, but the stallholder has reinstalled a more structured kiosk in order to install the freezer that stores the snacks, the fryer, and the sugarcane grinder. "I almost broke my back bringing everything back. There were four of us, but I needed eight men. You have to work, you can't be idle. I'll have to make an adjustment to the kiosk the City will provide to be able to operate the fryer. I'll have to see if that's possible."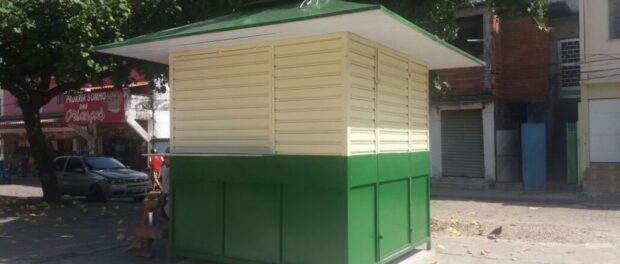 "I have a kiosk, but I'm not a troublemaker," Gomes laughs at her play on words in Portuguese. "But I fight for my rights. The people at the Kiosk Commission say that I am difficult. But I am not difficult, I am within my rights. How can I be calm? My children cannot wait, my rent cannot wait, my debts cannot wait. My phone has already been cut off, I can only receive calls. Our needs are for yesterday. I said from the beginning to the other stallholders 'you do not have to accept so little.' Most of them did accept what was offered, and so what the City says is that we are already back working." At the meeting, Gomes mentioned her unpaid rent and in response was promised social rent, which is less than the amount she pays "but it would help," as she says. After a month, however, she has yet to receive it. When she contacted the City to find out what was happening, the answer she got was "let's see if you get it next month."
"The first and only basic food basket they gave us was a disgrace. I eat simply but I wouldn't eat what was in that basket. And I did not sell it. I am not a proud woman, but I have worked to have the best for my family. It's abusive, it's rubbing peoples' faces in the dirt. 'Are you truly hungry? Then take it.' I never wanted to be given food, I didn't want rent support. I want to work. They took that from me," she laments. "I did not need this before, I worked so that I didn't have to depend on anyone. I found it humiliating, but in my need I had to get it. They said it was not for us to complain about the food they gave us, that we were supposed to be grateful and not complain."
"We have no support. All we have are promises," concludes Gomes.