Community Youth Orchestra Stars in Documentary and Serenades Maré [FILM REVIEW]
The Maré do Amanhã (Maré of Tomorrow) Orchestra performed live at the Maré Museum on Thursday, May 3, followed by a screening of Contramaré, a new documentary that tells the story of this extraordinary orchestra. The night finished with a panel discussion featuring two orchestra members, the filmmaker, and the orchestra's founder and Executive Director.
Musical showcase: Anitta meets classical music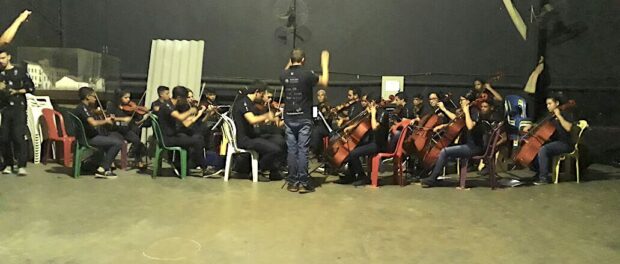 The Maré do Amanhã Orchestra is made up of talented young people from the Maré favela complex. At the Maré Museum, which is celebrating its 12-year anniversary this year, 25 of them played a range of pieces that included classical music and Brazilian compositions from the northeast. Between pieces, conductor Felipe Kochem explained something about each piece to the predominately local crowd. The performance finished with a genre-bending rendition of popular artist Anitta's 'Paradinha,' accompanied by one orchestra member on cajon, a drum with African-Latino roots.
Contramaré: overcoming obstacles through music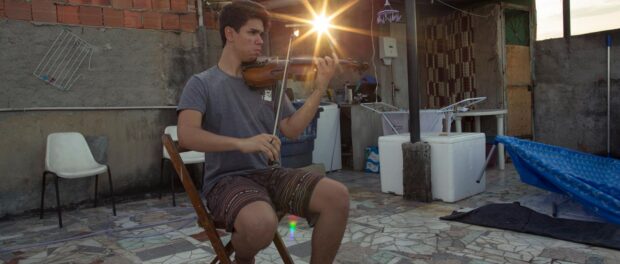 Following the showcase, the lights were dimmed for the screening of Contramaré. This 30-minute documentary, accompanied by a moving soundtrack which features music from the orchestra, uses restraint to create a lasting impact. Each person we meet through the film has lived an extraordinary life. Marenco's careful editing, what he chooses to share with the viewer, powerfully communicates the struggles and successes of these young musicians. The documentary is somehow both intimate and far-reaching at the same time. We are invited into the young musicians' homes in Maré, settings which often stand in contrast to footage of the musicians' performances around Brazil, including playing to a sold-out crowd at Rio's sumptuous Municipal Theater and playing for and meeting the Pope.
We also learn about how orchestra members make a living through a program whereby all preschools across Maré receive music classes. Besides bringing music to the classroom and making the orchestra sustainable, the classes are also changing a generation of children's lives, with talented students being given the opportunity to attend one of two local music schools. Scenes of the preschoolers laughing and clapping in their music classes are juxtaposed with scenes at the beginning of the documentary, which show students and teachers barricaded in school corridors due a shootout occurring nearby.
The documentary finishes with the orchestra playing a version of the popular funk song, 'Eu So Quero Ser Feliz' (I Just Want to be Happy) in a park overlooking Maré. The first verse is: "I just want to be happy/ Walk peacefully in the favela where I was born/ And to be proud of myself/ Knowing that poor people have their place." After the credits roll, the camera pans out to soar over the community before the screen fades to black, leaving the audience with the following statistics: "Violence affects Complexo da Maré every day. Data from local NGO Redes da Maré demonstrate that, in 2017, shootings in Maré closed schools on 35 days and health centers on 45 days. In total, 42 people were killed in these confrontations. This represents one death every nine days."
"It is very cool to have our struggle documented"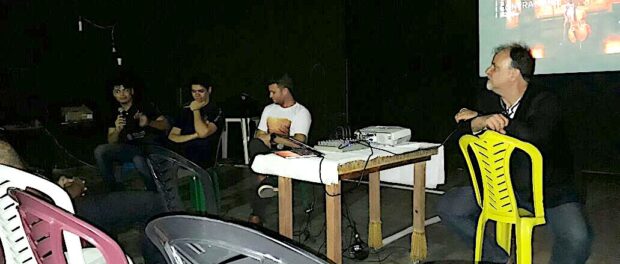 After the screening, a question-and-answer session featured film director Daniel Marenco, orchestra director Carlos Eduardo Prazeres, and two orchestra members featured in the documentary: violinist David Vicente and flutist Cristiano Souza. The young people shared an easy camaraderie with filmmaker Marenco and laughed as they talked about what it was like to be filmed for nine months. They explained that most of the time Marenco was so unobtrusive they didn't even realize they were being filmed. Vicente talked about inviting Marenco into his home and how happy he is with the documentary, reflecting: "It is very cool to have our struggle documented."
Marenco, for his part, described how he first got to know the orchestra in his work as a photographer for O Globo, which eventually evolved into his first time shooting a documentary. He emphasized that the project would never have been possible without support from the community, including two Maré residents who worked on the documentary: Diogo Nascimento, who created the stunning soundtrack, and Paulo Barros, who worked on additional photography.
Prazeres, who started the orchestra after his father was murdered in Maré, talked about the orchestra's vision for the future, of creating a network in Maré to ensure that all kids can access different activities—whatever it is they might be passionate about. "The important thing," he stated, "is not to leave any children with nothing to do, on the street."
Watch the Contramaré documentary here.