From April 24 to 28, the Abraço das Favelas event brought artistic interventions and debates to the Federal University of Rio de Janeiro (UFRJ), an occasion organized by both student and non-student favela residents. The cultural project aimed to occupy the public university, still inaccessible to a large portion of youth from Rio de Janeiro's peripheral areas, in order to give visibility to themes related to favelas.
The event featured a diverse range of artistic performances from favela residents and local cultural projects such as the Orquestra Maré do Amanhã orchestra, Projeto DanceGrafia dance troupe, Manguinhos Ballet, Dance in Rio, Cia. bUsina Teatral theatre group, among other dance and art presentations. These performances showed the transformative power of art and the importance of its political character in considering social issues. In addition, it was an opportunity to address existing debates around the chaotic situation in which Rio de Janeiro currently finds itself, extending the social function of learning at the university.
One of the event's special moments was the 'Corpo Presente' (Present Body) performance by Matheus Frazão, a performance arts student at the Federal University of the State of Rio de Janeiro (UNIRIO) and a resident of Timbau, in Complexo da Maré. In the courtyard of UFRJ's Faculty of Letters on the afternoon of Thursday April 26, his performance symbolized the life and murder of City Councillor Marielle Franco. He began the performance lying on the floor, covered by a black bag with a candle to his side, representing a dead black body. As he lay there stretched out on the floor, a recording played a mixture of mainstream media outlets reporting on violence interspersed with sounds representing the silencing of favela voices. At one point, the sound transformed into African-inspired music mixing feelings of sadness and strength which, alongside his choreography and cries of "Marielle," alluded to how mourning transforms into struggle.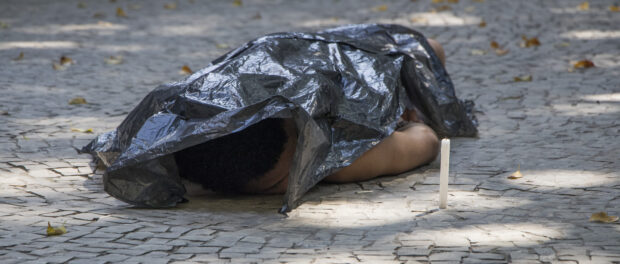 On his performance, Frazão explained: "How can I let my voice out, how can I show my indignation and at the same time say that when we are in mourning, we are fighting?… I work with this symbolism of fire, with this dead body, drawing on news content. And always with the [chaotic] noise between the two because this represents our silencing. We are always silenced and we know the mass media does not represent us. There is much more alienation than supplying factual information."
Although his performance was impactful, Frazão felt a distance between the university audience and himself as the artist, in contrast to when he performed for residents of Maré.
"When I performed this for the first time I was performing in Maré. There was a greater closeness and even a question of energy… What group is this that's watching? Is it a group that's vibing, that believes the same things? I don't know, I just felt some disconnect here. The interaction is totally different. I think this represents the university-favela relationship, right, a gap. We know only too well that we have a really remote chance of getting into college," Frazão reflected.
Among the discussions organized at the event, topics ranged from the federal military intervention, Pacifying Police Units (UPPs), the trajectory of black women's resistance, and alternative media. On Thursday, April 26, students and professors from the Colégio Pedro II (CPII) public school—a group that included some favela residents—presented the documentary Pacificação? As UPPs e a violência no RJ (Pacification? The UPPs and Violence in Rio de Janeiro), which was produced as part of the CPII's Critical Cinema project. The discussion panel featured CPII teacher João Braga, the Providência favela resident who participated in the film, Cosme Filippsen, and former CPII student Mike Ribeiro. The film, which featured interviews with favela residents, politicians, academics, and public security officials conducted between 2014 and 2017, unites stories and data to create a broad and clear panorama of the impact of the UPPs on favelas and on public security in Rio de Janeiro.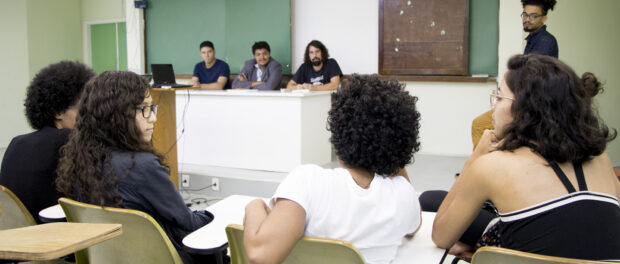 The "What is alternative media" discussion also took place on Thursday April 16, and featured community journalists Rene Silva from Voz das Comunidades, Naldinho Lourenço from Maré Vive, and Carlos Gonçalves from O Cidadão. The panel criticized coverage of favelas by mainstream media, which rarely feature news from these spaces and when they do are very selective. According to the participants, despite the high number of favelas in the city and the large part of the population that lives in these spaces, the rare news reports on favelas are always linked to the issue of violence and always focus on the same favelas, generating a single discourse.
"That's where the role of community media comes in, to cover and show what's really going on in these places," Silva from Vos das Comunidades says, pointing out that mainstream media only seek out community media sources when something to do with public security happens, reinforcing all the stigmas surrounding favelas.
Another aspect of the conventional media approach that came under criticism was the lack of interest in showing favelas as sites of potential, as places with cultural and social projects and resident engagement. Furthermore, there is a constant appropriation of specific events to validate the oppressive approach towards favelas, specifically in regards to public security, as if it were something positive. The experiences shared by the panelists showed this is a constant fight for favela residents: to debunk the simple discourse that the police occupation of favelas is an effective way to combat violence and a legitimate public security policy.