In the two and a half months since the assassination of Marielle Franco, hundreds of articles, protests, meetings, and tributes have been organized in honor of the councilwoman who surprised Brazil and the world with her heart and her struggle, a struggle that will always be an important debate topic in a country as unequal as Brazil. I, Edilano Cavalcante, coordinator of the community communication agency Fala Manguinhos!, talked with a resident of the Manguinhos favela who, from the day she met Marielle Franco, even before Marielle had become an active city councillor in Rio de Janeiro, already felt Marielle's strength and admired and supported her. Her name is Paloma Gomes.
Gomes is 30 years old and has worked since the age of 18 as a teacher to young kids in the area where she grew up. Her relationship with Marielle has a lot to do with the need she felt to expand her engagement in the community in tandem with other work colleagues engaged in the fight for quality public education. Emotional as she recalled the moments she shared with Marielle, Gomes shared the trajectory of her struggle alongside her biggest inspiration.
Edilano Cavalcante: How did you meet Marielle? 
Paloma Gomes: When I started getting involved in the fight for educational dignity, participating in strikes and protests along with other educators, I came to know the PSOL (Socialism and Freedom Party, of which Marielle was a part), and how they were involved in these efforts as well. So I decided to get to know the party with the goal of understanding how this [political] mechanism works and how I could help our territory through this space, utilizing the force of more people with the same purpose.
Then the first public meeting that I planned for Manguinhos, out of a need to learn who the local social protagonists were, was inspired by an experience I saw in Maré, of dialogue in the street—a roundtable discussion among adults, activities for children, and other elements I thought were great. Soon after, I discovered that the person organizing these meetings that I had seen on the Internet was Mari, so I sent her a message asking if she could help me hold a meeting in our territory.
Her response was, 'no, you'll do the meeting your way, with the people you want, and I will show up to support whatever you do. You have all of the tools to do this.' And I went and did just that. She provided support, she supported and was very happy [afterwards] when I sent her photos saying that I'd been blown away by the potentials of the neighborhood where I've always lived but which I'd never before noticed. [This initial exchange] was enough for me to know that this woman would be my inspiration in the struggle.
I've had two phases in my life: the first one as the Paloma who only knew the favela where people lacked rights, died, and became nothing more than statistics, and the new Paloma, who came to know Manguinhos' social movements.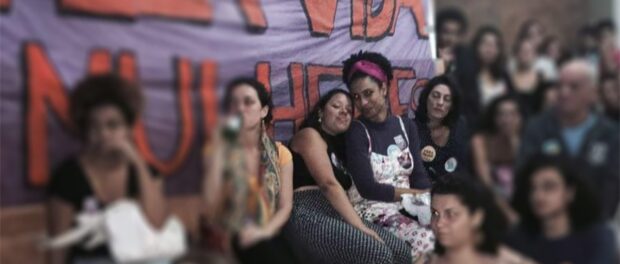 EC: How did this friendship begin between you two?
Gomes: After the event, I told her about the impact it had on my life and how I'd like to continue this dialogue with the people from my community. Then she invited me to support her campaign and since then she has become my strength, my example for how to be in politics, socially, and in the struggle.
Mari had an incredible capacity to love intensely and to be firm with those she gave that love. With me, she was no different. Although she had many commitments, she was always very present. I don't even know how she managed to do it! All the times I called her, she was always available to help me or even come to my meeting if needed, even with the thousand things she was involved in. And there was always a strength that came from her voice, in the form of advice, a hug to show that I could count on her or even just a comforting look. She never let me down.
When she was elected, she invited me to participate on her team but I told her I'd prefer to focus on education for the moment. But I asked her to give me a voice, so I could be with her in other ways, building ideas and plans. She understood quickly and never left me out of anything she was involved with. I was always in the loop, sharing my opinions, debating, and moving things forward with her. So she became a very important person for me, both in and out of political life. [Pause due to tears.] I will never forget her, because she changed my way of thinking, of fighting. She changed my life.
EC: How do you see everything that has happened with her? Did anyone in the party or her family or friends have any notion that she was in danger?
Gomes: We know we make people uncomfortable, but we did not know that we disturbed people to the point that someone would feel this hate and would silence, through an execution, a person who was so important, so good, who from day one gave voice to the favela and to oppressed people, both in the City Council and beyond. This is what really bothered people, the truth that manifested in the voice and in the body of Mari. So our life has no meaning today if not for the struggle for equality, for deconstructing the patriarchal, racist, homophobic, and cowardly empire of power. All that Mari planted will bear much fruit and will only gain strength.
EC: Have you been following the investigations? Do you think it's possible to find the true culprits? 
Gomes: Well, [the lack of justice] fuels a level of hatred, because we know whoever gave the order to kill is very well protected. Maybe it'll be possible to find whoever pulled the trigger, but whoever ordered it, I don't know, no. Within the PSOL there is not much information going around, even so as not to put people's lives at risk, but Marcelo [Freixo] is following the case very closely. Everything that's been discovered he's been attentive to, as have all the PSOL lawyers. I really hope the culprit doesn't go unpunished.
EC: What do you make of this huge commotion and mobilization, both national and international, in response to the life and death of Marielle? 
Gomes: I think we ought to begin by saying that this commotion does not mean Mari's death is more important than the deaths of other people who are assassinated in favelas or in the streets of Brazil, such as Anderson [Gomes, Marielle's driver]. But Mari was the voice that echoed in the City Council, that demanded justice for all those killed in favelas. She was the one who wouldn't let anyone forget that we're human and we have the right to life. That's why her death has had such a large impact, because the loss of her representativeness was enormous.
The other element of the repercussion came from people who hadn't known Mari and were surprised by her strength and all that she represented. Marielle was the synthesis of all of the struggles that favelas confront daily just to survive in the midst of so many attacks.

EC: How have favela organizations been planning to continue the efforts of Marielle Franco? 
Gomes: We are all still very shaken with the pain of her loss, but we have the mission of making sure that nothing Marielle fought for will be forgotten. And this is not just for her. It's for us, because she did all of this for us, so it's our responsibility. We have a large number of favela residents wanting to keep pushing for all that Marielle represented and we're not going to leave anyone behind. We'll work with every person whose goal is to fight for their rights.
We're in an election year. Our goal was to put more Marielles in this fight, but with all this mess this is no longer our priority. Now, our goal is to be alongside and unify all those who want to be in this big arena of struggle.
This article was written by Edilano Cavalcante and produced in partnership between RioOnWatch and Fala Manguinhos! (Speak Up Manguinhos!). Cavalcante is coordinator of the community communication agency Fala Manguinhos!. As a community communication initiative produced by and for Manguinhos, Fala Manguinhos! was set up to defend human and environmental rights, and to promote citizenship and health with the direct participation of residents in the decisions that involve the Community Communication Agency of Manguinhos, from the meetings of the communication group and the Community Council. Follow Fala Manguinhos on Facebook here.