On the night of Thursday, July 12, protesters flooded downtown Rio, marching in remembrance of city councilor Marielle Franco and victims of police violence throughout Rio de Janeiro.
Saturday, July 14 marked 120 days since the assassination of Marielle and her driver Anderson Gomes. To date, the question #QuemMatouMarielle? (#WhoKilledMarielle?) remains unanswered. "It seems to me that we are arriving at a point of impunity, of statistics, and we won't let that happen," Marielle's mother, Marinete da Silva, told G1.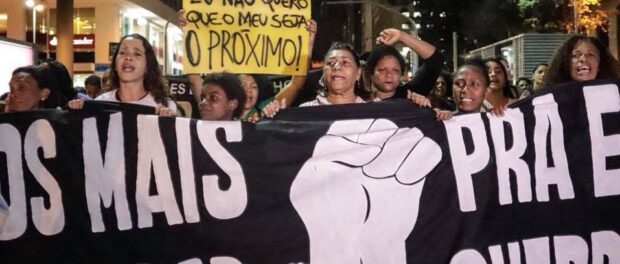 Mônica Cunha of the Network of Communities and Movements Against Violence addressed the crowd gathered outside the historic Candelária Church. Cunha—whose son, Rafael da Silva, was killed by police in 2006 in the neighborhood of Riachuelo—told protesters: "Let us say no, let us say enough of this genocide. Let us say enough of this racism. We don't want this for our lives. We weren't born for this. That's not why we are here. We cannot accept this. We cannot remain quiet."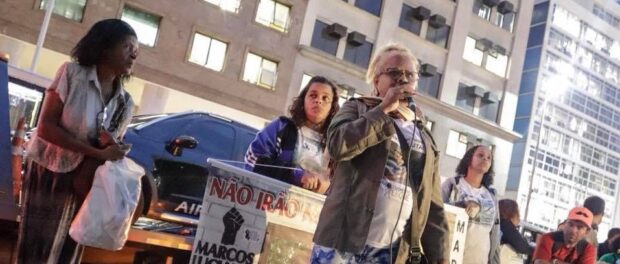 As the investigation into Marielle and Anderson's murder drags on, international pressure has also mounted. On June 12, Amnesty International criticized the lack of progress in the investigation, launching a video of Marielle's family calling for justice, and calling for the creation of an independent oversight body. Days earlier, Pakistani human rights activist Malala Yousafzai visited Rio on her own birthday and paid homage to Marielle, etching her image on a wall in the Tavares Bastos favela.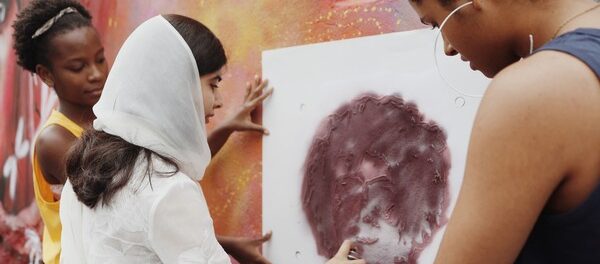 In her time as a city councilor, Marielle—a black, bisexual woman born and raised in the favelas of Maré—championed human rights for Rio's marginalized populations, railing against police abuse and state-sponsored violence in favelas. On Thursday night, protesters continued her legacy. For activist Maria Dalva Correa da Silva, whose son Thiago was killed by police in the 2003 Borel Massacre, the protest was a matter of life and death. "We have to be here in the resistance. We don't want helicopters, we don't want armored tanks in the favelas, we don't want guns pointed at us… The State is constantly present, but only with the barrel of a gun and a bullet to rob us of our bodies."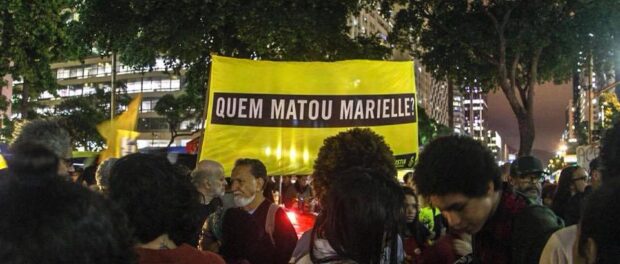 Rio has seen an increased State presence since the Brazilian armed forces assumed control of security as part of the federal military intervention. The intervention, which has been in effect for five months as of July 16, has done little to improve security. According to the Intervention Observatory, a monitoring center hosted at the Center for Studies on Security and Citizenship (CESeC) at Cândido Mendes University (UCAM), state violence has only increased since February. Between February and May 2018, Rio saw 444 people killed by the police, up 34% in comparison to the three months prior to the intervention. The number of shootouts between February and May increased by 36% compared to the previous four months.
Bruna Silva, whose son Marcos Vinícius was killed in a joint Armed Forces-Civil Police operation on June 20, stood at the front lines of Thursday's protest. As she spoke outside City Hall, her daughter stood at her side, holding a sign that read: "The police didn't see that my brother was wearing a school uniform."
Silva, who had spoken to the Chamber of Deputies Human Rights Commission in Brasília days earlier, remarked that the Civil Police classified the operation that killed her son as "successful." She clutched the bloody uniform her son wore that day, asking: "Is this what success looks like?"