The 2018 World Cup in Russia is coming to an end, but 15-year-old Ana Clara Ferreira da Silva and her friends from Penha, in Rio's North Zone, have already won the championship earlier this year. In May, 24 teams from around the world participated in the Street Child World Cup, which aims to "change negative perceptions and the treatment of street children." The girls' team from Complexo da Penha, with players aged 15 to 17 years old, represented Brazil and are part of the Família Caracol project. This team from Complexo da Penha also won the 2014 Street Child World Cup in Brazil.
The team trains in the Caracol favela, in Complexo da Penha, where the Família Caracol program is based. "Família Caracol offers the opportunity of a safe space for [the children] to play and stay far away from danger. The project was created and is managed by the United Association of Street Children, a Brazilian nonprofit organization that supports three local coaches to work with the boys and girls on a daily basis."
Below, Ana shares reflections with RioOnWatch on the tournament and her trip to Russia.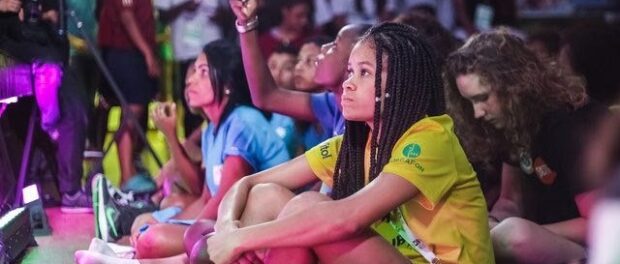 My trip to Russia was fantastic, even more so because I was there to do what I love most in life. Before this trip, the "farthest" place I had ever traveled was Nossa Senhora Aparecida with my family. The feeling of flying in an airplane was remarkable. Before, the highest altitude I had ever experienced was at the theme park near my house. Now, I feel important—I have a passport and I've already been to the other side of the world. It even seems like something from a soap opera.
And what to say about Russia… it's a beautiful country. We were very well-received and people treated us very well. I thought that Russians' eating habits were particularly different. It was funny when I learned at the hotel that they serve pasta in the morning and bread in the afternoon. But it's all good, right? Another country, another culture. And not everything was that different. In terms of food, I really liked the delicious cakes and fries… Before, I had thought that we, Brazilians, ate the most fries—but I was wrong! All of the 24 other countries love potatoes too.
As game day approached, I felt a chill in my stomach and started to tremble. It was a different feeling, but I knew that it wasn't just about soccer. It was because of everything—making friendships, learning about different cultures, and sharing ours. Because of the language barrier, one of my major challenges was speaking, but I had a very good friend that helped me: Google Translate.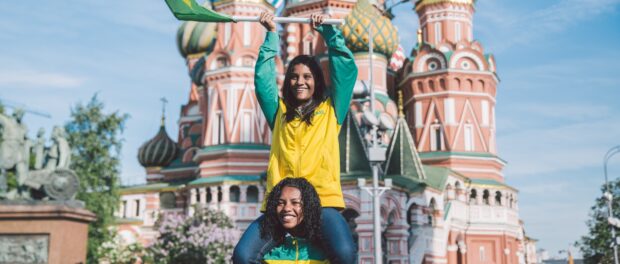 Initially, when I was selected for this opportunity, I thought that I would make the most of every moment during the trip to show off my soccer skills. However, when I arrived, I realized that it was also important for me to have fun and make new friends because this was a unique opportunity. I achieved this opportunity with a lot of dedication.
Whenever we had games, the most relaxed moment was when we took the bus to travel to the match venue. Certainly, it was the most exciting, even more so when the teams from Belarus and Bolivia were on the same bus with us. We sang and played together. Often, until it was time for us to be quiet, it was just happiness.
The days when we had conferences and art activities were also very important to me. There, I heard stories experienced by other teenagers and also talked a bit about myself. I was able to create great friendships. We painted, danced, and sang Shosholoza (since it was the only song we knew how to sing). We did all of this freely—even dancing our own passinho, which we couldn't forget.
The presentations from other countries were also marvelous and incredible. Each dance and song was different than ours, and each one was more beautiful than the last.
There was a moment when I felt a bit numb and anesthetized upon hearing stories from children who didn't have parents. However, they still had fun, laughed, and joked, and they didn't show their pain or anything like it.
Arriving here, the best and most remarkable moment for me was succeeding with my entire team, being champions. We won the Street Child World Cup! It was incredible. My heart beat rapidly and I shed tears. There was a lot of adrenaline. I really hope that this changes my life, as well as the lives of the other girls, and I hope that there will be future opportunities for us in women's soccer.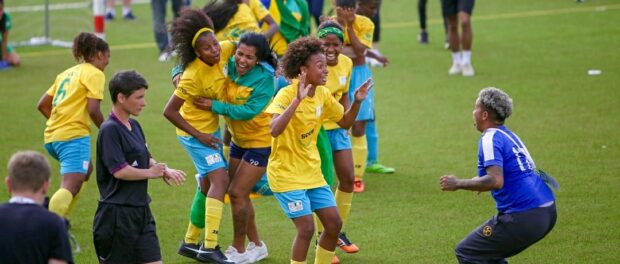 Ana Clara Ferreira da Silva, 15 years old, was born and raised in Penha, in the community of 4 Bicas. The neighborhood is the birthplace of her entire family, on both her mother's and father's sides. Ana has played soccer since she was five years old, getting a start by playing in the street with the boys.
How to Help Projeto Caracol
The grounds of the soccer pitch in the Caracol community have recently been damaged by the strong rains of February and March, 2018. For this, the "Safe Space" soccer program—created and maintained by the NGO Street Child United Brazil—is holding a crowdfunding campaign to rebuild the pitch.
To support their campaign click here.