On Saturday, July 14, a crowd filled the auditorium at Casa Pública in Botafogo, in the South Zone of Rio, to listen to three accomplished black women speak on the topic of black political representation in Brazil. Moderated by Agência Pública journalist Gabriele Roza, the panel discussion featured Jurema Batista, a former state assembly member, three-time city councilor, and participant in the creation of the Workers' Party (PT) in the 1980s; Nilcemar Nogueira, head of Rio's Culture Secretariat and a long-time cultural activist; and Talíria Petrone, a 31-year-old city councilor from Niterói, where she was the candidate with the largest number of votes in 2016. The topics discussed ranged from access to education and culture to police violence in the city of Rio.
The conversation opened with a discussion of the dramatic underrepresentation of black women in positions of political power in Brazil. Roza reminded the audience that black women compose the single largest demographic group in the general population (27%); however, they make up less than 0.5% of the National Congress. Batista, who was the first black woman to serve as a state assembly member in Rio de Janeiro and the second to serve as a city councilor, described the challenges of seeking office. She explained that even in the rare instance that a black woman comes to occupy a position of power—as in the case of the three speakers—there is always a backstory of struggle: "There's no way that a black person reaches [a position of] power without having a history of social struggle. We don't bear the names of colonizers, we don't have economic power, and we don't have familial trajectories of political power."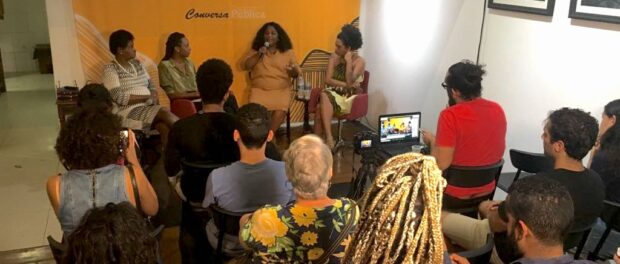 A theme quickly emerged: despite the lack of access to economic or political power, voices and culture from underrepresented communities are—and have always been—present and strong. What's missing is attention and sympathy from lawmakers and others in power. Nogueira, who fought for recognition of samba as a Cultural Heritage of Humanity by UNESCO and founded the Samba Museum in 2015, discussed the importance of spaces created by people traditionally excluded from politics—not only for the celebration of culture but also in terms of re-occupying these spaces from which they have been excluded.
Petrone furthered the discussion about inequality and access to education when speaking about her decision to become an educator. "When I decided to be an educator, it was because I thought—and continue to think, despite attempts to silence me with the supposed idea of Escola Sem Partido ("Schools Without Political Parties")—that in reality, schools maintain historical inequalities… I understood that education is an instrument of transformation." Petrone linked persisting inequality in classrooms to the rampant state violence committed against marginalized communities by highlighting Brazil's high LGBT homicide and femicide rates. 
Following mentions of protests marking four months since the death of human rights activist and prominent black female politician Marielle Franco, Roza posed a question about public security and women's personal experiences facing violence in political spaces. Each had a multitude of experiences to share. Batista, who is from the favela of Andaraí in the North Zone, shared experiences of witnessing police violence early in her career, including an experience as a teacher in a community that lost a worker to police violence, which inspired her to be politically active. Petrone, who is running for Congress to continue the legacy of Marielle—her close friend and colleague in the Socialism and Freedom Party (PSOL)—spoke about the backlash she faced during her campaign for city council due to her unabashedly feminist and anti-racist platform. She also spoke of the racism and machismo that she faces from established politicians. Her point clearly resonated with the other speakers, who agreed that they too have faced similar struggles. 
Finally, the discussion closed with a question from the audience about ensuring the existence of culture—especially black culture—in the city of Rio.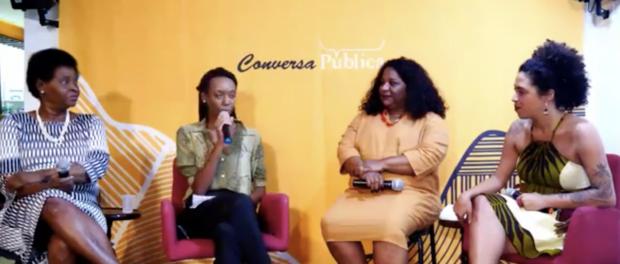 Overall, the forum presented an evening of powerful discussion and exchange. It reaffirmed the political power of personal storytelling and the wide-reaching impact of ongoing political and social struggles. In a major election year, questions of representation and culture, as well as gender and race, are unlikely to disappear—especially as a candidate who regularly espouses sexist and racist discourse leads polls for the presidency. Meanwhile, the legacy of Marielle's life as an anti-racist and feminist human rights activist loom large.