This is part 2 of a two-part article about Vila das Torres, a farmers' community in the North Zone of Rio de Janeiro. To read part 1, click here
Crossing a small river, and heading into the vast fields behind Vila das Torres, we met Seu Albino, with hedge clippers in hand, wiping sweat and dirt off his forehead. He had arrived in Vila das Torres from Portugal on September 14, 1956, yet I struggled to understand him as he still maintains a thick Portuguese accent.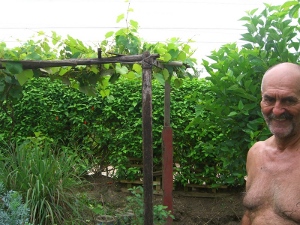 His situation with city government involves not only the seizure of his house but also of his garden, for which he has been offered 750 reais. Seu Albino put the price in context by explaining that he spent 6,500 reais alone fixing a small bridge over the river in his garden, damaged in one of city government's visits to the community.
Seu Albino showed me every row in his garden and fields, pointing out each plant by name and giving me a few good lessons in agriculture. He also showed me where he began planting along the riverbanks, so as to keep the river from sweeping away land in the community. Seu Albino is an amazing community historian and told a good personal history of how Light paid original residents to build there, "each of these small farm houses had the right to a shack for a guard and for tools. Light authorized the building of these shacks around 1970. Now Light is saying they are squatters."
As we say our goodbyes, Seu Albino's last remark showed the internal debate I've recognized within many residents, "Of course we don't want to get in the way of progress. But a fair value must be given, for us to at least have something to do, something to eat, because I'm tired now. I'm 60 years old; I'm tired out. I raised all my kids here, on this piece of land."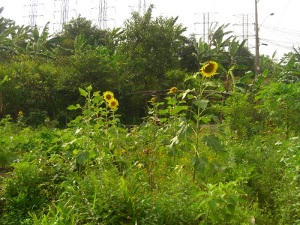 Eraldo pointed out other farmers as we walked through the fields, and he explained the life of a farmer in Vila das Torres, "He usually sleeps three or four hours a night, but just ask him if he wants to stop. He doesn't want to… this is where he gets his sustenance. And he likes it. The owner of this garden here, started to work in this garden when he was 6 years old. Now he's 48."
Back at the Neighborhood Association, Eraldo and Carlinhos explained more about the process that residents must go through while negotiating with city government. They, as many other residents, lose whole days of work because of having to appear in person for the "negotiations". Once at the office, instead of being asked about the family's living situation, they are shown pictures of their house, offered a fee, and convinced to sell. If the family refuses to accept the price, they are told they will be sent to Campo Grande. Further, they are often threatened and treated with great disrespect, being told that it's useless to fight against city government.
Eraldo and other residents have researched other options extensively. They have a list of houses in Madureira and surrounding areas, and the values the government offers, most times less than 20,000 reais, don't come close to buying these houses, at least 80,000 reais.
One resident even went to take a look at the apartment offered in Campo Grande. As it turns out, he would have to take two extra buses to get to work every day, making his daily transportation a total of six buses. He even went and spoke with his boss to see if his additional transportation costs would be covered, but was immediately refused and told he would be fired if he insisted. Eraldo added, "We're not fighting against this park. What I really want is to come to the park and have fun there. But I want the pleasure of leaving the park and not having to take two buses to get to my house."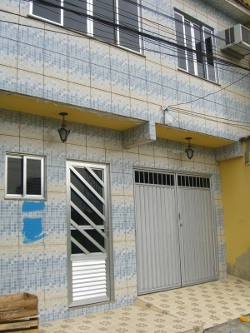 Eraldo took me outside and showed me the house next door to the Neighborhood Association, "We helped him build this house. He spent more or less 30,000 reais, little by little, with the greatest sacrifice. Just think of the value this house has for him today, and I'm not talking about just the material value, I mean the sentimental value the house has for this guy. After building it, he got married, raised his child, and he's still here. With the money he's been offered, he won't be able to buy a house like this."
Carlinhos walked me out as Eraldo began working on a document to take to city government the next day. On our way out, community member and fruit vendor Ramos asked Carlinhos to take me to see his fields in the upper section of Vila das Torres. The upper segment hasn't been marked for removal yet, and there are many more open businesses and signs of community life than in the lower segment.
As we entered the fields there, the first image that greeted us was a large field of sunflowers dotted with a few children flying their kites in the afternoon breeze. There, we're greeted by Antônio, whom everyone in the community calls Mr. Magoo because of his resemblance to the character. He was just finishing up a long day of work preparing land for planting and picking some acerola, Barbados cherries. Before I left, he handed me a bag full of acerola and told me to make some juice out of it, when I got home.
From there, Carlinhos took me to my bus stop and as he shook my hand through the window, he asked me to come back soon, just as everyone else in Vila das Torres had told me. I couldn't help but wonder how long I'd have, before it might all be gone.
Mary Allison Joseph is CatComm's Networks Intern.
Read part 1 of this article here.
See the complete photo album of Mary Allison's recent visit to Vila das Torres here