This is Part 1 of a two-part article about a community of 200 families on Avenida das Américas, in Guaratiba. For Part 2 click here.
Along Avenida das Américas in Guaratiba, Rio de Janeiro's West Zone, about 200 low income families live in well-built houses along the north side of the road.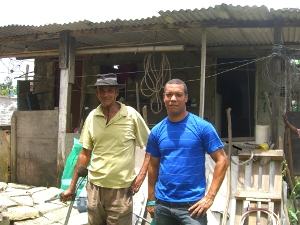 The majority of residents have lived here some 15 to 20 years, others bought their lot from a previous occupant, and the land has been many years without an owner's claim. Most employed women work as domestic help in upper class households in Rio's south zone and in Barra da Tijuca, and the men's professions are various. There are several churches and many small businesses within the community. Houses have basic services from Light and septic tanks, though residents are working on putting in a sewer system now.
Until this past November, these 200 families weren't formally organized as a community or neighborhood. They have come together as they are facing forced evictions because of a city government plan to widen Avenida das Américas. More than ten years ago, city government had announced its plan to add extra lanes along the south side of the avenue, which is to say it would actually be across the road from this community. As part of the plan, the city negotiated with land and home owners on that side of the road, compensating them financially for the lots of land needed for the expansion and giving them time to move houses and other structures away from the road. Despite having finished these initial phases of the plan years ago, only this past November, 2010, did city government begin construction, which is part of larger development plans for the upcoming World Cup and Olympic Games.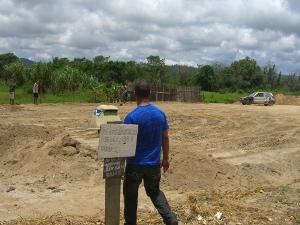 However, in November, construction workers from SANERIO showed up without prior notice, knocking on doors on the left side of Avenida das Américas, telling families they had to vacate the houses immediately for construction. A sense of panic struck the community without any explanation for this sudden change, and they quickly went to the SANERIO office to find out what was going on. City government responded the following week by sending workers to do a lightning registry of residents and spray paint houses for removal, all in one day. Families were informed that they had apartments waiting for them in far away Campo Grande and that they had to be out by the beginning of 2011. Residents have received no alternative offers. Those families whose monthly income is greater than R$ 1,300 aren't entitled to an apartment as part of this city program and won't receive any help for relocation.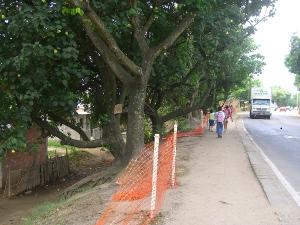 The sudden change of plans is full of controversy, which residents are quick to point out. There is already empty space along the south side of the road (where the government has already paid residents) to begin construction immediately without the need to destroy any houses or remove any families. Land on the north edge of the road is lower, so construction costs will be higher. But even if they were to widen the road there, they would only need 10 more meters to do so. However, houses are marked for removal more than 35 meters into the community.
Some residents have personally visited apartments in Campo Grande and concluded that the government's is an unfair deal. It's a house-for-apartment exchange, meaning that a household with two residents will receive the same apartment as will a family of twelve. According to residents who are already in these Campo Grande apartments, certain services have to be paid for, once you're moved in, allowing residents no choice of provider. Not to mention that most will need two more bus fares than usual to get to work, meaning more time away from their loved ones and more money spent each day. Beyond these financial reasons, residents are concerned for their safety. According to one resident, "You don't know who is moving in there. Here we all know each other; people take care of one another."
Click here for Part 2.
Mary Allison Joseph is CatComm's Networks Intern.