Favela-Bairro was an ambitious program established in 1994 with the aim of upgrading favelas to the status of formal neighborhoods ("bairros" in Portuguese) through infrastructure interventions, public services, public facilities, and public policies. First implemented by then-mayor César Maia, the program was designed by architect Luiz Paulo Conde, who was head of Rio de Janeiro's Municipal Secretariat of Urbanism at the time, before being elected mayor in the 1996 elections with the support of Maia, who by this time was aspiring to the office of governor.
The program was continued during Maia's second mayoral term (2001-2005) with less done during his third term (2006-2010), when instead, the Morar Carioca program was designed building on lessons from its predecessor. Morar Carioca was then stated as policy by former mayor Eduardo Paes in 2010, though his administration did little to see it through. More recently, Rio's current mayor, Marcelo Crivella, announced the resumption of Favela-Bairro after his election in 2017. According to the City, the third phase of Favela-Bairro will benefit 90,000 people in 23 communities.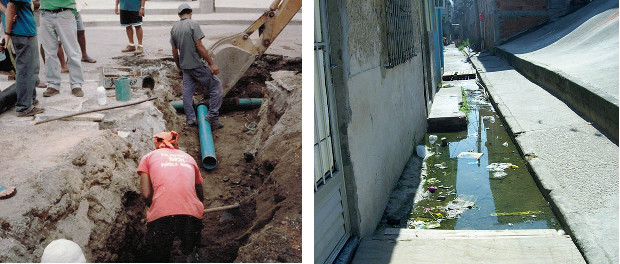 In its first two phases (1994-2000 and 2000-2008), the Favela-Bairro program was known for bringing infrastructure services to an unheard-of number of communities among worldwide attempts to upgrade informal settlements, with over 130 favelas and irregular allotments serviced. It was seen by international institutions such as by the World Bank as a global leader in the field. That said, locally there was a generalized sense that poor implementation had often taken place, either due to low quality building materials, unresponsive planning (which is corollary to the tokenistic participation common to the project), or undercounting the number of people needing service (leading to chronically insufficient service provision, for example).
On May 6-8, 2019, more than a decade since the program's end, and 25 years after Favela-Bairro's inception, architects and planners from across Rio de Janeiro got together at the Brazilian Institute of Architects in Rio (IAB/RJ) to reassess the program's accomplishments and failures. Responsible for launching the public call for proposals and selecting the winning methodology that would guide the program's interventions, the IAB was central to the program's realization, rendering their headquarters an appropriate venue for reflecting on the program's legacy.
During the first two days of the seminar, the debate centered around the insufficient and low-quality participation and transparency in the formulation of the program and in the selection of projects (in terms of the location and nature of interventions) and around the misalignment of urban housing policies, thus contributing to the reproduction of an exclusionary model of city that makes informality the only choice for a significant part of the population. Discussants also addressed the hindrances to the success of infrastructure projects promised by Favela-Bairro, such as the lack of reliable financing for the program.
In addition to reflecting on the financial issues and mishandling that led to the demise of the Favela-Bairro program, which involved both municipal and state governments, participants raised the issue of pushback to the program stemming from stigmatized perceptions of favelas and favela residents. During a session titled "Favela-Bairro in the View of Community Leaders"— featuring the participation of Jailson de Souza e Silva, founder of the Favelas Observatory, from Complexo da Maré; Itamar Silva, coordinator of the Brazilian Institute of Social and Economic Analysis (IBASE), from Santa Marta; and Roberto Lucena, member of community activist group Rocinha Sem Fronteiras, from Rocinha—panelists discussed the ways in which society as a whole ignores the potential of favelas while, at the same time, expecting favela residents to demand their rights more incisively than those who do not live in favelas.
The third day of the seminar was opened by Pedro da Luz, president of the IAB in Rio, who provided an overview of the day's program. First, academics from local universities in Rio reflected on the Favela-Bairro program, followed by a dialogue with audience participation. The second segment consisted of an overview of current public policies related to favela development, integration, and upgrading led by members of the Rio de Janeiro Architecture and Urbanism Council (CAU/RJ). Finally, representatives of the IAB and CAU and local politicians offered final considerations and reflections.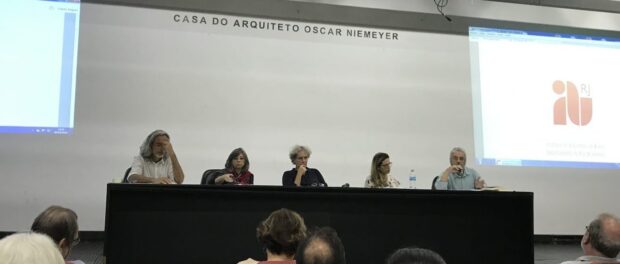 Professor Marcelo Baumann Burgos from the Pontifical Catholic University of Rio (PUC-Rio) explained that it was only in the 1990s, which he considers the "decade of cities," that cities became subjects of research and debate as multifaceted and democratic spaces—not only grounds for government intervention but for social interventions as well. These debates were not limited to civil society organizations; they also flourished within universities, which increasingly began to produce research in service of the public interest.
Then, Burgos and Maria Alice Rezende, also a PUC professor, questioned the role of academic research and researchers in favelas. They noted that all professionals who work in favelas and conduct research in these communities should be equipped with an interdisciplinary education that includes social service training, such to view favelas not only in terms of need and assistance but also in terms of the strengths and resourcefulness of those who live there.
Burgos discussed the "rebranding" of Favela-Bairro as Morar Carioca, which was implemented in tandem with the Pacifying Police Unit (UPP) program, explaining that these programs have not seen success because they treat favelas as problems—whereas Favela-Bairro signaled a potential shift in the government's approach toward favelas, which had previously been considered "aberrations." Rezende then provided an overview of the late 20th-century Rio politics that led to the development of the Favela-Bairro program. According to Rezende, many debates that eventually gave rise to Favela-Bairro centered on diminishing the visible and invisible marks that Brazil's military dictatorship left on Rio de Janeiro's urban landscape, which included efforts to physically and socially integrate the city's favelas. The program was guided by the notion that "[favela residents] deserve a city, not just a house," according to Rezende. She went on to discuss how political and academic leaders of that period, likely for the first time in Rio's history of favela upgrading, attempted to include meaningful input from residents. Public debates and the resident perspectives that were heard in these forums were central to the inception of Favela-Bairro.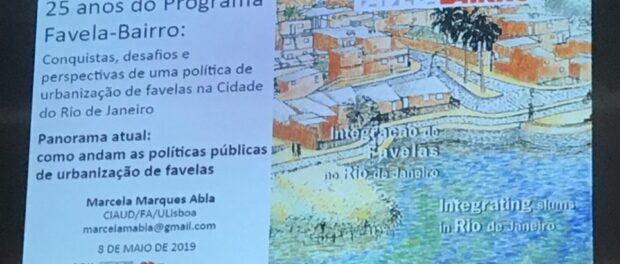 Adauto Lucio Cardoso from the Federal University of Rio de Janeiro (UFRJ) and Francine Helfreich and Ronaldo de Moraes Brilhante from the Fluminense Federal University (UFF) discussed Favela-Bairro's achievements and the problems from which the program suffered. Morar Carioca and the current state of municipal and state-level urban development in favelas was also brought up. Cardoso commented on the lack of continuity typical of many social welfare programs in Rio and in Brazil as a whole, resulting in the inability to make real change. "Currently," he stated, "the city of Rio de Janeiro has no [favela development program] whatsoever," despite the City's affirmation that Favela-Bairro will be resumed. Cardoso talked about how many other major Brazilian cities invested in favela upgrading programs in the late 20th century, but with mixed results, largely due to this issue of continuity. Helfreich, who has carried out extensive social science research in the Maré favelas, stated that she cannot downplay the benefits of research—not only for the communities involved but for the researchers as well. She stated that "[our society] has an unreasonable fear of the poor," which "prevents leaders from all ends of the academic spectrum from treating favelas with respect. By conducting research in communities such as Maré, these unreasonable fears can be eliminated." Brilhante closed the discussion by summing up the previous points made by other speakers. He emphasized Favela-Bairro's importance not only as a favela upgrading program but also as an endeavor to better integrate society, the complexity of which goes beyond mere spatial interventions.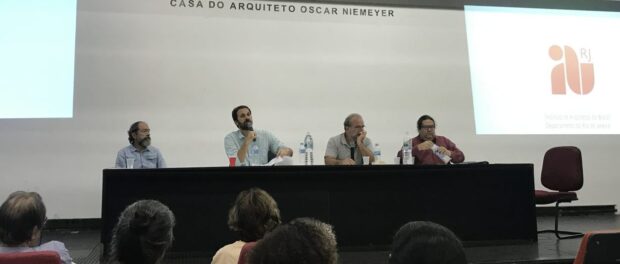 Finally, in the last session, representative Flávio Serafini and city councilor Tarcísio Motta spoke about their concern for the current political situation in the city and state of Rio de Janeiro—especially with regard to the safety, well-being, and development of favela communities. They discussed how planning failures have led to higher death tolls as a result of recent heavy rains in Rio and how stalled social projects and budget cuts across various sectors have hurt Rio's low-income communities the most. They closed by writing a letter addressed to Mayor Crivella and Governor Wilson Witzel urging them to resume stalled planning projects that are crucial for Rio's urban fabric as a whole, but especially for the city's favelas.