On June 8, the group Rocinha Sem Fronteiras ("Rocinha Without Borders") invited Renata Souza (PSOL)—state representative and president of the Human Rights Commission of the Rio de Janeiro State Legislative Assembly (ALERJ)—to discuss the topic of human rights in times of violence. During the meeting, which took place at Rocinha's Nossa Senhora da Boa Viagem Church, in Rio's South Zone, residents heard initial remarks from the representative, followed by a discussion among all participants.
Renata Souza is the first black female president of ALERJ's Human Rights Commission. In her opening remarks, Souza commented on the importance of her presence in this space of power and on two attacks that she recently experienced. "I receive many attacks. I believe it's because I am a black favela woman occupying the same positions as them in a place where the majority are white men." She explained that human rights go beyond the prevention of death; human rights refer to the basic rights for life: "It's not normal for people to die because they lack access to water, for people to go without electricity for days on end, for people to lack basic sanitation, or for children and teens to go without classes and be victims of stray bullets. We need to pay attention to this because favela residents constantly encounter these situations and they can't simply grow accustomed to them. This is not normal. So, I believe deeply in participatory policies, in listening and taking action so that these situations can be avoided," Souza stated.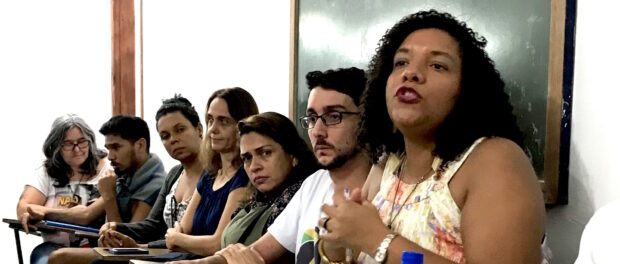 During the conversation residents interacted and shared their opinions on housing, water, education, health, basic sanitation, and actions by the Military Police in the community. History teacher Roberto Lucena, 53, believes that a more humane perspective is lacking with regards to the state's approach to favelas: "I mainly experience the violation of human rights when I leave the house to buy bread and encounter police armed with military-style weapons. Recently, there were landslides in favelas and many residents lost their homes or had them condemned by the Civil Defense. Family Clinics are becoming increasingly precarious. Regarding the issue of education, classrooms are shutting down because teachers are not being hired. Ultimately, the government makes itself present in favelas and peripheries with weapons of war and forgets what is most essential: health and education."
As facilitator, Lucena also emphasized the importance of the issue at hand. For him, it is essential to explain human rights: "The group Rocinha Sem Fronteiras considers human rights an instrument to defend those most in need because they apply to everyone—across social classes, religion, sexuality, ethnicity, etc. We urgently need to reestablish democracy because we are living in a political regime that is theocratic and not democratic," he concluded.
Michele Lacerda, 31, who works directly as a parliamentary advisor to representative Souza, is also a Rocinha resident and attended the meeting. According to Lacerda, there is currently a distorted view of human rights: "It is sad to say, but people are losing their humanity. Today, there are people saying that human rights serve to defend criminals, but criminals are human beings, too. So, I think that the largest challenge is to show that human rights are for humans and this is true regardless of where they come from, where they live, the balance in their bank account, etc. We have rights that should be respected, not violated, and Article 5 of the Brazilian Constitution must be respected," she argued.
Born and raised in Rocinha, Lacerda is the niece of bricklayer Amarildo de Souza, who disappeared after being detained by Pacifying Police Unit (UPP) officers in Rocinha in July 2013. She commented that she was happy the meeting took place within the community, in a vulnerable location, where there is not much information regarding the topic: "It's extremely important to hold and participate in this meeting on human rights in favelas. It affords the possibility of finding space to breathe, but above all, we are able to feel supported and not alone in this struggle for rights. A meeting at this level, in a favela, provides the strength to carry on," said Lacerda.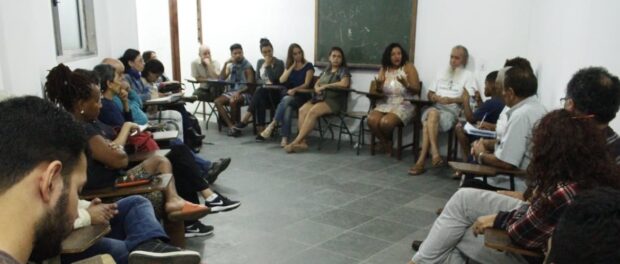 Many residents were happy with the outcome of the event. Some were excited to have voted for Renata Souza and for the opportunity to directly discuss common goals and issues with her. Such was the case of Pedro Paiva, who was visibly moved when he commented on the privilege of attending the meeting and feeling that someone in power was concerned about favela populations: "It is very important when public representatives come to the favela and create a dialogue that is direct and sincere. In the case of Souza, it is incredible to be able to speak with the president of the Human Rights Commission, which mediated a public hearing at ALERJ that addressed human rights violations and police operations in favelas. It is extremely necessary to discuss this issue so that we can fight against excessive actions by the government and understand how to protect ourselves against these attacks," he stated.
At the end of the meeting, many felt enlightened about the topics covered and democratically decided which subjects ought to be placed on the agenda. Rocinha Sem Fronteiras' meetings take place on a monthly basis and aim to find effective solutions to the community's problems through discussions with representatives on selected issues.