For the original article in Portuguese by Elvira Lobato published by Agência Pública click here and here. Angelina Nunes, Claudia Lima, and Cristina Alves contributed reporting. Photographs by Ana Lúcia Araújo. This is the first article in a four-part series produced through Agência Pública's journalism grants contest focusing on hunger in Brazil in partnership with Oxfam Brasil.
Introduction
This series reveals a form of violence enacted against Brazilian women.
In a reality that can't be represented in statistics, they go without food in order to feed their small children as they confront violence both inside and outside the home. They clutch their loved ones as they live in areas where drug traffickers exchange fire at all hours of the day. This is the situation in pockets of poverty in Rio de Janeiro—the state with the second largest GDP in Brazil. Despite its high ranking in this measure of aggregated wealth, hunger exists and has been perpetuated for generations in Rio de Janeiro. Today, cuts to social programs rob women of their recently realized autonomy, pushing them back into poverty and domestic violence.
The contrast is apparent just 80 kilometers from the capital, in the municipality of Japeri in Greater Rio's Baixada Fluminense. In the municipality with the lowest Human Development Index figures in the Rio de Janeiro Metropolitan Region, women are the protagonists in a story of everyday misery. They recount their lives slowly, stories punctuated by brief silences. In extreme poverty, they divide the indivisible: the leftovers of a prison guard's packed lunch—transformed into lunch and dinner for the family—or grilled chicken feathers served with grits and grass.
Many of these women find support in solidarity networks formed by religious centers, but this assistance is not enough to allow their children to overcome their tragic inheritance in a municipality where the public sector offers few alternatives. The mayor is in prison, accused of involvement with drug trafficking; government food assistance is limited; school dropout rates are high.
Similar realities pervade and at the same time are obscured in other regions of the state. Ninety-five miles away, in the Vargem Grande district of Rio's West Zone, women from a quilombola community also struggle to provide daily food and schooling for their children. There, hope lies in traditional agricultural practices passed down from ancestors that can help to end hunger, and in experiments with community schools.
In a country haunted by the threat of returning to the World Hunger Map, it is women who confront this ghost and attempt to break the cycle of poverty—invisible in statistics and enduring for generations.
Check out this special series…

---
Sleeping to Forget Hunger
Mothers from Japeri, in the Baixada Fluminense, recount their struggles raising children in the midst of poverty, unemployment, and daily confrontations between drug trafficking factions.
Hunger creates fatigue. Hunger imparts trauma upon its victims for the rest of their lives. And for many impoverished families from the periphery of Rio de Janeiro, hunger spans generations.
Some mothers describe hunger as a pain that hurts the stomach like a punch to the gut. For others, hunger comes with immeasurable emotional suffering when they are unable to adequately feed their young children, or when they have to trick their children into eating something that is not real food. When a household is short on food, it is the mother who goes without in order to ensure that her children have enough to eat.
These stories of female heads of household struggling to raise and feed their children take place in the municipality of Japeri—just 80 kilometers from the center of Rio de Janeiro. Here, in the second richest state in the country, lie pockets of poverty and hunger. The municipality has the worst Human Development Index score in the Rio de Janeiro Metropolitan Region.   
Violence and unemployment exacerbate the misery. Three drug factions—Amigos dos Amigos ("Friends of Friends," or ADA), the Comando Vermelho ("Red Command," or CV), and Terceiro Comando Puro ("Pure Third Command," or TCP)—dispute control over the surrounding territory, hampering the availability of employment opportunities. Journalists who come to Japeri are advised to drive with their car windows down and hazard lights on so they aren't mistaken for police or members of rival factions.
Because of this violence, two of the city's seven Social Assistance Centers (CRAS) remained closed throughout the second half of 2018. Shots can be heard at all hours of the day, with no neighborhood in Japeri considered safe. Even the district of Engenheiro Pedreira, home to the majority of the municipality's residents as well as its commercial and banking center, is dangerous.
With a population of 103,000, Japeri had 10,323 residents enrolled in the federal social welfare program Bolsa Família in December 2018. Our reporting identified women living in extreme poverty who have not received their benefits due to lack of documentation or blocked payments. According to Márcio Rosa, head of the municipality's Social Action Secretariat, the federal government suspended nearly 6,000 benefits in 2018 because the families did not meet program requirements such as re-registering and completing child weight checks, or because of discrepancies in household income discovered when cross-referenced with official data.
Itinerant Registration
Rosa recognizes that there are very few beneficiaries relative to the poverty that is visible in the streets. For this reason, he decided to establish an itinerant system to register the impoverished population that is not part of Bolsa Família. "We believe that many do not register due to misinformation, fear, or lack of funds for transportation to City Hall," he said. According to Rosa, the City of Japeri will rent a bus to serve poor neighborhoods and register residents.
Families are eligible to receive Bolsa Família when they are considered to be living in extreme poverty. Adult beneficiaries receive a monthly allowance of R$89 (US$23), while children up to age 15 receive R$41 (US$10.50, limited to five children per family) and adolescents ages 16-17 receive R$48 (US$12, limited to two adolescents per family). To maintain their benefits, families must prove that their children up to six years of age have been vaccinated, weighed, and measured.
The City of Japeri offers little assistance to mitigate hunger. The Social Action Secretariat only distributes 600 baskets of staple foods, personal hygiene items, and household goods per year. Rosa clarifies that this number represents the units distributed, not families served. In other words, this service does not reach every family living in extreme poverty.
Due to violence, the City suspended public events typically organized to administer vaccines and provide haircuts and other services. "How can we put public workers in the streets with three warring drug factions?" Rosa asked. At the beginning of the interview, he played audio clips of gunshots recorded that morning and night before.
For Generations, Sleep Has Been an Escape from Hunger
Sleep is one way to fool an empty stomach, says Sônia Regina Campos, 61, as she recounts her story. Born in the neighboring municipality of Mesquita, in the Baixada Fluminense, Campos has ten children and 14 grandchildren. She abandoned her studies in the third grade, as her mother had done before her.
The similarities between Campos and her mother do not end there: both had ten children whom they could not adequately feed. Her father, an alcoholic, held various jobs. "I remember the days without food in my parents' house. My mother would put us to bed as a way to ride out the hunger because hunger made us sleepy. This went on until I grew up. At 14, I went to live with my grandmother because there wasn't enough food in my mother's house," Campos says.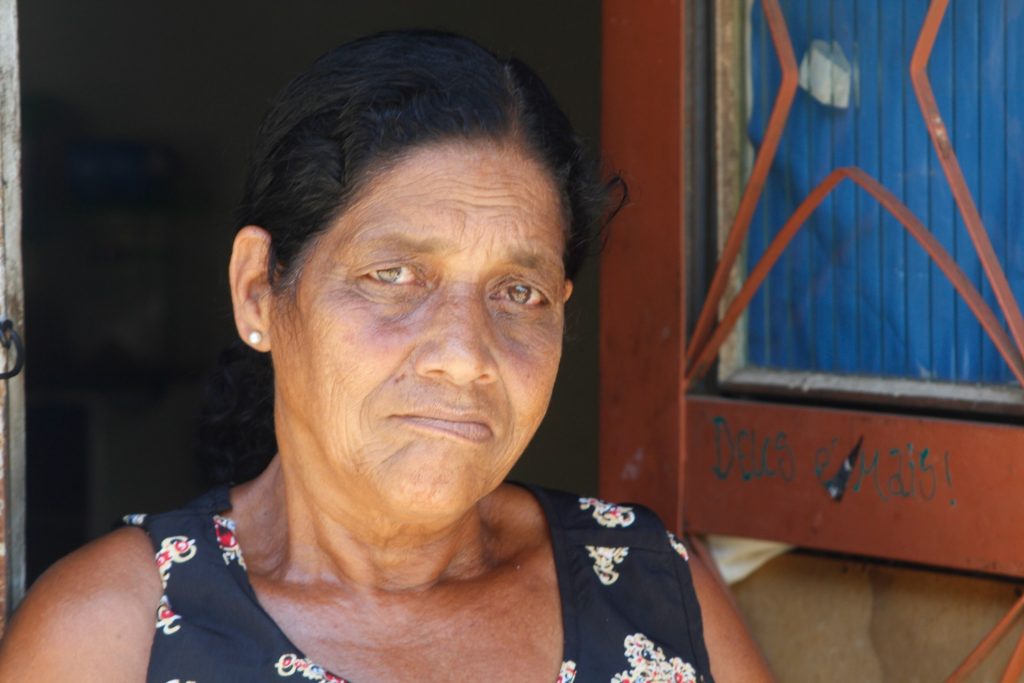 Campos married at 19 against her grandmother's wishes and found herself repeating the plight experienced by her mother. Her husband took on odd jobs and frequently went without work. Campos would perform domestic work to put food on the table. But it wasn't enough. "I put my children to bed hungry many times to forget the hunger, just as my mother had done."
She remembers that her husband would become anxious when he was unemployed and there wasn't enough to eat, prompting him to unleash his anger on her. "I would try to console him, but he would beat me a lot—a lot. Beat me like he was hitting a man. He would even beat me while I was pregnant. I had my first child at 20. By 30, I already had six."
To feed her children, Campos would collect vegetables left over from the farmers' markets and expired foods discarded by supermarkets. "Thank God my children never got sick from it." She was widowed at 53 and since her husband didn't leave a pension, she began to survive off of her meager earnings from domestic work and the R$127 (US$30) that she receives from Bolsa Família.
Today, Campos rents a small room in the Engenheiro Pedreira neighborhood, sharing the space with her youngest son. She sleeps in a single bed and her son on the floor. There is no refrigerator or closet in the house, but there is a 14-inch analog TV and a battery-powered radio.
Her daughters also struggle to feed their children. One lives in a room neighboring her mother with three children and also survives off of Bolsa Família and donations from neighbors. Campos says that she monitors the situation of her daughter and three young grandchildren. "I know that they're hungry because she comes asking for food. But I'm little help because I also depend on the neighbors."

Grits with Grass
Famine transforms grass into food, says Fátima Regina dos Santos, age 53, who was born into and grew up in poverty in the Baixada Fluminense: "I sustained my children on maxixe [wild cucumber], wild passionfruit, green bananas, grits with grass, and chicken feathers grilled over a wood fire. I've gone hungry—and still do. There are days when I just want to eat bread, but I can't."
Santos does not have positive childhood memories. Her mother was an alcoholic and a sex worker: "My childhood was awful. I was hungry and would dress in sacks," she recalled. She has six children from two different marriages, with neither father providing support. She survives on earnings from occasional domestic work, the R$320 (US$80) per month that she receives from Bolsa Família, and support from neighbors that sometimes give her "meat scraps."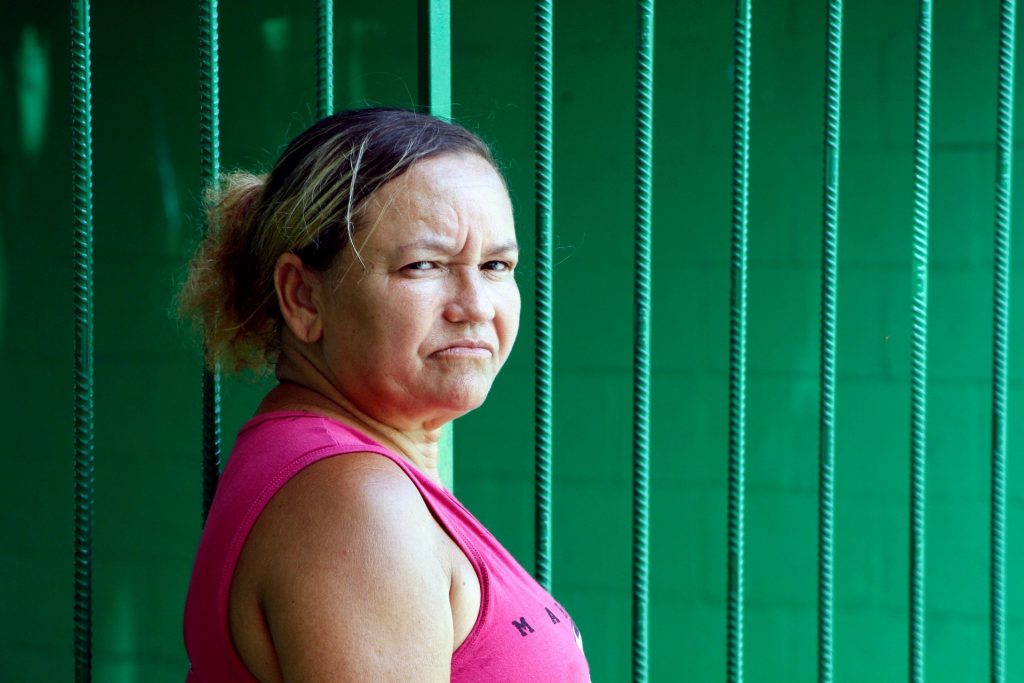 Santos lives in a favela dominated by drug trafficking in the neighborhood of São Jorge—her home an abandoned house whose owners fled to escape the violence. She lives with a granddaughter and her youngest daughter, age 14. Her other daughter also lives in an abandoned house in the same favela, and like her mother, raises children without the support of their fathers. They, too, frequently go hungry.
Prison Food
Seeing Luzia Jesus Mendonça walk down the streets of Japeri's Jardim Belo Horizonte neighborhood, it is difficult to imagine the drastic situation in which she finds herself. At 41, she suffers from depression and has no source of income aside from the change that she earns selling flip-flops and perfumes to neighbors who are nearly as poor as she is.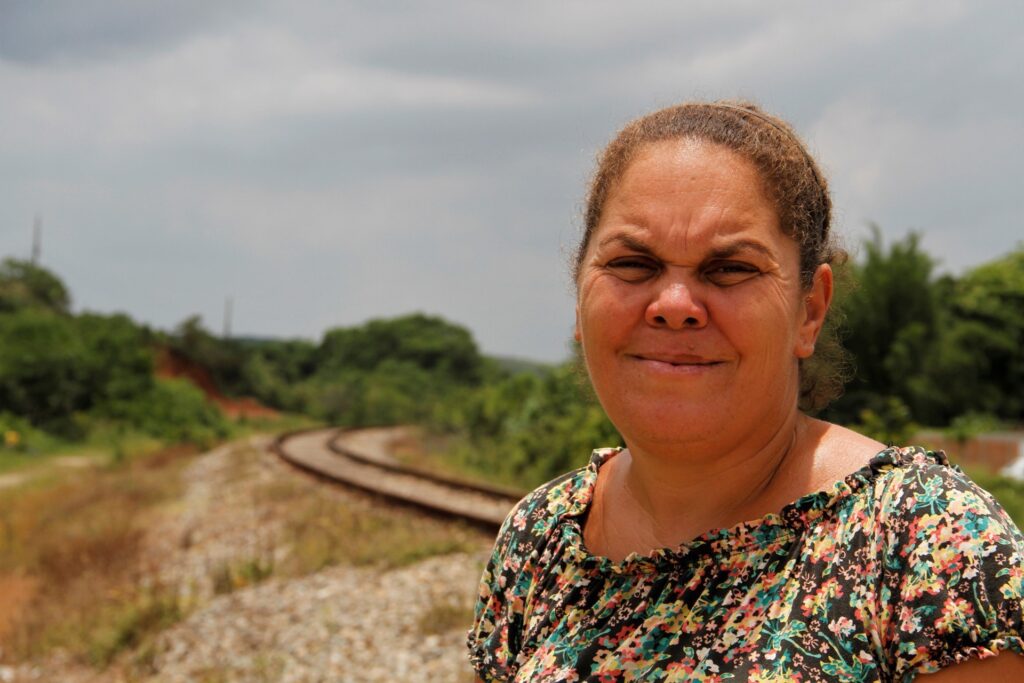 Mendonça lives with a friend and two of her four children in an unfinished construction site bordered by a thicket along some railroad tracks. On the other side of the tracks lies the prison complex, where her family searches for bread for breakfast and for leftovers from guards' meals.
Her youngest son, age 10, searches for bread. From 7 to 8am, he takes a narrow and slippery path down the hill, crosses the railroad tracks, passes the public school where he studies, and walks up the hill to the Cotrim Neto Correctional Facility. The jail is part of the Japeri Penitentiary Complex, home to the Milton Dias and João Carlos da Silva Prisons.
According to Mendonça, not all of the guards eat the meal that is served at the jail. Most of the time, her son returns with bread and butter, but some days he also brings home Guaraná soda or powdered chocolate milk.
Since her son eats lunch at school, it is up to him to wait for the packed lunches discarded by the prison guards, which are distributed around 2pm. Many families, she says, fill their stomachs with food from the prison. The packed lunch—consisting of rice, beans, pasta, manioc flour, and meat—is rationed for the family's lunch and dinner.
Living under these stresses, Mendonça takes antidepressants. "I lived in the Jacaré favela [in Rio de Janeiro] as a child. I saw many deaths, many gunshots, and it got to my head," she recounted. Her family receives support from congregants at the Assembly of God Church, which she frequents. "I get help from the church and from the prison. It's here and there."
Excluded from Bolsa Família
Mendonça, who depends on food from the prison to survive, is one of six thousand whose Bolsa Família benefits have been suspended. She has been without benefits since July 2018, when her 15-year-old son went to live with his father and dropped out of school. For families to receive Bolsa Família payments, children under 15 must have school attendance rates of 85%, and children ages 16 and 17 must have attendance rates of 75%. Truancy results in the benefits being cut off.
Luciene da Costa Lima and her four children were suspended from the Bolsa Família program in September 2018. According to Lima, their monthly R$525 (US$130) payment was blocked because the government cross-referenced the family's income data and found that her youngest daughter, age three, qualified to receive a social security pension equivalent to the monthly minimum wage because her father had been killed in a train accident.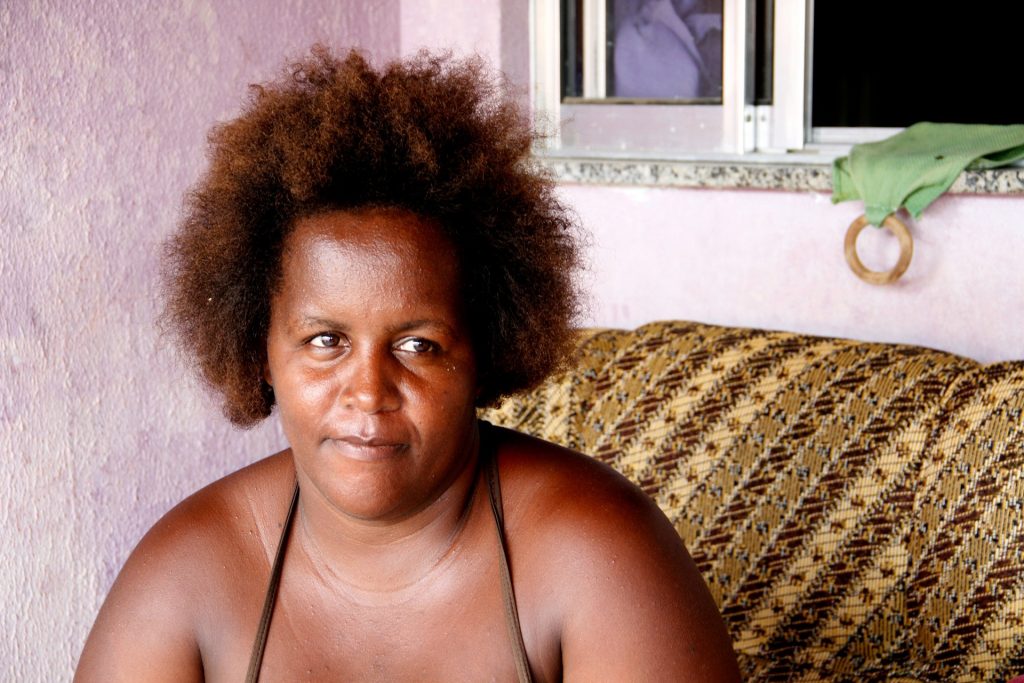 In theory—strictly looking at the numbers—the R$950 (US$237) monthly pension brought the family out of extreme poverty. But reality is a different story. With the social security benefits, Lima pays the monthly rent of R$250 (US$62) and runs to the supermarket to do her monthly grocery shopping: 35 kilos of rice, eight kilos of beans, eight cans of cooking oil, 20 kilos of sugar, seven boxes of milk, and plenty of cornmeal for grits. To cut costs, she doesn't buy coffee. Meat eventually makes the menu—but only the less desirable parts of the chicken, which are cheaper. "The kids beg for yogurt, but I can't give it to them," Lima said.
Her home is tiny—a living room, bedroom, and kitchen—but the rooms are clean and decorated with children's toys donated by the church. Lima is illiterate. She dropped out of second grade and only knows how to write the letters that form her own name.
Resignation and Struggle
At age 29, Joice Aparecida dos Santos Ferreira bends over backward to raise her six children. The two oldest are preteens and her youngest is just a year old. All of her children have names that begin with the letter "K": Kauã, Kaio, Kaíque, Karen, Kailane, and Kauane.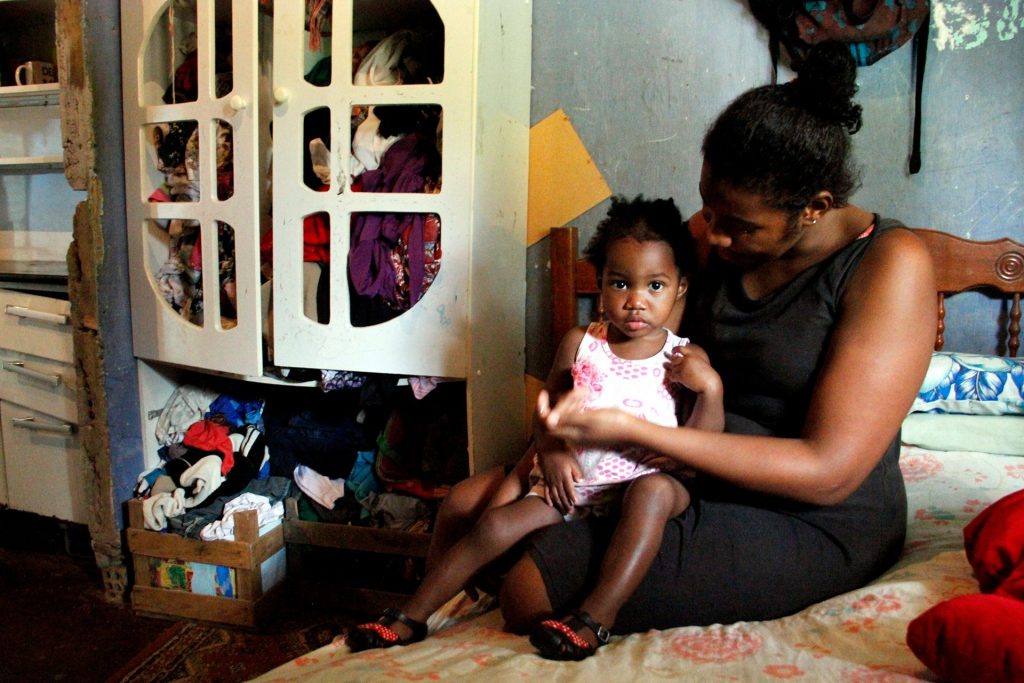 The six are all children of Agnaldo Orlando Silva, a bricklayer's assistant. Without regular employment, he lives off of odd jobs. The couple separated and Ferreira had to go to court to make him pay child support. But the young woman seems resigned to tough living conditions. She doesn't complain of her ex-husband's neglect and praises his aunt, a domestic worker in Copacabana, who helps with money and essentials.
Ferreira lives with her children in a two-room extension off the back of her grandmother's home. Her grandmother, Maria Ernestina Santos, age 70, was a domestic worker and learned to read after retiring. Maria said that it pains her to see her granddaughter suffering. "She doesn't ask of anything from me, but I know that she struggles. I try to help her in discrete ways so that she doesn't feel ashamed."
Ferreira's oldest children study in the Joana de Angelis Spiritist School, where they eat breakfast, lunch, and an afternoon snack. The youngest children are in a municipal preschool, where they also eat lunch. Their home does not have a closet, refrigerator, table, or chairs—just a double bed, a twin bed, an old armoire, and a stove. The only source of entertainment is a 14-inch analog TV.
Ferreira goes to great lengths to support her children: she works as a housekeeper three times a week and sews dresses and shorts at home while her children are in school or sleeping. She assists a seamstress who pays R$2 (US$0.50) per pair of shorts hemmed. The pastor of her church grows vegetables and often shares his produce.
She never imagined that her future would be this way. "I thought that it would be better, but I will do everything that I can so that my children can have a better life."
Japeri Residents Receive Help from Religious Institutions
In Vila Santa Amélia, one of the most impoverished neighborhoods in Japeri, the Joanna de Angelis Spiritist Institute maintains a school with 125 full-time students. The project, led by women, was founded in 1980 by Terezinha Oliveira Lopes, now age 86. The students' mothers devote one day per month to helping in the kitchen, cleaning, and taking care of the facilities. The classrooms are airy and decorated with flowers and colorful curtains, while fruit trees provide shade and cool the rooms. Residents use the large cafeteria for birthdays and wedding parties.
The school's founder was born into a family with 20 children. They were poor but never hungry. "If it weren't for the food here, many would go hungry," Lopes states.
The school provides students with uniforms, school supplies, and three meals per day. In addition to core subjects, the students learn music, technology, and sewing. Families are asked to contribute one kilogram of food per month, but most of the school's costs are covered by donations from members of the Joanna de Angelis Spiritist Center in Copacabana and by friends of the founder.  
Lopes, a retired teacher, lives nearly 100 kilometers away in Botafogo, in the South Zone of Rio de Janeiro. Despite her age, she endures the heat and traffic to come to Japeri five days per week. "I've never been robbed or even approached by drug traffickers, nor have I ever received an order to impose a curfew at the school. I'm respected for my work," she said.
Lopes attributes her decision to create the school to divine forces. She had inherited two land lots that she intended to sell but found out that there was not a single school in the region. Upon this realization, she bought two more lots. "It's the source of energy and purpose in my life," she said.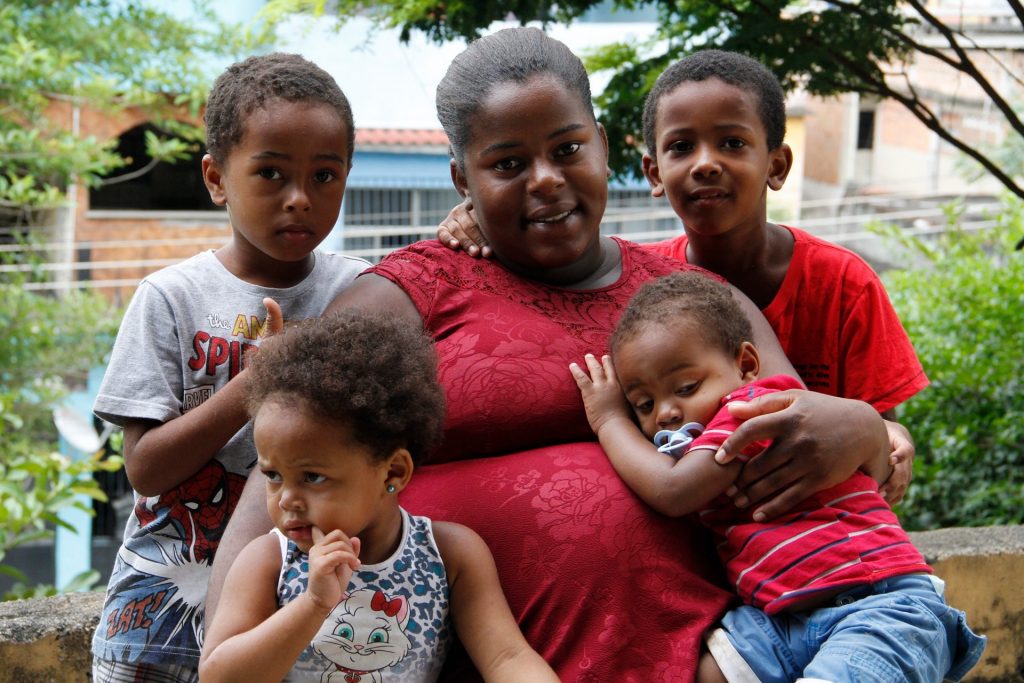 Church Ministry Provides A Source of Food for Baixada Residents
On the first week of every month, children and mothers take over the patio of the Sagrada Família Catholic Church—located in the Posse neighborhood of Nova Iguaçu, also in the Baixada Fluminense. After the children are weighed and measured, the families receive food clothes donated by churchgoers. The Children's Ministry, an entity of the Catholic Church, knows and meets the needs of every mother.
One of these mothers is Suelen Paulino de Assis, age 24, who had her fifth child—a girl named Alícia—three days before the new year. She lives in a home below ground level and when it rains, water covers their stove and scant furniture. Both Assis and her children suffer from scabies, a type of skin infection transmitted by dogs. They lost their Bolsa Família benefits in 2017 because the floods destroyed the children's' birth and vaccination certificates and they did not obtain new documents.
Assis's story is a familiar one among poor young people in the Baixada Fluminense. Her five children have four fathers. She raises her children by herself, without help from any of their fathers. She became pregnant in the early stages of her relationships and became a mother for the first time at 15. How does she feed her children? "With the help of others," she said. "They donate rice and beans, sometimes a liter of milk." They rarely eat meals with vegetables.
Marcela da Cruz Barbosa, age 25, and Marcela Ferreira da Silva, age 36 are also served by the Ministry and live in extreme poverty. The former attended school only until fourth grade. She lives with her husband and three children in a wooden shack with packed dirt floors. The latter has five children and lives on the edge of a sewage canal in the periphery of Nova Iguaçu.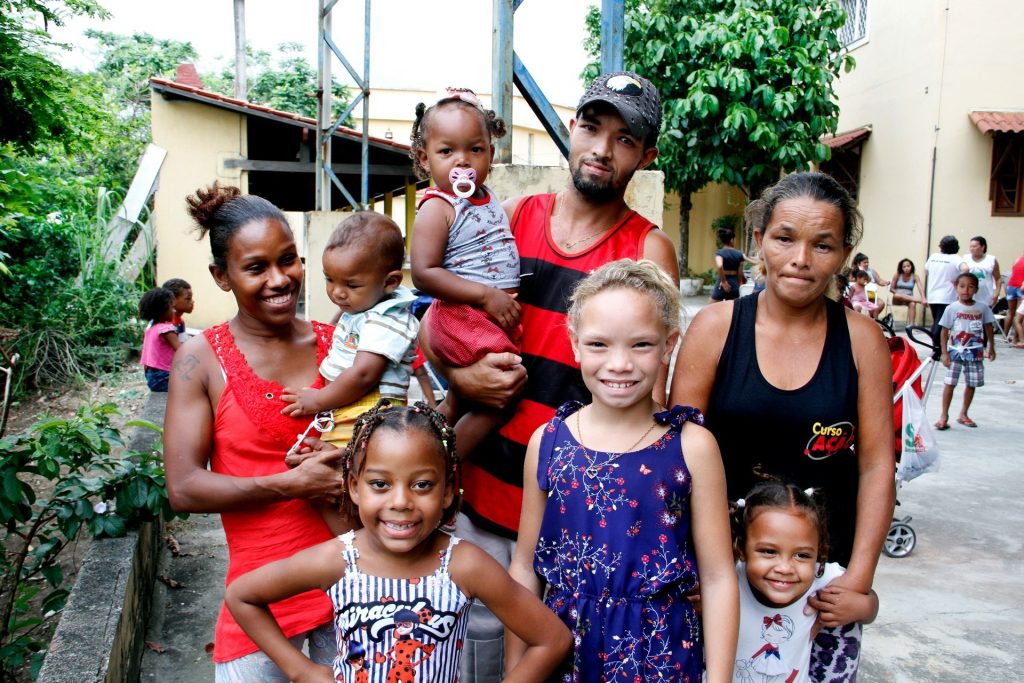 "My dream is to live in a brick house. But I'm diligent. I keep everything clean," Barbosa says with pride. She works as a housekeeper while her husband earns R$216 (US$54) per week working at a car wash. They pay the remainder of their rent with the R$350 (US$87) Bolsa Família payment. By the time the bills are paid, the parents often go to bed hungry.
Silva, like her mother, is illiterate and also lives in the Baixada. "I always wanted to study and become a caretaker for the elderly, but my mother wouldn't let me. She would say, 'If I couldn't go to school, you can't either.'"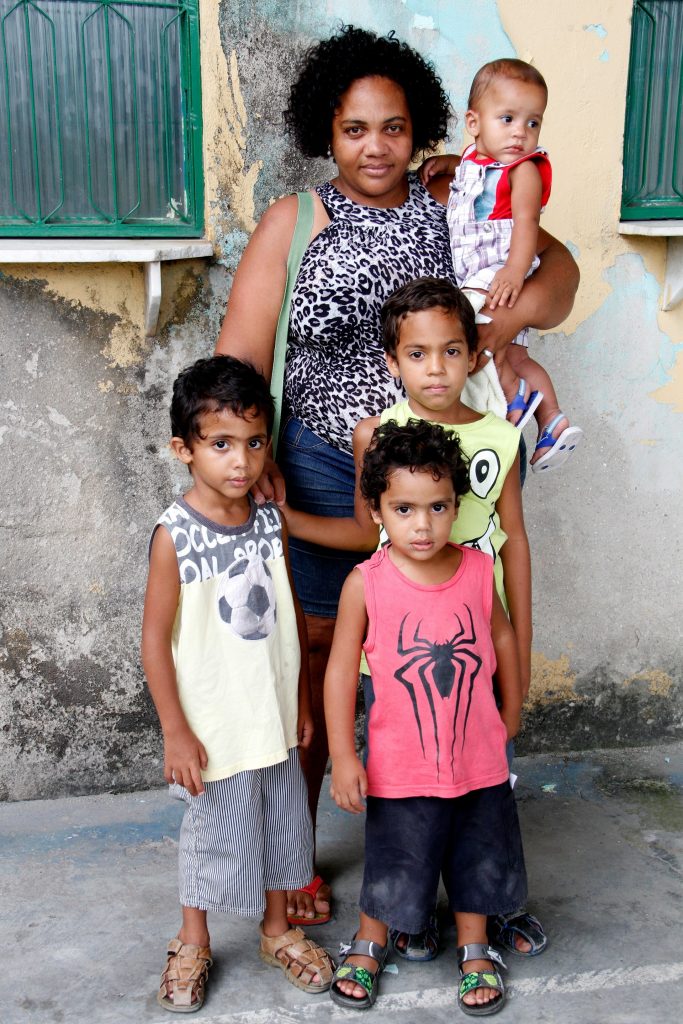 She worked as a nanny until her second child was born, and now performs domestic work to round out the monthly payment of R$241 (US$60) from Bolsa Família. While her family's menu is largely limited to rice and beans, she always provides this basic necessity for her children. "I'm a supermom. My children always come first in my life."