On Tuesday, June 18, a seminar titled "Activist Experiences from Brazil and the Global South" was held at the Federal Fluminense University (UFF) in Niterói. The day-long event focused on ways in which countries of the Global South can connect through digital platforms to advance human rights activism on a global scale. Speakers presented on ideas about the use of technology and social media to promote political rights in favelas.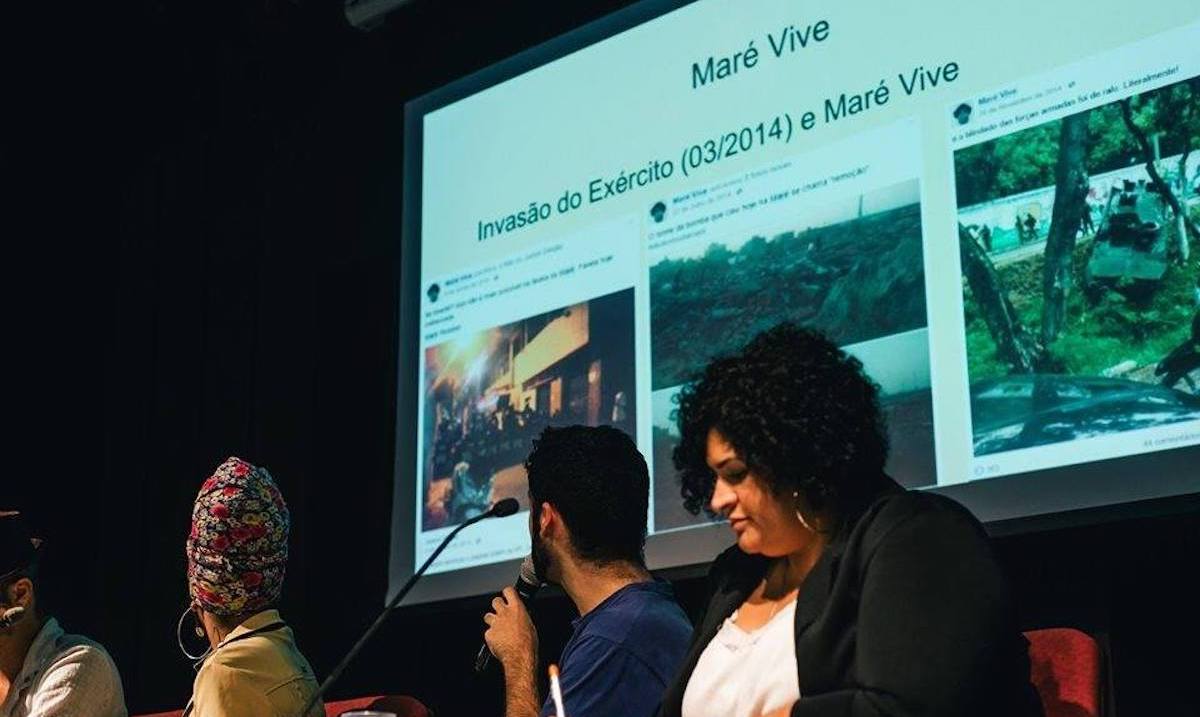 The seminar began with a series of activities on the theme of "Building Bridges Between Brazil and Africa," followed by a panel discussion on "Artivism and Creative Actions to Combat Marginalization" featuring community journalists Thainã de Medeiros of Coletivo Papo Reto, Anderson Caboi of Maré 0800, Andressa Núbia of the GatoMÍDIA collective, and Tatiana Lima of the Núcleo Piratininga de Comunicação.
Introducing the final panel of the day on the topic of technologies, race, gender, and human rights in the Global South, UFF professor Andrea Medrado spoke about the e-Voices Guide for Practitioners on "Activism, Art-ivism and Digital Media to Reduce Marginalization" organized by UFF's community-based learning Dissemina Project in partnership with e-Voices: Redressing Marginality, a network that explores how marginalized groups in Brazil, Kenya, and Syria make use of digital media to promote active citizenship and political rights. The handbook details the ways in which an international network of academics and activists focused primarily on the Global South can explore the theme of marginalization and how digital media can be used as a tool for marginalized groups to make their voices heard.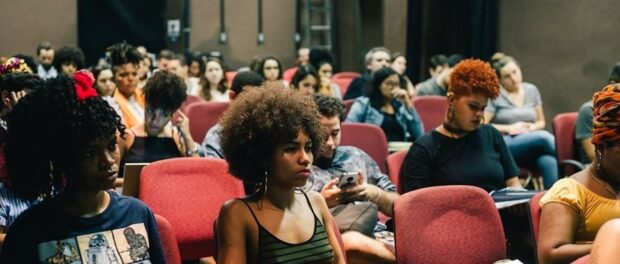 As Medrado explained, the e-Voices Guide for Practitioners draws on the experiences of activists, favela residents, and professionals who use media to combat marginalization. The guide discusses both the advantages and challenges that social media has brought to favela activists, focusing on two prominent social media groups based in Rio's favelas: Complexo da Maré's Maré Vive and Complexo do Alemão's Coletivo Papo Reto.
Maré Vive was created in 2014 as a strategy to cover the military occupation of Maré ahead of the World Cup through the perspective of residents, using social media—primarily the group's Facebook page—as a platform to share information and live updates on police operations in the community in order to keep residents safe. In the years that followed, Maré Vive developed into a platform where residents can also post job opportunities, accomplishments, events, and courses available to Maré residents. Similarly, Coletivo Papo Reto was created in Complexo de Alemão as a network for residents during times of crisis, originally serving to inform residents about the wellbeing of families affected by particularly devastating heavy rains in 2013 and to mobilize the community to gather and distribute food, clothing, and other basic goods to those affected. Over the years, the group developed into a broad-based network of citizen journalists and activists working to dispute mainstream media narratives, document police abuses, and share community news through the strategic use of social media.
These online media platforms have given activists, NGOs, and residents the opportunity not only to enhance connectivity within favelas on an unprecedented scale but also to connect different favelas across the city. Beyond Rio, the platforms have garnered international attention and successfully formed networks with organizations specializing in media technology and data security around the world, such as New York-based human rights organization Witness, a partner of Coletivo Papo Reto. These solidarity networks permit residents to continue their activism at a grassroots level as platforms created and managed by favela residents—guided by the principle of "for us, by us" (nós por nós, in Portuguese)—while also gaining the knowledge and resources of media and technology professionals who can help to protect activists' personal safety.
Reflecting on the experiences of Coletivo Papo Reto and Maré Vive, the e-Voices Guide enumerates a list of lessons and strategies that have contributed to these groups' effectiveness as community-based platforms with global reach:
Being genuinely grassroots
Local knowledge and relevance
Community media expertise
Favela networks
International networks
Data security
Everyday online protection
Favela pride
Getting into institutional politics
Likewise, the guide details the many challenges facing these activist groups, including "financial sustainability, a general mistrust of NGOs, a general mistrust of mainstream commercial media, professionalism versus authenticity, [a need for] more structure between initiatives, media regulation and competition, mistrust of the justice system, and surveillance."
To address this challenge of connectivity among initiatives, one of the goals of the e-Voices network is to connect favela and other informal communities throughout the Global South through social media. Although there has been much activism to the end of promoting digital and face-to-face connections among favela residents within Brazil, taking these connections to the global level presents its own set of challenges. "These exchanges between countries of the Global South are truly rare. We don't exchange, we don't converse directly," Medrado stated. To foster international connectivity, the e-Voices network seeks to "bring together academics, researchers, activists, professionals, and NGOs to exchange with one another."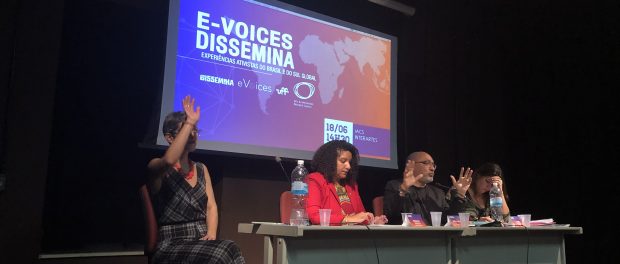 Another highlighted speaker at the seminar was Rio de Janeiro state representative Renata Souza, who is also a member of the e-Voices network. Souza spoke about the importance of digital media for favela residents not only to connect with activists, researchers, and promote their political and social rights, but also to assert their right to visibility. For residents of systemically neglected communities, social media can serve as an indispensable platform to make themselves visible and make their voices heard.
Souza also stressed the importance of social media and connectivity as a tool for favela residents to shape their own stories and portray themselves in ways that are beneficial to them and will help in their struggle for rights. "When people want to create their own stories, they need to be recognized—they need to be seen," she stated.