This article is part of a series of profiles of initiatives in Rio's Sustainable Favela Network.
Initiative: Impacto das Cores ("Impact of Colors")
Contact: Instagram| Facebook | Email
Year Founded: 2016
Community: Morro da Providência
Mission: To recycle paint from surrounding neighborhoods, recover forgotten memories and shed light on the rich history of the favela, educating local children to cherish their roots and respect others.
Public Events: Collective painting events open to volunteers, workshops, and presentations. Check out the Facebook page for more information.
How to contribute: Participate or volunteer to assist the collective actions, make material donations.
Aline Mendes is a third-generation resident of Morro da Providência, Rio de Janeiro's original favela, located on a hill above the city's downtown Centro. Mendes' grandparents settled on the hill over 100 years ago, when Providência was still a collection of wood and clay houses. Mendes' father worked as a painter, and though her parents worked seven days a week to sustain her and her four siblings, there was never a lack of love at home. Mendes carries that same love with her to this day, and has made it part of her work.
Mendes recalls fond memories of growing up in Providência in the 1980s and 1990s. Despite open ditches, blackouts amid summer rains, and water shortages during carnival, Mendes describes her childhood and youth as a "golden period of Providência." Long-time residents and families knew each other well. They shared and maintained traditions, visited each other regularly, and enlivened the streets of the favela. "The people used to love each other more," says Mendes. "During this period, there were birthday parties, wedding celebrations, baptismal celebrations, 15th coming-of-age birthday celebrations, all of these used to happen here. The brides would walk the streets in their dresses… For carnival, people used to descend in large groups down to the city, all dressed up."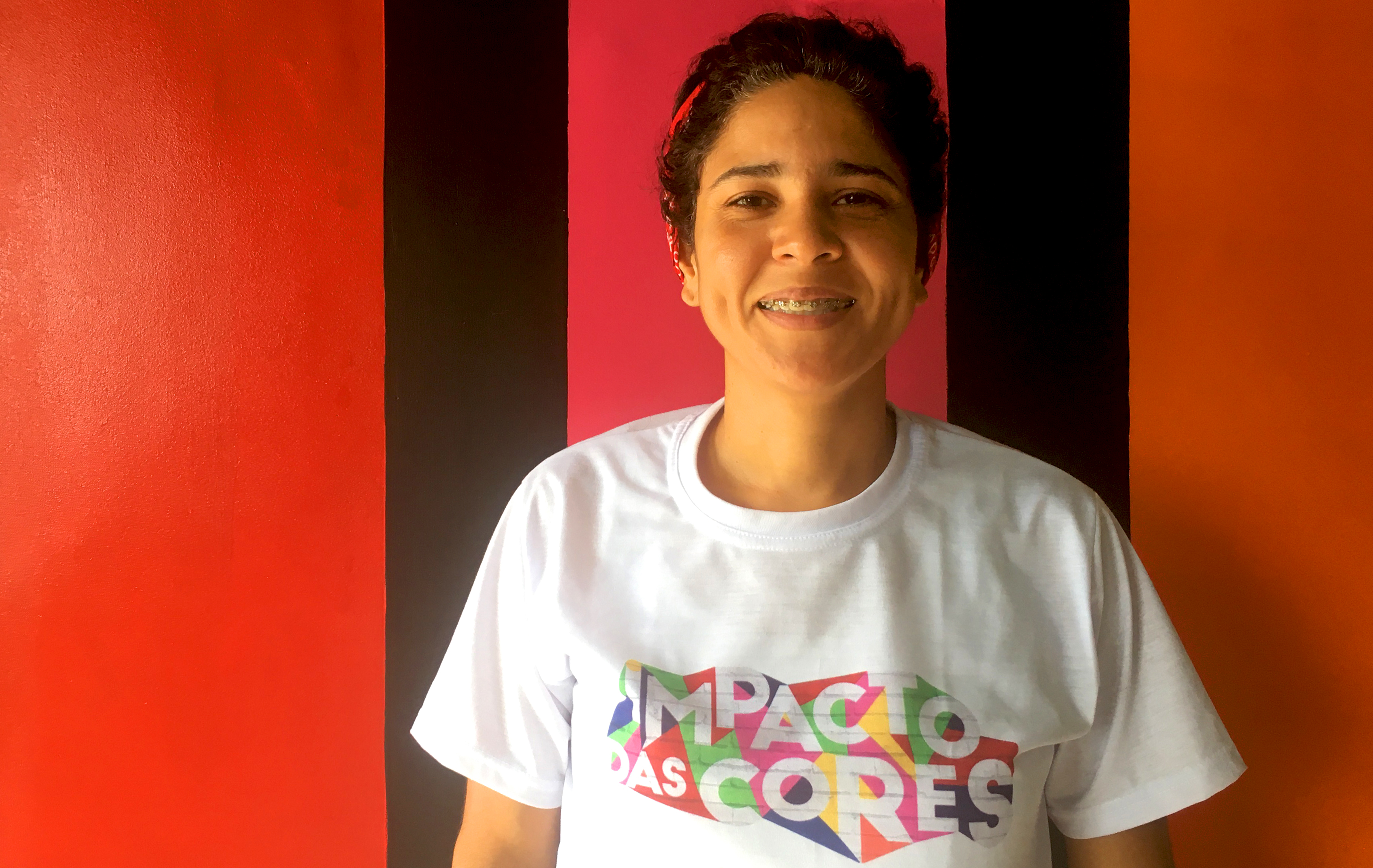 Providência's history is incredibly rich. But even before soldiers returned from the War of Canudos in the Northeast and settled on the hill over 120 years ago, calling it Favela Hill after the robust, resilient favela bush of the Canudos battleground, people lived here, and they included Mendes' ancestors. Their story, she laments, often goes untold. "People value the history [of Providência] from the moment when the soldiers arrived from the War of Canudos to settle here. They started to call it Morro da Favela (Favela Hill) and then Morro da Providência (Providence Hill), but nobody is doing research about the people who already lived here before all that happened."
During the 1990s and 2000s, says Mendes, Providência's population changed dramatically. With preparations for the 2016 Olympics and the 2014 World Cup came promises of work, and the massive Porto Maravilha program foretold the development of seven neighborhoods in the Port Area, the construction of the Museum of Tomorrow, the Pier Mauá and the nearby Olympic Boulevard. Mendes says these program's budgets would have been more than enough to provide beneficial development for the favela, but focus instead turned to Providência's cable car. Today, the cable car station—which was shut down after the Olympics—continues to occupy what used to be Providência's central square and entrance.
It was in this context that the holistic Providência Sustentável (Sustainable Providência) initiative began, along with one of its programs, Impacto das Cores (Impact of Colors).
Early education of children makes up an important part of Mendes' initiative. The story begins with a playground slide constructed under the city's mixed-record Favela-Bairro favela upgrading program. Mendes would visit regularly with her daughter, but when Favela-Bairro came to an end in 2008, the slide and surrounding playground area went neglected by public authorities. When the park's accompanying flowerbeds dried up, Mendes' daughter began taking plants from home and placing them at the once-colorful plot. It was then that Mendes experienced what she calls a "matrix effect," and realized she hadn't been paying attention to her home and birthplace. Her work had distanced her from the favela during the week, and weekends had her visiting cultural centers, lectures, and theaters elsewhere.
Digging back in, Mendes began researching her native Providência, paying close attention to infrastructure conditions, the favela's sewage system, lighting, and façades, and started to collect ideas for activities in her neighborhood. She looked into methods of environmental responsibility, circular economy, and social resilience, and Providência Sustentável was born, beginning as a network of projects involving paper waste recycling, the social reintegration of former criminals, and wood waste recycling for furniture. Impacto das Cores was one of these projects and initially focused on the recycling of paint scraps.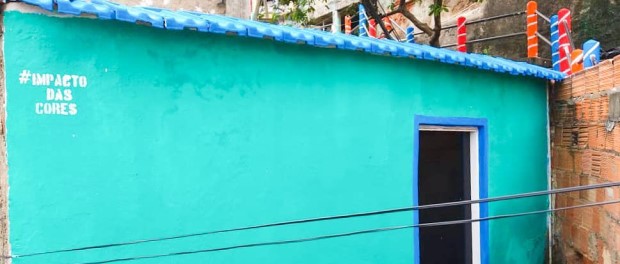 Today, Impacto das Cores' goals are threefold. First, as part of the Providência Sustentável network, it aims to recycle leftover paint, reusing bright colors to paint the walls of houses and public spaces in Providência. Because paint is expensive in Brazil, Mendes says, people tend to hold on to their leftover paint. Over time, the paint turns rotten and moldy, and is often thrown away. "The garbage collection company just doesn't have a specific recycling strategy for this type of product. They just throw it on the truck and it's mixing with everything else," says Mendes. Impacto das Cores, therefore, receives donated paint and recycles it.
Second, Aline wants to share her sense of belonging and love that she now feels for her birthplace with the people that pass through the initiative. This, she says, mostly works through talking about memories and how Providência used to be, what it is today and what might be possible in the future.
Third, she carries with her the mission to leave a message for today's youth and those to come: to be revolutionaries, to value where you come from and stand together. "Because the truth is that all of us live in the same favela when it appears on television," she quips. Although the project was originally conceived for adults, the love for colors can't exist without thinking about children, Mendes adds.
Apart from its main project goals, Impacto das Cores is also a place for human exchange. The mutual sharing of personal problems and feelings makes up an important part of Mendes' life, and she says this aspect of her work has contributed to growing social coherence among favela residents. Mendes says she believes in the power of color therapy and the interaction of colors and human emotion and behavior, and says she has observed how people stopped dumping trash and began showing greater appreciation for the places that have been painted.
Because Impacto das Cores has no institutional funding, and operates off infrequent donations, Mendes has learned to be innovative and flexible to make ends meet. Her close network of family and friends has enabled her to keep her project alive. At her side, she has a few permanent volunteers. Bruno and Mauro help her with social media communication, transportation logistics, and organizing food for mutirões, or collective action projects. Her brother Ney helps out from time to time, and temporary volunteers regularly support the initiative. Most temporary volunteers, however, come from outside of Providência. The locals, Mendes notes, are either too busy or too shy to volunteer with her events, though this is slowly changing.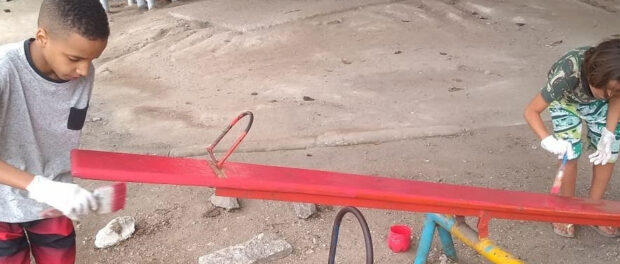 Initiatives to paint favelas have gained broad international attention. But Impacto das Cores is different: for Mendes, it has never been about attention or profit. Despite financial difficulties, the project remains dedicated to recovering forgotten memories of the favela. It is about sharing Mendes' love for Providência. And it is about educating local children, teaching them to cherish their roots and respect the people around them, especially the elderly. Coloring the favela is just a positive side effect. Even so, Mendes knows the positive value of her work's most visible component: "whoever was part of the project will never look at a paint can the same way ever again," she says. "They will never look at dirty, abandoned places the way they used to. If they used their hands to take a brush and helped to paint, they will look at an old can of paint and know their power to transform a space."
2020 will bring some changes to Providência Sustentável's network. Mendes says new projects on the horizon will require some restructuring, but Impacto das Cores will remain an important part of the network. In her 41 years, Mendes says, she has never seen such political instability or consistent crises. "But I survived 2019 because of positive people around me. I live off positive energies," she says. "These positive people pass through my life and I pass through theirs. 2020 is on the doorstep, and I will be here, painting Providência."