This article is part of a series of profiles of initiatives in Rio's Sustainable Favela Network.
Initiative: M.A.L.O.C.A. (Alternative and Organized Liberation Movement for Citizenship and Social Support)
Contact: Facebook | Instagram | Email
Year Founded: 2018
Community: Pantanal, Duque de Caxias
Mission: To create a network for social support for mental health and the exercise of citizenship through reception, art, income generation, and independence
Public Events: Public fairs and events. Check out their Facebook page for more information
How to contribute: Participate in public events, purchase Maloca products, make material donations
Ana Felix came up with the idea for Maloca in 2018, at a gathering of old friends in a shop in Pantanal, a neighborhood in the outskirts of Duque de Caxias, in Greater Rio de Janeiro's Baixada Fluminense. The group of women had met up to sew craftwork, and Felix, a 42-year-old Pantanal resident with parents from Brazil's Northeast, noticed a problem. Her friends had begun suffering from depression and anxiety.
"The lack of money and opportunities and the [economic] dependence on my husband has damaged my mental health," one friend told her. Many were unemployed. Some were on medication. All lived in Pantanal—a neighborhood with little integration with the city of Rio, suffering from a lack of public transport, high unemployment, and a dearth of health facilities. The closest hospital is 30 minutes away, "and you have to catch two buses to get there, or you have to have R$32 [US$8] to spend on an Uber," says Felix.
That day's craft session seemed to help, and the group began to meet regularly. Soon, the number of women in attendance grew well beyond Felix's circle of friends. As they stitched and embroidered, more and more women began to arrive, saying they also suffered from depression and anxiety. At the time, Felix, a social worker with a master's degree in health promotion and social development, had been pursuing an internship at an NGO based in Morro do Turano, in Rio's North Zone. The experience taught her she didn't need to travel to do social work: Pantanal needed her just as much. Thus, Maloca (M.A.L.O.C.A.) was born.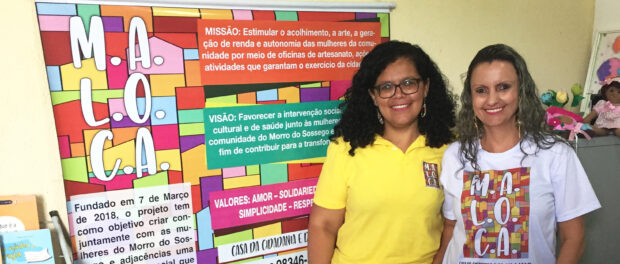 Maloca, or the Alternative and Organized Liberation Movement for Citizenship and Social Support, offers social support to women living in Pantanal, promoting mental health and the exercise of citizenship in a receptive environment centered in art, income generation, and independence. The group aims to raise mental health awareness among women indirectly, using craft workshops to foster discussion and exchange. Volunteer-run classes take place three days a week, teaching participants to produce everything from tea cloths and bags, to Christmas decorations and furniture.
A central part of Maloca's mission is creating independent and qualified professionals, allowing for income generation in a "really competitive market," says Felix. Participants can sell their work and, except in the case of Maloca-branded pieces, keep the profits. Some have even gone on to organize independent fairs to sell their own handmaid pieces. In gaining a profession, many women have recovered their identity in society.
Maloca's products are all made of recycled materials as well, contributing to environmental awareness in the area. "In the Baixada, trash is everywhere and residents should be educated to collect it," says Felix.
While the women of Maloca have begun generating an income, the Maloca association, for now, sustains itself by renting their space—Felix's old house—for events, and receiving donated materials and small donations from women attending Maloca's classes.
But money is not the only difficulty. Felix, who came to know the community particularly well after working for the 2000 census, has had to deal with some mothers' fears of leaving their children home alone while they attend Maloca's workshops. "A mother who has a child and comes here knows that her son is out of school and can get involved in drug trafficking anytime," she says. To solve the problem, she created the Biblioteca Itinerante (the Traveling Library), a project that gathers kids to play and learn in the local square just a few minutes away from the Maloca house.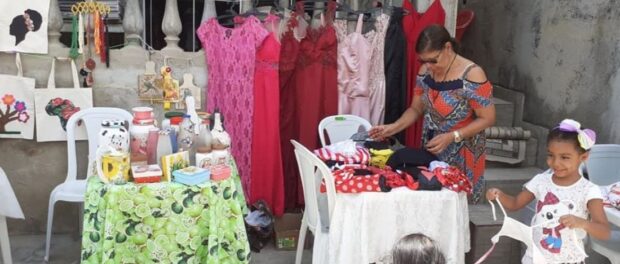 True to the group's Northeastern roots—Felix's father was from Campina Grande and her mother from João Pessoa, both in the state of Paraíba—all are welcome at Maloca's events. In the Northeast, a "maloca" is an old house, a humble, crowded, hospitable home, and Felix has likewise worked to turn Maloca into a similar environment: "simple but welcoming like the house I grew up in" she says.
Born and raised in Duque de Caxias, Felix was orphaned at age four and raised by her aunt. As Felix's extended family traveled to and from the Northeast, her aunt's house remained open to all. "I wasn't raised in a traditional family. My aunt was black, marginal, and single […] My house had space and food for everyone, for visitors, and there were homosexuals, mentally ill people, and prostitutes," she says. Maloca, in turn, is free of prejudice and the evangelical and political influences Felix says are dominating the area.
Maloca's vision for 2020 is to improve classes, integrating them with communications, salesmanship, and product photography courses to teach participants to promote their arts in fairs around the city and online. Felix would also like to renovate a new space up the hill to host musical activities, theater, and games for young children.
Maloca seeks to make an impact on their small neighborhood of Pantanal, where they are the only collective. As Felix likes to say: "We are doing an ant's work with the impact of an elephant's foot […] because in the South Zone, having courses and kids playing is normal. Here it is not."