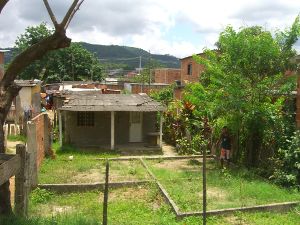 This is Part 2 of a two-part article about a community of 200 families on Avenida das Américas, which all face the prospect of forced eviction. For Part 1, click here.
During my visit, I meet Seu Jacir, an elderly man with a cane who moved here when he was hired to work on the Avenida in 1996. He lives with his wife in a wooden shack bought in 2000, which, by 2004, he had upgraded to blocks. He speaks candidly about his life and is sure to ask me about mine. As we walk down the Avenida, he introduces us to his neighbors. As I am about to leave, he hollers out to me to wait for the bag of ripe mangos he and his wife are getting ready for me.
Next door there are three young men working to build a fence around a plot of land. Their curiosity peaked by the visit, they call over to us, offering to smile for a picture. They inform me that one of them is a singer, and he graciously offers to display his talent. He beautifully sings a few lines of a song by Robinson Montero and eagerly asks, "Do you think I've got talent?" When I ask his name, he smiles and says, "Here I'm known as Paulo Cantor, (Paulo the Singer)."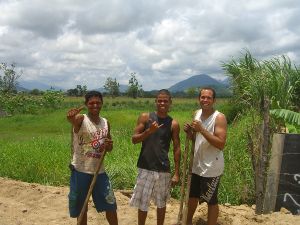 At the next house I visit, I meet a family who has been here for almost ten years, having built their house from scratch. A sweet old lady brings us a cold Coke, and as we sit on the porch, she tells us about her family. She has three daughters, two of them single and one married. She proudly invites me in to take a look at her grandson, Gustavo, just four days old. Construction has crept up to the right side of their house, and speeding trucks throw clouds of dirt in every day. The family has repeatedly asked construction workers to drive more slowly because of the baby, but without any response, they take the newborn to a neighbor's house each day.
My gracious guide, Fernando da Silva Matos, married into the community and has lived here for less than two years; his wife, however, was raised here over the past 18 years. They live a few houses down from her parents. His wife is at work, and I meet one of his two daughters playing at the neighbor's house. Fernando works as a bus driver in São Conrado. He and his wife are active members at a Protestant Church where Fernando plays the keyboard, and he proudly offers to play me a few of his favorite songs. Over lunch, we look through his wedding album and pictures of his daughters. Even though Fernando is a recent addition to the community, he has played an active role in the community's defense. "We're just trying to live the most dignified life possible," says Fernando.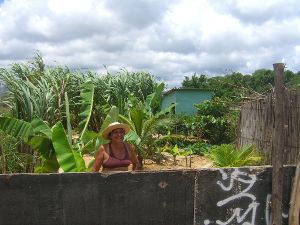 We walk a few houses down and meet a lovely lady smiling from underneath her straw hat; she has lived here for seven years with her husband. She, her husband, and her son are all employed, and when they have a day off, they work in the garden. She's weeding sweet potatoes today, and she takes a break, leaning on the wooden fence to chat with us. Her family has without a doubt the most impressive garden in the community, having bananas, acerola (Barbados cherries), jack fruit, guava, oranges, lemons, passion fruit, and squash, among others. She and her family have tried to cooperate with officials, giving up land in the front of their house and even removing plants and clearing out for workers. This part of the property won't be compensated, even though when she and her husband moved in, they paid for more than 15 truckloads of dirt to level the land. Their house is now surrounded on all four sides by construction. Her parting words to me are, "I lose everything. It's sad, isn't it?"
Mary Allison Joseph is CatComm's Networks Intern.