This is our latest article on the new coronavirus as it impacts Rio de Janeiro's favelas and part of our partnership with The Rio Times. For the article as published in The Rio Times click here.
Long-neglected water and sewerage issues in Brazil's favelas have gained new attention amid the global Covid-19 crisis. In Rio de Janeiro, where over 24% of the city's inhabitants reside in favelas, lack of sufficient sanitation infrastructure and policies have placed residents on the front line of the pandemic. 
"We all knew for years that too many people weren't getting proper access to water," said Rubens Filho, communications coordinator at the Trata Brasil Institute, a civil society public interest group. "Companies knew, journalists knew, politicians knew… we let the years go by because there was no pandemic."
When a Rio-wide water crisis in January 2020 left residents across the city with murky, fowl-tasting water, favela residents were among the worst hit. Activists marched from the mayor's office to the headquarters of public water utility CEDAE, protesting for their constitutional right to potable water, emphasizing that favela populations did not have the means to purchase bottled water.
Although these protests gained visibility, many areas continued to report not only poor water quality, but also water scarcity. This held true through the beginning of March, when Rio de Janeiro recorded its first confirmed cases of coronavirus. Now, researchers and residents alike worry that, without proper access to potable water, residents will be unable to follow appropriate prevention methods, leading to faster proliferation throughout the city.
""Não tem água na favela pra lavar a mão? COMPRA!""

Eu não posso comprar água nem pra beber, mesmo infectada e com gosto de barro. Vou comprar pra lavar a mão?

Ter água na favela pra lavar a mão tá sendo luxo

Não fazem ideia da nossa realidade!
#COVID19NasFavelas #coronavirus pic.twitter.com/Vf2zOKMcd7

— Tiê Vasconcelos (@tievasconcelos) March 16, 2020
"'There's no water in the favelas to wash your hands? BUY IT!'

I can't even buy water to drink, even when [the water coming out of the tap was] infected and tasted like mud. [Now how do you think] I'm going to buy water to wash my hands?

Having water in the favela to wash your hands is a luxury.

You have no idea about our reality!"
When the Rio de Janeiro Public Defender's Office carried out a survey on March 18, soliciting information on the water supply throughout the city, 140 areas reported irregular access to water. Now, the office warns that inconsistent water access threatens efforts to contain the pandemic. "Dry taps now victimize not only those who cannot wash their hands, but above all, they threaten our efforts to stop a pandemic that places mainly the elderly people in the sights of this invisible enemy, who can only be stopped if everyone can follow health recommendations," reads the Public Defender's report.
Filho agreed, saying inadequate water provision put the favelas at heightened risk. "From the moment you have this global health problem, and people start dying from the virus, and one of the most basic measures is to wash your hands and clean your living space, that's when water becomes a real necessity," he said. 
From a legal standing, providing access to water to informal settlements can be a difficult and slow process, Filho explained. Due to their irregular legal standing, many of Brazil's favelas are unable to receive direct-to-door water supplies and sanitation services from the utility. CEDAE's service contracts require proof of property ownership, demonstrated by a property tax payment stub. Being in possession of the stub presupposes that the land in question is regularized, which is not the case for informal settlements. As a result, when CEDAE does officially enter a community, they often do so simply by providing water to a central site from which residents connect their own hook-ups. Or in cases where CEDAE does not provide any infrastructure to a favela, pipes passing through neighboring areas are accessed directly by favela residents who set up a patchwork system to meet their basic water needs, siphoning water from the grid. The result is near universal water in homes. However, as it is provided informally, there is substandard maintenance and communities experience regular bouts of water being shut off by the utility, sometimes for days at a time.
Although exceptions that do not depend on the confirmation of legal property can be made, they depend on state government intervention. "What we are asking for here in São Paulo is that the authorities authorize SABESP [the state water utility] to enter and do emergency work that would allow the areas in need to have access to water within two to three days," said Filho, who added that Trata Brasil is in talks with both CEDAE and SABESP. "We are trying to see how it would be possible to send pipe trucks, rainwater cisterns, or any other alternative that can provide water to those in need, and fast." As of April 7, the Justice of São Paulo granted an injunction determining that SABESP supply water to all favelas in the municipalities. CEDAE remarked in a note to RioOnWatch that it had activated more than 40 pipe trucks, but did not comment on legal barriers to servicing favelas.
Inadequate Sanitation as Comorbidity
In addition to the lack of water supply, issues concerning inadequate sanitation may contribute to weakening health conditions among favela residents. A study undertaken by Trata Brasil shows that, in 2018, Brazil registered a total of 233,880 cases of hospitalizations from waterborne diseases. Many of the diseases cited, the study concluded, could have been easily prevented if the people in question had access to a clean, regular water source. Filho warned that such diseases could compromise immune systems, leading to greater vulnerability to coronavirus. "In the case that they're already sick, their immune system is weaker, which means they're more susceptible to getting ill by the new virus," he said.
This situation has created a stressful environment for vulnerable favela residents. Irenaldo Honório da Silva, who has lived in the North Zone favela of Pica-Pau for over thirty years, says most homes in his area have always lacked treated water or proper sanitary infrastructure. Public authorities' promises to resolve the community's water issues never came to fruition. "I think it was in 2015 or 2016. They [the authorities] had these big plans for the area. We waited but nothing happened. Now it's 2020," said Silva.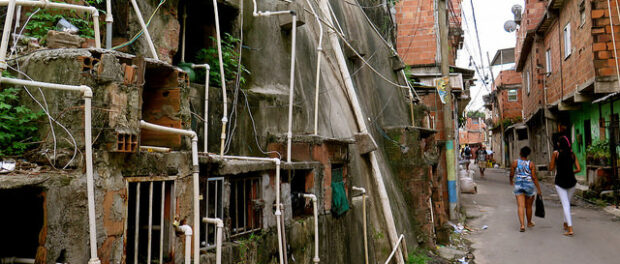 Such broken promises have led to a general feeling of frustration and distrust towards the government. "There is frustration especially in the context of Rio de Janeiro, because we've already faced problems with CEDAE," said Juliana Marques, a data analyst and researcher at Data_Labe, a data and narrative laboratory based in the favelas of Complexo da Maré. "It was not so long ago that the water from our taps was contaminated to a level we had never seen before," she added, referring to January's water crisis.
That crisis forced many favela residents to choose between purchasing bottled water or purchasing food for their families. The Covid-19 pandemic has led to a similar dilemma in purchasing hygiene and sanitary supplies. Even supported by local food and cleaning supply donation campaigns, "For many people here, if you're hesitating between buying food to feed your family or buying hand sanitizer, the choice is quickly made," said Silva.
Marques pointed to President Bolsonaro administration's 2019 decision to cut the national sanitation budget by 21% for 2020 and said she hopes the current moment would serve as a wake-up call. Citing the World Health Organization's finding that each dollar invested in water and sanitation saves US$4.30 in healthcare costs, Marques emphasized: "We need to fight for a budget that includes structural water and sanitation works." She added she fears that, once the pandemic subsides, sanitation issues in favelas will once again be neglected. "What is happening today regarding the pandemic can be a great opportunity. We cannot lose sight of this in the post-crisis period. The debate needs to resurface with the same intensity."
---