This is our latest article on Covid-19 and its impacts on the favelas.
On September 9, a joint project conducted by the Federal University of Rio de Janeiro's Citizenship University, WikiFavelas – Marielle Franco Favelas Dictionary and Urbano – Laboratory of Studies of the City concluded a cycle of online events about favelas, pandemics, and citizenships. The final event, entitled "Favelas, Pandemics, and Citizenships: Dashboards of Covid-19 in Favelas," included the participation of Camila Barros of Redes da Maré, Theresa Williamson of Catalytic Communities*, and Anna Paula Sales of the A.M.I.G.A.S. collective in Itaguaí. It was mediated by Dulce Pandolfi of the Citizenship University and by Alexandre Magalhães of the Favelas Dictionary.
"It is an intentional policy of neglect," Williamson said about underreporting in the pandemic and, generally, about the history of Rio de Janeiro's favelas in relation to the State. "Public data do not refer to the favelas despite the fact that they are known to be the most vulnerable areas to the pandemic, and [health authorities] were not testing [in favelas]."
Williamson told of episodes recounted by favela residents: "There are accounts of people who have symptoms, go to the clinic to get tested, and are told to return [for a test] in two weeks if they still have symptoms, [that is,] if the person returns and is still alive." She also pointed out that there are cases in which "we have heard reports of people to whom the doctor told the family, 'If we declare Covid [the cause of death], you will not have the burial you want,' and so families are opting to not declare in order to have contact with the body at the end."
She also explained that official government data do not count suspected cases, and with the lack of testing, official numbers are much lower than reality. "The World Health Organization said to count suspected cases when testing is limited, but the Brazilian government dashboards don't count this, nor do they give visibility to the favelas. This is why the community initiatives are important." 
While the State lacks a contingency plan, leaders have united to meet the needs of favela residents, through distributing basic foodstuffs and hygiene products and conducting informal Covid-19 case counts. This counting is then included in the Covid-19 in Favelas Unified Dashboard which, so far, has been able to monitor Covid-19 cases in 159 favelas in the Rio de Janeiro Metropolitan Region. The Unified Dashboard is constantly searching for new sources, be they local rapporteurs or public sources of data.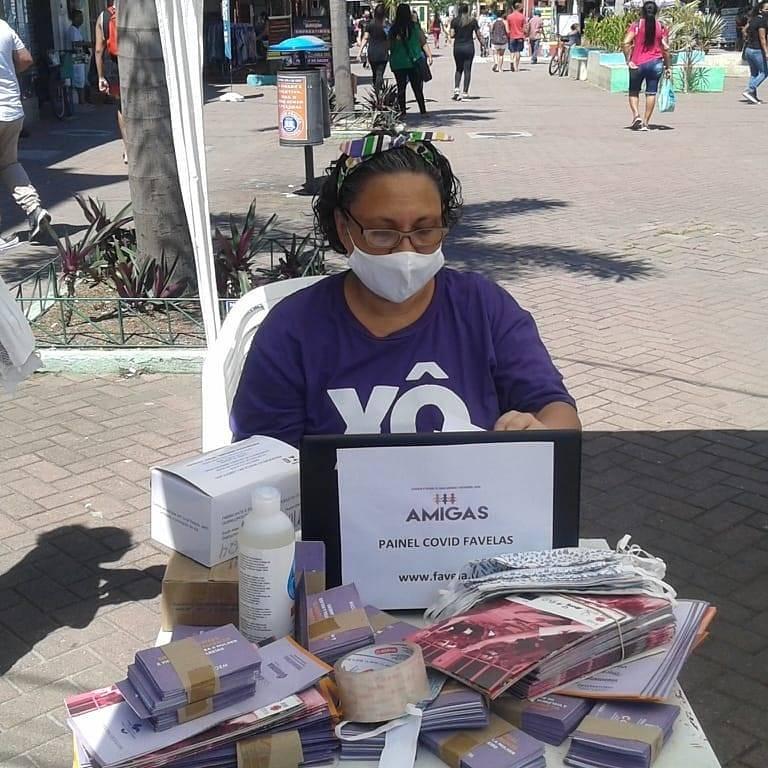 Sales said that this work is a lesson in loving those nearby. "At A.M.I.G.A.S., we started to do a count… Starting with the leaders [walking through the communities] and WhatsApp groups, we were able to identify the positive cases and suspected cases." Sales said that political forces tried to discourage the force of the collective. She said that "they tried to hurt our image, [they] said that women don't know how to count, but we didn't believe it, and we mapped the communities."
According to Barros, in Maré the situation is similar. "At Redes of Maré, we have a data collection strategy: first with cases of violence, now with Covid-19." With various areas of action ranging from food security to data processing—published in a weekly bulletin—Redes of Maré was also able to establish, with the help of various associations, a center for testing in Maré and is, together with Fiocruz, implementing telemedicine.
"Now we have the possibility to forward these suspected cases to a testing center in Maré and accompany the positive cases. Another question is that of isolation. Not everyone is able to maintain isolation. Because of this, we offer a social accompaniment so that these people can do it," explained Barros. 
It is thanks to the meticulous work of these leaders that the reality of the favelas becomes clear to the public, demonstrating that the virus is far from finished. Sales said, "I am worried about the second wave because I am still in the first. It's not just a little flu!"
All of the speakers at the event emphasized that cautions should continue to be observed, due to the fact that public authorities do not communicate in an effective way with the population. Barros clarified that "people are relativizing the issue of the disease, there is already baile funk [funk music parties]… But this has a lot to do with the discourse of public authorities." She concluded: "Our principle role is to set the agenda for public authorities. Redes da Maré is here to strengthen and make demands of them. We are questioning the official data that do not express the reality that we live in the territory."
Watch the Online Discussion Here:
*Catalytic Communities (CatComm) is the NGO that publishes RioOnWatch.
---
Support our efforts to provide strategic assistance to Rio's favelas during the Covid-19 pandemic, including RioOnWatch's tireless, critical and cutting-edge hyperlocal journalism, online community organizing meetings, and direct support to favelas by clicking here.