This article is part of a series of articles on Rio de Janeiro's 2020 municipal elections from a favela perspective.
With an estimated population of 6,718,903, according to the Brazilian Institute for Geography and Statistics, the city of Rio de Janeiro has 4,851,887 registered voters, according to data from the federal Electoral Superior Court (TSE). The current mayoral election is among the most disputed contests in the city of Rio in the past twenty years, with a total of 14 candidates running for mayor, each with accompanying vice-mayor—of these running mates, six are from other parties, constituting a coalition ticket, while eight are running alongside someone of the same party. In addition to the mayor, voters will choose city councilors. According to the new electoral schedule, adopted due to Covid-19, the first round of voting will take place on November 15 and the runoff, if there is one, will be on November 29.
Check out the basics on each candidate running to head the executive branch of Rio's municipal government:
Benedita da Silva (Worker's Party – PT)

Candidate Number: 13 – Candidate from Coalition "It's the People's Turn"
"Bené," as she is known, is 78, a political activist for the Black Movement, and a feminist. She began her political career in the favela community movement. Benedita da Silva is the daughter of a washerwoman and a construction worker who lived in what was once the favela Praia do Pinto in Rio's South Zone. Soon after her birth, da Silva moved to the favela of Chapéu-Mangueira, where she lived for 57 years. A federal congresswoman for the Workers' Party (PT), she has held political office for 38 years. She was elected for the first time as a Rio de Janeiro city councilor in 1982, and she ran for mayor 28 years ago, in 1992, coming in second to César Maia.
The PT made her candidacy official on September 16, with current state congresswoman Nurse Rejane (PCdoB) as her running mate in a party coalition. Da Silva is Presbyterian. She is trained as a nursing assistant and has a degree in Social Work. She began working as a child, early on working as a street vendor, domestic worker, factory worker, and school attendant.
Da Silva has a political background of protagonism as the first Afro-Brazilian woman to reach some of the highest posts in Brazil's history. The current candidate has served one term as a city councilor; five terms as a federal congresswoman, one term as a senator, and was interim governor of Rio for one year, in addition to having served as the minister of the Special Secretariat of Social Assistance and Promotion in the Luiz Inácio "Lula" da Silva presidential administration and as the state of Rio's Secretary of Social Assistance and Human Rights. She declared that she has R$941,762.92 (US$168,433) in assets to the TSE and self-identifies as black.
Clarissa Garotinho (Republican Party of Social Order – PROS)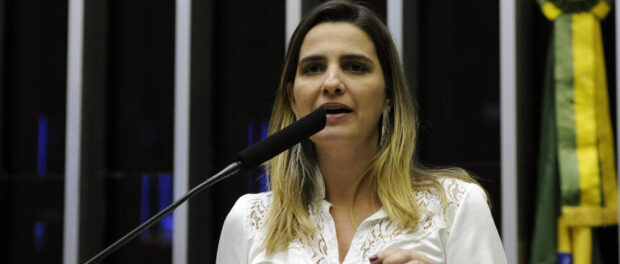 From Campos dos Goytacazes, a municipality in the north of the state of Rio, journalist Clarissa Barros Assed Matheus de Oliveira, also known as Clarissa Garotinho, is 38 and is the daughter of ex-governors of the state of Rio, Anthony Garotinho and Rosinha Matheus, from whom she inherited her political name "Garotinho." She is currently serving her second term as a federal congresswoman for the state of Rio.
The Republican Party of Social Order (PROS) officialized her candidacy on September 12, with no coalitions with other parties. Her running mate is the actor and filmmaker Jorge Coutinho, ex-president of the Rio de Janeiro Artists and Entertainment Workers Union.
Garotinho was involved in student activism and was director of the National Union of Students at the same time she began a career in radio. In 2009, she was elected a city councilor for Rio de Janeiro. She served as Rio de Janeiro's Municipal Secretary for Development, Employment and Innovation from 2017-2018 during the current Marcelo Crivella administration.
Before joining PROS to run for mayor, she was affiliated with five other parties: the Democratic Workers' Party (PDT), the Brazilian Socialist Party (PSB), the Brazilian Democratic Movement Party (PMDB), currently known as the Brazilian Democratic Movement (MDB), the Liberal Party (PL), and the Brazilian Republican Party (PRB). She declared assets of R$151,486.37 (US$27,093) to the TSE and self-identifies as white.
Cyro Garcia (United Socialist Worker's Party – PSTU)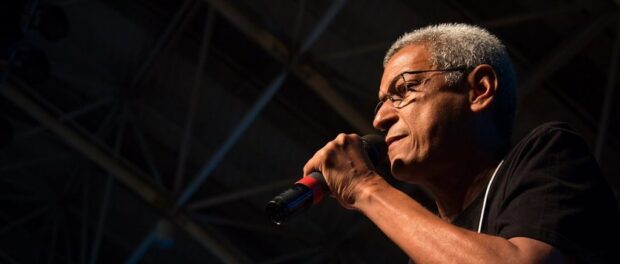 With a PhD in History from the Fluminense Federal University (UFF), Cyro Garcia is a retired banker with a history of fighting in the bankers' union movement. Garcia was born in Minas Gerais on October 26, 1954, but has lived in Rio de Janeiro since he was six. He was raised in the city's periphery and subsequently relocated to Greater Tijuca, in Rio's North Zone. His father was a truck driver and his mother, a seamstress. In the 1970s he studied at the National Law College at the Federal University of Rio de Janeiro (UFRJ), where his interest and involvement in politics began.
Garcia's candidacy was announced on September 5 by the United Socialist Worker's Party (PTSU), with teacher Elisa Guimarães as running mate. Garcia is currently a university lecturer, and this is his fifth run in Rio de Janeiro's mayoral elections. He is also the president of the state leadership board of the PSTU.
Garcia was one of the founding members of the Workers' Party (PT) and of the Unified Workers' Center (CUT) union. For ten months in 1993, he was federal congressman for Rio de Janeiro as a substitute for Jamil Haddad. He was a candidate for a Rio de Janeiro seat in Brazil's federal Senate in 2018, but was not elected. Before becoming involved with the PSTU, he was affiliated with the PT. Garcia declared assets of R$565,000 (US$101,050) to the TSE and self-identifies as black.
Eduardo Bandeira de Mello (Sustainability Network – REDE)
Eduardo Bandeira de Mello, former president of the Flamengo soccer club, has a postgraduate degree in business administration from UFRJ and for 36 years was a manager at Brazil's National Development Bank (BNDES), where he was in charge of the Municipalities' Modernization Program and was also head of the Environment Department. He served four years in this role before becoming head of the Amazon Fund's Management Department, a position he held until July of 2009. The candidate is from Tijuca and was born on March 22, 1953.
The Sustainability Network (REDE) made his candidacy official on September 16, with journalist and former city councilor Andrea Gouvêa Vieira as running mate.
Affiliated with the Sustainability Network since 2018, Bandeira de Mello is 67 and was originally slated to form an alliance with the Democratic Workers' Party (PDT), but he decided to run for mayor on his own instead. He was a candidate for federal Congress in 2018, but was not elected. He declared assets of R$6,159,557.34 ($1,101,632) to the TSE and self-identifies as white.
Eduardo Paes (Democrats – DEM)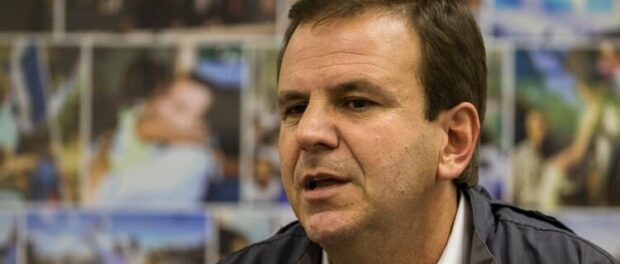 Eduardo Paes was born on November 14, 1969 and was raised in the neighborhood of Jardim Botânico, in Rio de Janeiro's South Zone. He graduated from the Pontifical Catholic University of Rio de Janeiro (PUC-Rio) with a law degree, although he never practiced law. At the age of 23, he entered politics and became deputy mayor of the West Zone I region (including Barra da Tijuca, Recreio dos Bandeirantes, Jacarepaguá, and other nearby neighborhoods) in the first administration of former mayor César Maia, Paes' political mentor. This is Paes' third time running for mayor. He served as mayor for two terms, from 2009 to 2016, when Rio hosted the World Cup and Olympics. He was re-elected in the first round of the 2012 election, though in 2018 he lost an election for governor of the state, losing in the runoff to Wilson Witzel.
His candidacy was made official by the Democrats party (DEM) on September 2, with the Liberal Party's (PL) municipal president, Nilton Caldeira, as his running mate. The coalition "Certainty of a Better Rio" relies on the support of five other political parties in addition to the Liberal Party: Cidadania, the Green Party (PV), Avante, the Christian Democrats, and the Brazilian Social Democratic Party (PSDB). Later in September, Paes was charged by the Electoral Public Prosecutor with accusations of receiving illegal campaign donations from Odebrecht in the 2012 election. The prosecutors accused the former mayor of receiving R$10.8 million (US$1.93 million) in bribes from the construction firm.
Prior to joining the Democrats in 2018, Paes had been registered over the years with five other parties: the Green Party, the Liberal Front Party (PFL), the Brazilian Workers' Party (PTB), the PSDB, and the PMDB, which is currently the MDB. Paes declared assets of R$478,358.42 (US$85,554) to the TSE and self-identifies as white.
Fred Luz (New Party – NOVO)
Candidate Number: 30 – Campaign website
Fred Luz is an engineer educated at PUC-Rio and worked as an equipment engineer for state oil company Petrobras from 1975 to 1980. Following his stint at Petrobras, he undertook roles at various other companies in the private sector, such as Lojas Americanas. Luz then opened his own export company. In the 2018 presidential elections, Luz was one of the campaign coordinators for João Amôedo of the NOVO reform party.
Luz's candidacy was made official at a NOVO virtual convention on September 31. His running mate is biologist Giselle Gomes, a civil servant at the National Institute of Industrial Property (INPI) and a doctor in biophysics.
In 2018, Luz was part of the transition team of incoming Minas Gerais governor Romeu Zema of the NOVO party. After Zema took office, he became the coordinator of his support department. Luz is a member of RenovaBR, a political reform movement that has the support of personalities such as television presenter Luciano Huck. Luz declared assets of R$4,742,058.08 ($848,114) to the TSE and self-identifies as white.
Glória Heloiza (Social Christian Party – PSC)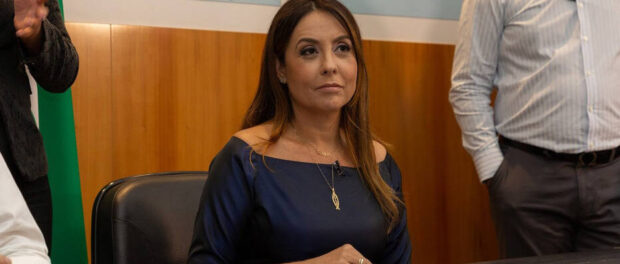 Candidate Number: 20 – "Love for Rio" Campaign
Former judge Glória Heloiza joined the Social Christian Party (PSC) in March 2020, formally vacating the magistracy to run for mayor of Rio. She was a judge at the 2nd Court for Children, Adolescents and Elderly at the Rio de Janeiro's Court of Justice (TJ-RJ). She is from Rio, born and raised in Jacarepaguá. On her Twitter account, she highlights being a "defender of the family, of accessibility, and of inclusion for all citizens." Her affiliation with the PSC was carried out in March thanks to Pastor Everaldo.
Glória Heloiza's nomination was unanimously approved by the party's municipal branch on August 31, with economist Mauro Santos as running mate. To the TSE, the candidate declared assets of R$1,542,000.00 (US$275,786) and self-declared as white.
Henrique Simonard (PCO – Worker's Cause Party)

Candidate Number: 29 – Candidate's campaign page not found
Henrique Simonard is 23 years old and a member of the Workers' Cause Party (PCO), serving in the Alliance of the Revolutionary Youth collective. Simonard, who has completed high school, was born on December 16, 1997. He is running for the first time as mayor of Rio de Janeiro, with 37-year-old student Caetano Sigiliano on the ticket for vice-mayor. In 2018, he tried for a seat in the Rio de Janeiro state legislature, but was not elected. He has been a member of the PCO since 2018. His candidacy was made official during the party's convention, on September 13. To the TSE, he declared no assets, and self-declared as white.
Luiz Lima (Social Liberal Party – PSL)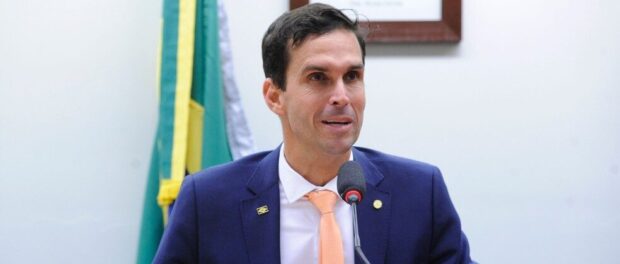 Candidate Number: 17 – Campaign Page
A former Olympic swimmer with a degree in Physical Education, Luiz Lima is from Rio de Janeiro and was born on December 10, 1977. He began his political career in 2016, when he assumed office as the National Secretary for High-Performance Sports, under President Michel Temer. In 2018, he was elected to represent Rio in Brazil's federal Congress as part of the Social Liberal Party (PSL). He was the eighth-most voted candidate in the state.
Lima participated in the political training program RenovaBR, which is supported by Brazilian celebrities and businesspeople in search of political renewal. To the TSE, he declared total assets of R$1,537,681.74 (US$274,336) and self-declared as white.
Marcelo Crivella (Republicans)
Candidate Number: 10 – Campaign Site
Marcelo Crivella is the current mayor of Rio de Janeiro and is seeking re-election. A Rio de Janeiro native and civil engineer, he was born on October 9, 1957 and is a descendant of Italian immigrants and Northeastern Brazilians. The candidate is a licensed bishop of the Universal Church of the Kingdom of God, a neo-Pentecostal denomination founded by his uncle, Edir Macedo. Crivella had his candidacy officially sanctioned for re-election by the Republicans party on September 7, without disclosing the name of a running mate. Subsequently, Lieutenant Colonel of the Armed Forces Andrea Firmo was announced as joining the ticket. The current mayor has the support of six parties: Patriotic, Progressive, Solidarity, We Can, PTC and PRTB, forming the coalition "With God, for the Family and for Rio," which has the largest number of candidates for city council at 150.
Crivella began his political career as a federal senator for Rio de Janeiro in 2002. He was re-elected in 2010 as part of the PRB, which he helped found. After two unsuccessful mayoral bids in 2004 and 2008, he was elected mayor of Rio in 2016, winning the election in the second round against Marcelo Freixo. In the Dilma Rousseff (PT) administration, he held the position of Minister of Fisheries and Aquaculture between 2012 and 2014. His current candidacy for re-election is supported by President Jair Bolsonaro.
Despite being an incumbent, on September 24, the Regional Electoral Court of Rio de Janeiro (TRE-RJ) unanimously ruled Crivella ineligible on the crime of abuse of public power. That's because, in 2018, he used Comlurb (municipal waste management utility) employees to promote his son's federal congressional campaign. As a result, Crivella would be ineligible to run for public office until 2026. However, he obtained a temporary order in the Electoral Court that suspended the sentence of eight years of ineligibility. With this decision, his campaign once again fulfilled the requirements of the Lei da Ficha Limpa anti-corruption law. To the TSE, Crivella declared assets of R$665,634.27 (US$118,747) and self-declared as white.
Martha Rocha (Democratic Labor Party – PDT)

Former head of the state's Civil Police during the government of Sérgio Cabral, the lawmaker is president of the special commission that investigates state government contracts during the Covid-19 pandemic and is a federal congresswoman for the state of Rio de Janeiro. She was born on April 30, 1959 to Portuguese parents and grew up in the neighborhood of Penha in Rio's North Zone. Rocha holds a degree in law from UFRJ with a specialization in human rights, and before joining the Civil Police at the age of 23, she was an elementary school teacher.
She was officially endorsed as a candidate by the Democratic Labor Party (PDT) on September 12, 2020. At the time, her running mate was not defined. Subsequently, show producer Anderson Quack was announced for the position, forming the coalition "United for Rio" with the PSB party.
Rocha ran unsuccessfully for state congress in 2002 and 2006. In 2014, she was elected. She was the first woman in the history of Rio de Janeiro to head the Civil Police. She has been registered with two other parties: the PSB (2001-2013) and the Social Democratic Party (PSD) (2013-2016). Since 2016, she has been affiliated with the PDT. To the TSE, she reported assets of R$1,308,793.28 (US$233,463) and self-declared as white.
Paulo Messina (Brazilian Democratic Movement – MDB)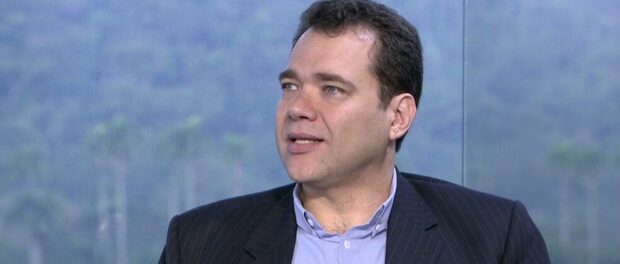 Candidate Number: 15 – Campaign Site
Paulo Messina, 45, is from Rio de Janeiro. He is currently serving his third term in the City Council. He holds a postgraduate degree in Education and was re-elected in the last municipal election in 2016 with just over 15,000 votes. Messina identifies himself on his Facebook, Twitter and Instagram profiles as a "mathematician, teacher and councilor in Rio." He began his political career in 2008. He served on the Education and Culture Commission, of which he was president for five years. He is the former chief of staff for Marcelo Crivella.
Currently an opponent of Crivella, councilor Messina was officially recognized at the MDB convention as the party's candidate for mayor on September 14. Sheila Barbosa, a psychologist who is also from the MDB, is his running mate. Messina informed the TSE that he had assets totaling of R$319,300.00 (US$59,961) and self-declared as white.
Renata Souza (Socialism and Liberty Party – PSOL)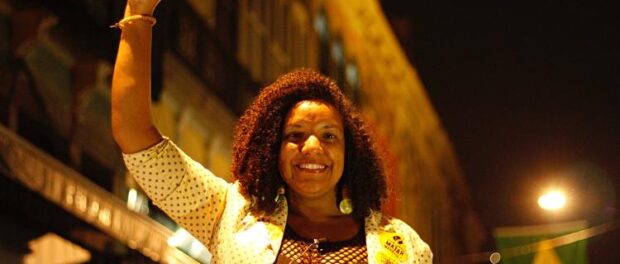 Renata Souza was born and raised in the Complexo da Maré favelas of Rio de Janeiro's North Zone. She was born on August 31, 1982 to a mother who was a seamstress and housewife and a father who was a machine operator. She self-identifies as a feminist, black favela resident. She is a journalist who earned her degree from PUC-Rio on a full scholarship. She also holds a PhD in Communication and Culture from UFRJ. She was the first in her family to earn a college degree.
In 2018, she was elected to state congress in Rio de Janeiro as part of the Socialism and Liberty Party (PSOL) with more than 63,000 votes. Renata is the first black woman to be president of the state legislature's Commission for the Defense of Human Rights and Citizenship. She had her candidacy officially sanctioned by PSOL on September 3 alongside running mate Ibis Pereira, a retired Military Police Colonel. The pair form the coalition "Um Rio de Esperança" ("A Rio/River of Hope") with support from the Brazilian Communist Party (PCB) and the Popular Unity (UP) party.
Souza served as a popular communicator for more than 15 years, in defense of life and in community reporting. As a human rights defender, she served as an aide to Marcelo Freixo for ten years, participating in the Human Rights Commission of the state legislature. When Marielle Franco was elected city councilor in 2016, she became chief of staff to the councilwoman and served until Franco's execution by gunshots in 2018. To the TSE, she reported total assets of R$42,000.00 (US$7,493) and self-declared as black.
Suêd Haidar (Party of the Brazilian Woman – PMB)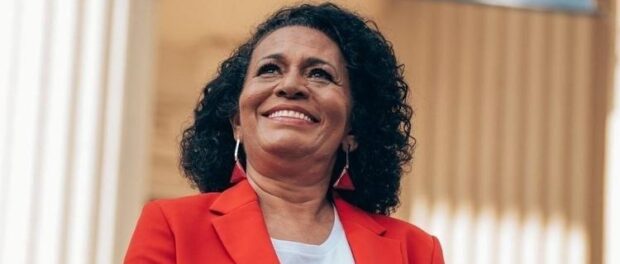 Candidate Number: 35 – Campaign Page on Facebook
Suêd Haidar Nogueira was born on November 30, 1948 in São Luiz Gonzaga, a municipality of the state of Maranhão. She moved to Rio de Janeiro in 1977, when she was 29. On her Twitter account, she identifies as "woman, black, mother, and Brazilian." She is the national president of the Party of the Brazilian Woman (PMB) and its founder. This is the first time she is running for a position in the executive branch. In 2018, she unsuccessfully ran for federal congress. Her candidacy for mayor was officially announced by the party on September 12 alongside lawyer Jessica Rabello Guimarães as her running mate.
In the declaration to the TSE, Nogueira has no reported assets, and she self-declares as black.
---
On Thursday, October 22, at 6pm (Brasília Time) the Sustainable Favela Network* will hold a propositive debate with 11 mayoral candidates. It will be focused on sustainability and the resilience of Rio's favelas. The debate will be livestreamed via Zoom and on the Sustainable Favela Network Facebook and YouTube pages. Attendance via Zoom is limited and priority is given to members of the Sustainable Favela Network and journalists. Subscribe to receive details for accessing the transmission on Zoom, Facebook or YouTube: debate2020.favelasustentavel.org.
To get to know the SFN's policy proposals for sustainable development of the favelas and the city in general, be sure to read the letter of commitment (carta-compromisso) presented to the candidates: http://bit.ly/RFSCartaCompromisso
*The Sustainable Favela Network (SFN) and RioOnWatch are both projects of the NGO Catalytic Comunitites (CatComm)
---
Support our efforts to provide strategic assistance to Rio's favelas during the Covid-19 pandemic, including RioOnWatch's tireless, critical and cutting-edge hyperlocal journalism, online community organizing meetings, and direct support to favelas by clicking here.