For original article in Folha de São Paulo in Portuguese click here.
According to research conducted by the project "Solos Culturais" (Cultural Grounds), the use of computers in favela residences has surpassed Internet access from 'Lanhouses' (as cybercafés are known in Brazil) – the traditional meeting point of Internet users in low income areas.
Favela resident is 'super plugged' into the Internet, research says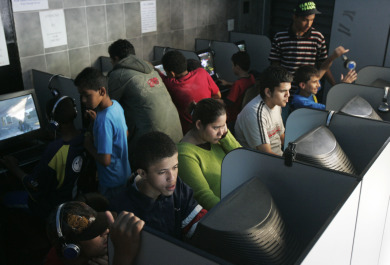 Business owner Alexandre Ferreira, 43 years old, had already noticed the change in habit.
"I founded one of the first cybercafes in Rocinha, but closed shop because demand slowed dramatically," says Ferreira, who closed his business in 2010. With the crisis, however, he envisioned a new business model.
"I realized everyone was buying computers so I began selling Internet access. In the beginning, it was done in perhaps an illegal way," recognized the entrepreneur, who registered and formalized his business after the police occupation of Rocinha in November 2011.
"Now, I buy the link from a broadband company and distribute it throughout the community. Everything is done legally," he affirms.
Ferreira's company has reached over 1500 clients in just over one year of operation. This result even surprises him: "There are houses here that don't even have a fridge, but have a computer," he says.
Vinicius Santiago de Lima, 19, lives in a two-story house in one of the alleys close to a foul smelling channel, the Valão, in the lower part of Rocinha.
He has 863 Facebook friends. His Facebook page, 373 personal photos.
He mentions one of the posted photos (in which he wears a suit), that instigated 55 comments and 18 "likes;" his most popular post, according to the teenager.
Lima uses his older sister's laptop for access, equipment she bought last year.
"I have managed to spend an entire day, over 12 hours straight, on Facebook. I spend most of the time chatting with people online," Lima explains. The teenager also uses his Internet connection to download music.
He has already saved on a pen drive "about 500 pagodes (Samba genre) and 300 rap songs," he proudly alleges.