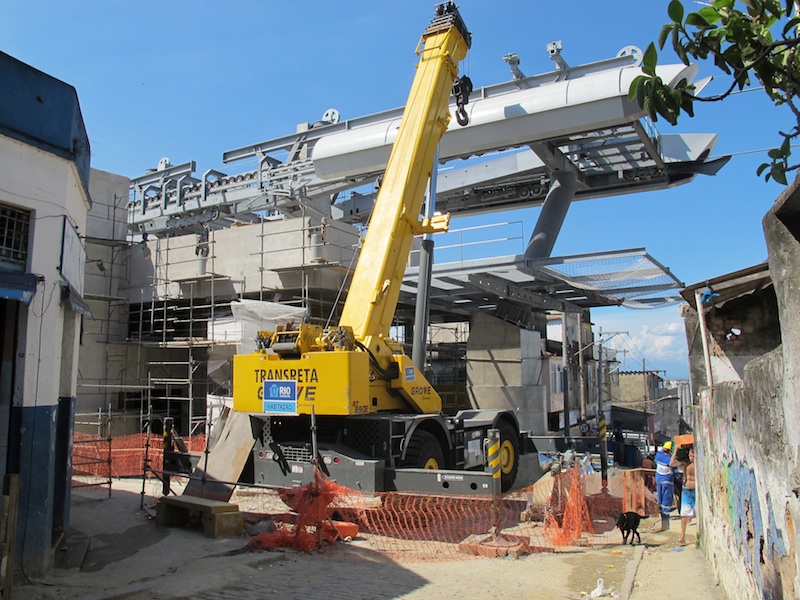 As part of the city's Porto Maravilha port revitalization program, the City of Rio is implementing a controversial cable car in Providência, Rio's first and most historic favela, set to launch shortly. But to make room for this and various transport-related construction projects on the hill, 832 houses, or one-third of the community, have been marked for removal. Near the top some 60% of the houses are marked, exactly the area supposedly set to benefit from these mobility investments. Further projects are temporarily stalled as a judge imposed a moratorium on evictions until a case brought to court by the community is resolved.
Around 100 homes have already been demolished and the compensation that families have received is derisive. One resident, who is unemployed, tells of accepting R$45,000 (US$22,500), extremely low in relation to the value of the land and central location, with which she purchased land 2.5 hours away in Guaratiba, on which she will have to build a new house, future resources permitting. She does not plan to live there, however, but to rent it, since her life has always been in and around Providência. Thus, she has moved in with her cousin. Both single mothers now share a one-bedroom house on the hill with their two children.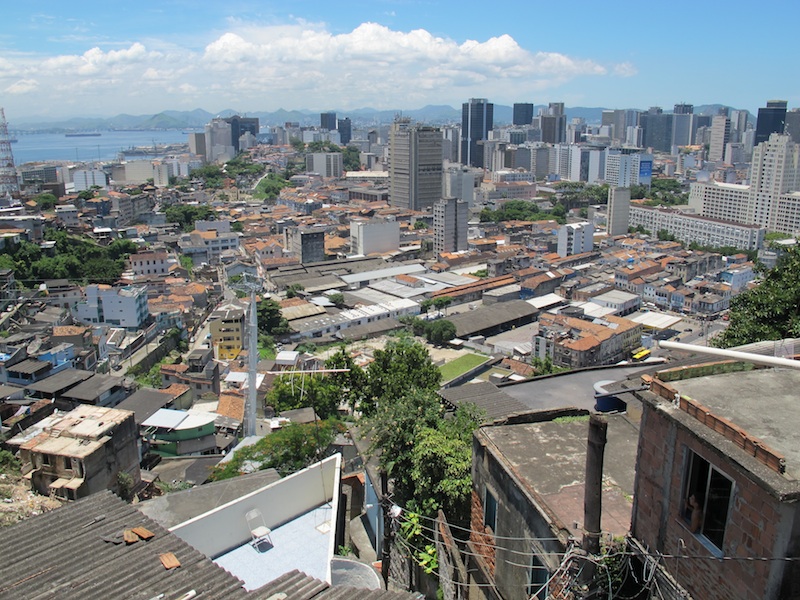 Lifelong resident Roberto Marinho, 37 years, and his family lives in a house marked for removal, but knowing their right to stay they are resisting demolition. As Brazil's first favela, Morro da Providência carries a lot of history. Not only for the city as a whole, but just as importantly for the residents themselves. The building and story of Roberto Marinho's house, located on the left side of the stairway built by slaves in the 19th century, started over 70 years ago when his grandfather settled on the hill and from then on built a home, a home with a breathtaking view of the city – the port and Niteroi bridge to the left, the city center and further to the right the famous Sugar Loaf Mountain. Looking down the hill one can see the construction of the cable car, which according to city government will change the life of residents for the better.
"If the government wants to improve our lives it is not enough to build a cable car. Providência needs much more than that; we need infrastructure and house improvements," Roberto says. Roberto alludes to a chronic problem in Rio's development today: mass investments in favelas that involve flashy public works projects when in reality what residents most need and want are service and utility improvements (education, health, and sanitation) which ultimately are more costly, but less visible as marketing platforms.
According to City authorities, Roberto's house, along with many others on the West (left) side of the famous staircase, is at risk of landslide and has been marked for removal on these grounds. But knowing his legal rights, and knowing that the government has a reputation for being unfair with its proposals, he and his family are resisting removal. Roberto and other residents brought in independent engineers who have publicly documented that these homes are not at risk. In fact, we've seen the deep stakes residents of Providência drive into the hard granite hill to guarantee their homes are safe. Over generations, shacks are transformed through decades of family investment, into consolidated and sturdy structures of brick, concrete and reinforced steel.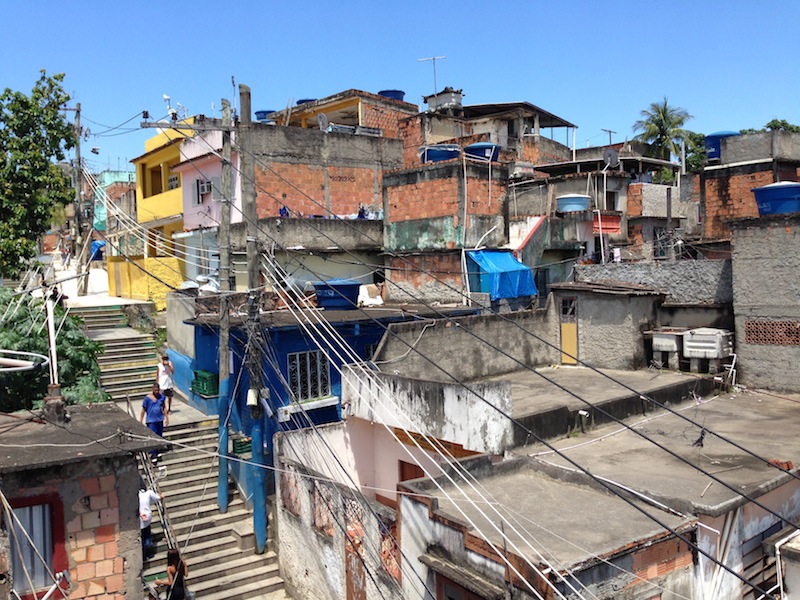 Among the homes that have already been removed, one of the biggest problems is the lack of information about their rights. Residents do not know they have the right to resist and negotiate with the city government. A number of organizations and
networks have begun to address this information deficit
across the city's favelas, but the demand for such information, which needs to be shared mouth-to-mouth, is still far greater than supply."Everyone knows that the cable car is not built for the residents of the favela. If it were, the city government would have taken it to a favela with much greater need than Providência has," says Roberto. "The cable car is for the tourist to see a favela in the heart of Rio," he continues. But the construction of the flashy modern cable car and destruction of houses and public spaces make the community lose its character. "If authorities were really interested in improving mobility and life for residents, why didn't they hold public consultations and consider building an elevator like that in
Cantagalo
?" Roberto asks.
Walking around Providência it is easy to see which houses along with their families are facing an uncertain future– their
houses are marked
with a unique number and the letters "SMH"- Municipal Secretariat of Housing. Currently there is a court-imposed moratorium on all demolitions in Providência, due to the lack of public consultation and residents taking the City to court utilizing the State government's housing public defenders' office.
"What my family and I most want is to reform our house and stay in the area. It has emotional value for us," says Roberto.