Last week it was reported that the number of people removed from their homes for the upcoming mega-events in Rio de Janeiro has surpassed 8,000. Thousands more evictions are planned in the run up to the city hosting the Olympics in 2016.
As previously reported on RioOnWatch in an article looking at last year's London Games, mass displacement of the poor is a trend replicated in every recent Olympic city. Here, anthropologist Tarey Milton looks into the public housing complexes demolished for the 1996 Atlanta Games and discovers that though the communities were literally destroyed, former residents are keeping the memory of their former communities alive.
*****************************
On February 27, 2011 in Atlanta, Georgia, the implosion of one of the last public housing complexes took place amongst an enthusiastic crowd of Georgia Tech students, families and public officials. At first glance, there seemed to be an absence of people that used to live in the Roosevelt Public Housing complex. A student seated next to me inquired of the whereabouts of the former residents and I informed her that they had been dispersed throughout the city as well as various counties and in some cases other states. Suddenly there was a loud boom and the building fell in a matter of seconds.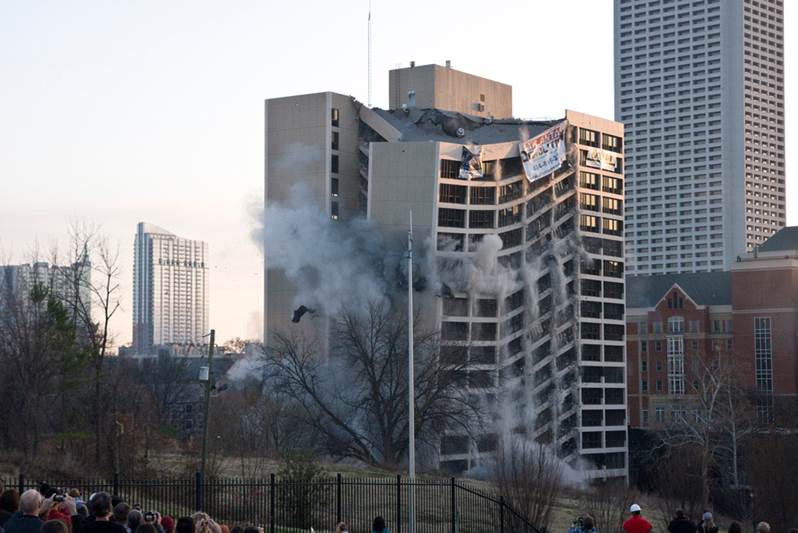 Observing the reaction of the crowd, I noticed two senior women who did not share the same enthusiasm as the crowd. I approached them and shared a conversation regarding the efficiency of the demolition and discovered that both women were former residents of the housing facility. A look of absence was displayed on each of their faces as if there was the loss of a loved one. One of the women told me she had lived in the Roosevelt housing complex for 23 years. She had never heard of someone asking you to leave your home after paying rent on time for all those years. I asked her if she was comfortable in her new neighborhood in the upscale Atlantic Station community. She replied that it'd been one year and she wasn't happy because the friendships shared in the housing communities were no longer available. While walking to her destination she said she hadn't seen any of the other former residents at the demolition, probably because it was too painful to watch or they must have moved on.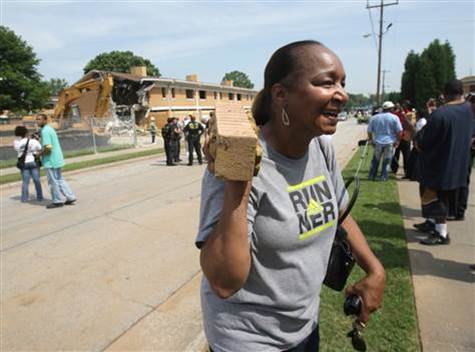 Since 1995 Atlanta has been demolishing all its public housing facilities and replacing them with mixed income communities. Based on current Atlanta public housing research, I explore how residents of previous public housing communities choose to memorialize their former neighborhoods through social gatherings, personal narratives and social networks.
Memorialization in a Public Space
On September 11, 2010 at English Park, a crowd of three generations of former residents of the Bankhead Courts public housing communities gathered to memorialize their former neighborhood. The demolition of the Bankhead and Hollywood Courts communities in 2011 marked the end of not only two major housing complexes in Atlanta but also a neighborhood-established holiday celebration that took place each year. The yearly celebration was an opportunity for current and past residents to introduce local musicians or artists, recall past memories and strengthen neighborhood ties through cookouts and sporting events. After former residents had been displaced throughout the state, they returned to their neighborhoods to commemorate their former residence at local parks, continuing the community holiday. Hollywood Courts Day was held on May 9, 2010 at Collier Park. The social gathering assembled natives of a once vibrant community to reestablish bonds as well as mourn the loss of the fallen housing complex. The shift from a neighborhood site to a public space didn't stop the former residents' traditional celebration but instead enhanced the notion of community cohesiveness in a time of displacement taking place throughout the city.
Social Network Commemorative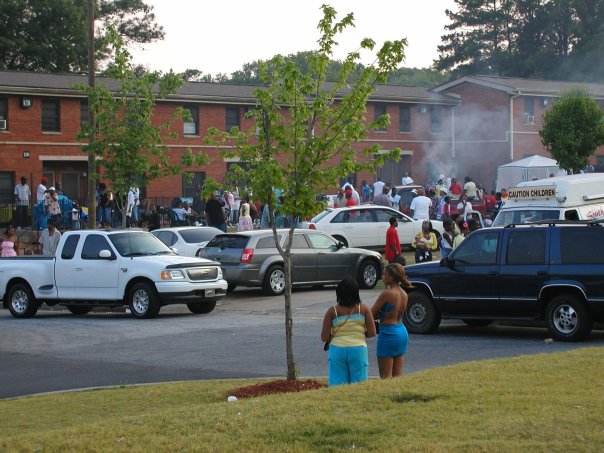 As a counterpart to obituaries or memorial services, web-based memorials through social networks have become living memorials in remembrance of Atlanta's public housing facilities. Web pages have been created in the name of Bankhead Courts, Hollywood Courts, and Bowen Homes to allow past residents to post messages, pictures and contribute comments on discussion boards. Observations of the sites have displayed a uniformity of expressive thoughts commemorating the eradication of a social structure that for former inhabitants established human agency. Online eulogy contributions have included testimonials such as:
i miss u hollywood ct (tear)
rip hollywood court
I miss bankhead that was my home i grow up there all my friends was i stayed there thr 98 to 2000 i miss yall very much Rip bankhead courts.
man r.i.p bowen u know the bricks will neva be forgotten always remembered
Virtual memorials were initiated through discussion boards to recall meaningful events in communities over the decades. Topics prompted discussions regarding growing up in Public Housing the 1970s to 2009. Memories of talent shows, summer camps, school functions and lost loved ones filled conversations that create a long-standing record for coming generations.
Public Memorial
In June 2010, Atlanta Housing Authorities were in the process of bulldozing the Bowen Homes public housing complex. As I stood in front of the heavily fenced property I noticed three EMT specialists fixated on the collapse of various buildings. I asked them if Bowen was a community that was serviced from time to time. The technicians told me of various calls about life-threatening injuries or illnesses they'd responded to, sometimes on a weekly basis. When I asked their opinion on the demolition of the housing complex, they were in agreement that it was time for a change but the memories of servicing the neighborhood are everlasting.
Numerous social science research projects are being carried out that look at America's eradication of public housing, each social scientist offering a voice to people who are marginalized through polices geared toward urban development. The objective of the HOPE VI policy is to deconcentrate poverty in low socioeconomic neighborhoods through relocation. However my current research suggests that former residents are being displaced into social exclusion leaving them to memorialize a proverbial community. They continue to have social gatherings at public parks and cookouts, hold talent shows, organize artist development workshops and reproduce memories from their lost neighborhood. It brings into question whether the policy is deconcentrating poverty or communities?
Tarey Milton is an anthropologist at the University of Florida.