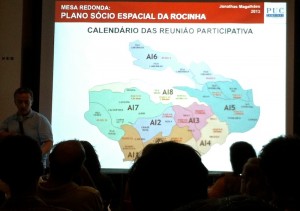 On March 22, favela upgrades and compensatory damages for garbage pickers were on the agenda at a panel on "inclusive urbanism" at Studio X Rio, a satellite project of Columbia University's Graduate School of Architecture, Planning, and Preservation (GSAPP). Located in a rehabbed historic building in Rio's downtown Praça Tirandentes, Studio X had especially full programming during North American spring break, when Columbia students came to showcase their research and dialogue with citizens and local actors in architecture and planning.
Participatory planning is certainly the exception rather than the rule when it comes to urban development in Rio, and the panelists were candid about its obstacles. Panelists included a planner from the federal government's Growth Acceleration Program (PAC) undertaking infrastructure projects in Rocinha, a Rocinha resident, the Columbia student studying the Jardim Gramacho landfill closure, and a Rio researcher who helped facilitate data collection and negotiation among the many groups working on the issue.
Jonathas Magalhães, Architecture and Urbanism professor at the Catholic University of Campinas, began by describing his role in creating the "Socio-Spatial Plan" of Rocinha in 2007 in preparation for the community to receive upgrades funded by the PAC: "We identified the different neighborhoods that made up the community, and scheduled a different meeting for the residents of each one of them."
Cleonice Santos, a Rocinha resident who helped organize these meetings, said that the hardest part of getting other residents to attend was their skepticism based on unfulfilled past promises from both government agencies and NGOs. Additionally, when it comes to public works, "residents think because of past experiences that the government will see a quote on a project from a construction company and name a much higher price to the public. That way, they can keep the profits to themselves."
The PAC planners were able to set up an architecture studio inside Rocinha for the project, complete the focus groups, and install public housing and infrastructure improvements that are for the most part seen as a positive example of favela development.
The case of Jardim Gramacho is centered around the government's obligation to local garbage pickers after eliminating their jobs. A highly-publicized event in the run-up to the Rio+20 environmental conference was the closing of Gramacho, the largest landfill in Latin America, best known as the subject of Vik Muniz's 2010 Oscar-contending film Waste Land. Gramacho provided jobs for 5,000 catadores, or garbage pickers, who went through part of the 3,150 tons of waste per day that passed through the landfill. Rio's municipal waste-collection utility, Comlurb, sorted 2% of the garbage; the catadores sorted 45%.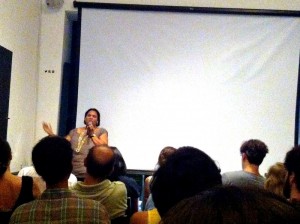 May Yu, who is writing her Master's thesis on Gramacho, opened: "When we're talking about inclusive urbanism, I really want to challenge the idea of 'inclusive for who?' And what does a 'sustainable city' encompass, in its entirety?" Yu studies the relationship between employment and urban sustainability at Columbia University. She went on to discuss the importance of facilitating alternative incomes when city governments take sweeping measures to eliminate jobs, noting that half of UN member states have adopted inclusive plans on urban job creation.
Panelist Fabrícia Ramos of the think tank IETS worked with various community organizations, churches, nonprofits, and government bodies active in the Gramacho area to map and aggregate the work they were doing surrounding this issue. The coalition is still in the process of demonstrating to the City the importance of adequate compensation and job placement services for the garbage workers. So far, the 1,700 registered catadores have received R$14,000 (US$7000) each.  
Ramos said an important part of her work was simply getting the different actors on the Gramacho issue to dialogue with each other for the first time. "In some cases, we found that government Secretariats had not been communicating. I would hear comments like, 'Oh, how great it it is to see public works here!'" IETS connected information from over twenty public, private, and grassroots initiatives.
The panel's moderator stressed that it is up to citizens of Rio to keep the momentum of these projects going, a comment that echoed one made the previous evening at another Studio X panel on Rio's Port revitalization project. Shawn Amsler, a recent graduate of Columbia's Graduate School of Architecture, Planning and Preservation (GSAPP), had just presented a study on whether the real estate market in Rio's center would be strong enough to support all the private developers the City is hoping to attract to the Port area. He said that it probably was. Amsler then received several questions from audience members about the absence of any zoning or incentives for subsidized housing in the port area, despite his own slide that said early recommendations were for part of the area to be set aside as "social interest housing" and despite the 2012 study produced by Columbia and its Studio X, on request of Rio's housing authority, that recommended mixed-income housing in the port redevelopment.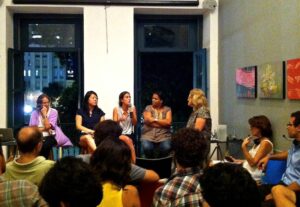 The same question was also posed to Rodrigo Gomes Coelho, the representative of Caixa Econômica Federal, Brazil's national housing bank that is in charge of financing all the new real estate investment in the Port zone. Coelho said Caixa's sole responsibility was to make sure all the developers coming to the new port broke even financially, not to ensure any kind of social standard for the area.  
A large number of attendees of the event were not satisfied with this answer and continued questioning, saying Rio's favelas developed to such an extent due to the absence of adequate affordable housing policy. One attendee cited the social function of land that is laid out in the Brazilian Constitution, with housing explicitly named as a part of that function.
Amsler answered, "There are indeed situations where an urban area can be successful financially, but that may not be the best social outcome. That's why some cities put in place regulations encouraging something different… Your role as citizens is to say, 'you owe us a city that is better than it is right now.'"
At the inclusive urbanism panel the next night, Anna Rubbo, of Columbia's Earth Institute and Global Studio, closed the discussion with a similar comment: "We all have to be subjects in this debate. You can't sit on the outside as an observer of this process forever, saying 'I'm only a student' or… 'only once I've learned enough about this, then I can do something.'"