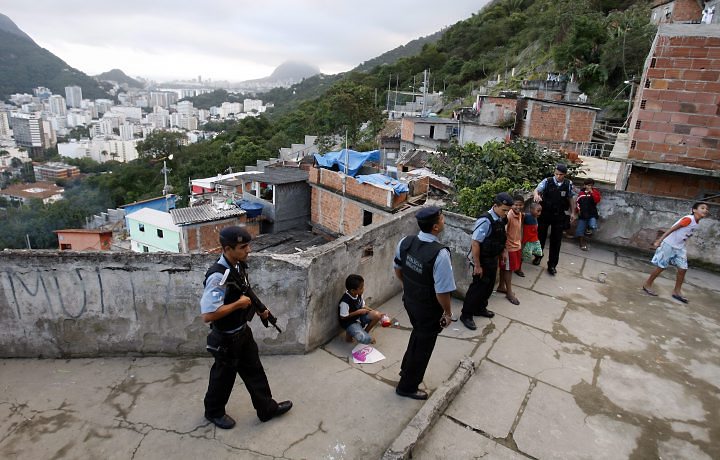 Last Friday morning, May 17, nearly 100 students, researchers and scholars gathered at the State University of Rio de Janeiro's (UERJ) Social and Policy Studies Institute (IESP) in Botafogo to discuss the Pacifying Police Units (UPP), youth and sociability in Rio's favelas. The PRONEX-Juventude seminar was a product of UERJ's Nucleus of Excellence for the Study of Youth which studies the multidimensionality of youth and social inequality, particularly in relation to the State and inclusive citizenship. For the May 17 seminar, coordinator Adalberto Cardoso brought together 12 Brazilian and international panelists associated with various public universities across Rio de Janeiro, including UERJ, Fluminense Federal University (UFF), Rio de Janeiro Federal University (UFRJ) and ENSP-FIOCRUZ.
IESP-UERJ professor Luiz Antonio Machado da Silva and PPCIS-UERJ professor and researcher Márcia Leite began the conversation about favela youth perspectives on pacification and its influence on life in the favela. They introduced the various projects that PRONEX has begun, such as the distribution of laptops to favela youth to compile informal stories of daily UPP-youth interactions outside a formal interview setting.
Márcia explained that one of the main points that PRONEX researchers came across in interviews with favela youth was that while the reduced number of homicides can be attributed to pacification and should be celebrated, the critique of UPP methods and intrusion on rights and sociability must continue to be questioned. Favela residents have identified arbitrary and indiscriminate ID checks as one example of UPP abuse of power, and many have come to accept it as a regular occurrence. But Márcia questioned, "Why is it that a favela resident must take his ID with him when taking out the trash while those outside the favela don't?" She recounted that one favela resident understood the head of the UPP as the new "king of the hill, because he defines the hour you must be home, and this repeats the abuse of the traffickers." She closed with the question, "Will this last? And how long will it last?"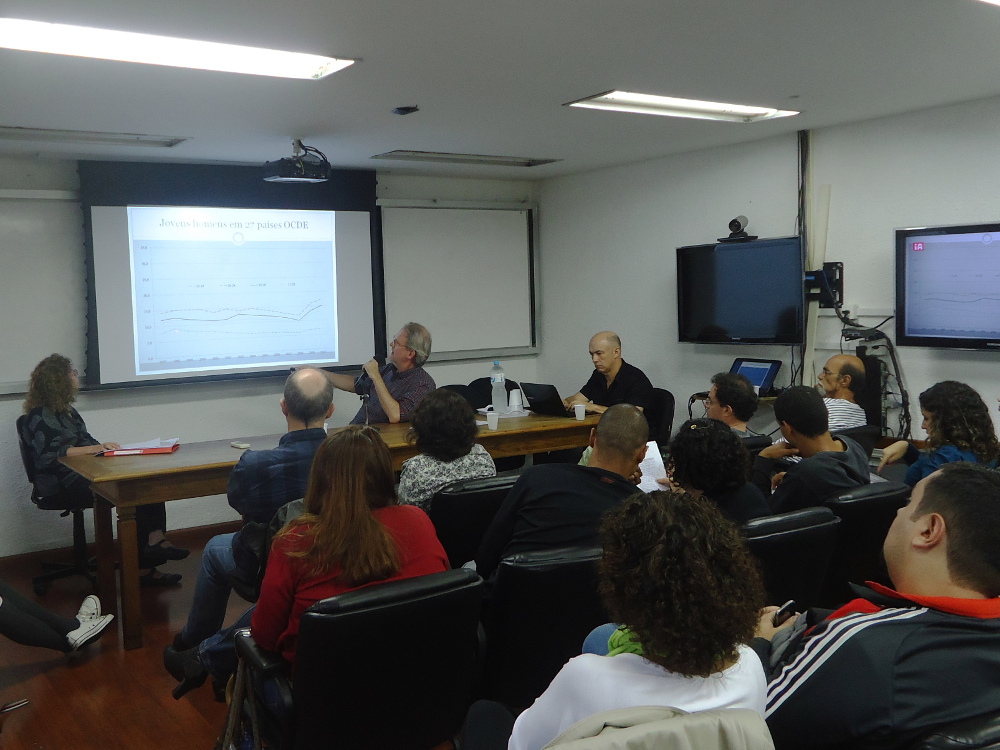 To share an example of current research conducted in the field, ENSP-FIOCRUZ masters student Juliana Corrêa presented her thesis research on the youth perspective on UPP 'implantation' in Complexo do Alemão. She interviewed 13 favela youth, ages 18 to 24, who were either students, associated with a local NGO or previously associated with trafficking. Most of the residents that Juliana interviewed cited the reduction of shootouts and ostentatious presence of arms as the only positive effects of UPP presence. One 18-year-old was quoted saying, "The only positive thing that has happened is that. The rest is worse." According to the youth interviewed, 'the rest' consists of arbitrary, indiscriminate and occasionally hostile searches and ID checks as well as interference in leisure and social life. Eighteen-year-old Carlos was quoted saying, "We spend a good part of the time in the alley. The police shove a gun in your face, saying that it's a big deal. That's how the 'interview' goes. They always want to get us out of the alley." But as the alley is often the only public space close to home, this is essentially calling for house arrest.
Juliana quoted a young woman who explained, "I think the driving force in my life was liberty. Even with the traffickers, we had a certain liberty. We were scared of the trafficking like we're scared of the police, in the same way. But with trafficking, there wasn't anyone passing my house, stopping and saying, 'Let me see in your bag.' I think I lost my liberty with pacification."
A teen who was previously associated with trafficking, however, was quoted as having a far more positive perspective on UPP occupation. He shared, "For me it's like this: a place that is giving opportunities to people to grow, live, work…we didn't have much of this. From my point of view, we didn't have this at all. Because what was in style was trafficking, so everyone wanted to be part of it. Now that it's changed, everyone is for improvement, everyone is getting into good stuff…It's changing."
Juliana quoted another young boy who corrected, "What's in style? Work, studies, learning, all of that is happening: change and people trying to better themselves. It started now, after the UPP implantation. Not by the UPP, but by the social work that is arriving slowly. Real slowly. It's not like, 'Oh, Complexo do Alemão: the UPP arrived, now it has social work.' No it doesn't; I think it's not much. But it's something that's already helping a lot of people." One young woman shared with Juliana her criticism of outside perspectives imposed on favela youth. "For those on the outside, it's so easy to say, 'They prefer the drug traffic.' I don't prefer the drug traffic, but I don't want to swap one [abusive authority] for the other. I want to have peace but not have police breaking down my door."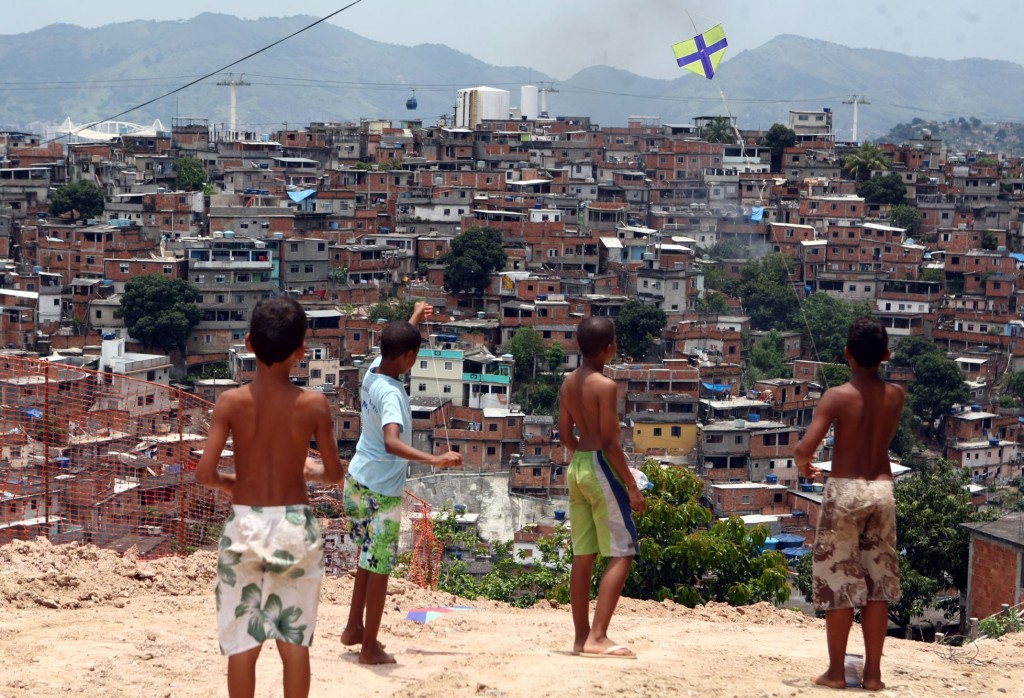 In the afternoon seminar, the focus moved away from favela youth and the UPP towards social mobility and inequalities. Márcia Pinheiro, a professor from the North Fluminense State University, presented her project which helped youth in the state's mountainous region create artistic and academic associations to fuel their drive and success. Licia Valladares, professor at Lille University, posed the question, "Will the university students of the favelas be the new social actors in Rio de Janeiro's popular sphere?" Through her interviews with students, she concluded that there is vast social mobility among college students from the favela. While the parents of the students interviewed were painters, truck drivers, domestic workers, doormen, prostitutes and manicurists among other things, their children were successful university students.
Other topics covered in the afternoon seminar included the troubling concept of "nem-nem" youth, who neither work nor study, as well as the effect of the new affirmative action system guaranteeing university places for minority populations. To wrap up the last panel, professors Doriam Borges and Lia de Mattos Rocha of UERJ presented an exploratory analysis of the impact of the UPP. Through their study, Borges and Rocha analyzed micro-data on crime in Rio and concluded that since pacification, the 13 favelas included in their study experienced a significant drop in the number of reported assaults, shootouts and homicides. They also drew qualitative data from interviews with residents and found that despite the decrease in reported violent crime, residents reported feeling more scared for their personal safety. Residents of various favelas included in the study reported they were unwilling to turn to police for help after an incidence of violence because they were scared to be seen talking to the police, and they did not think that police offered any sense of security.