Could Pope Francis' Visit (Finally) Trigger Sanitation Improvements in Manguinhos?
For the community of Varginha in Complexo de Manguinhos, a complex of favelas in Rio's North Zone, the imminent visit of Pope Francis this week is a great honor. Pope Francis is in Rio for World Youth Day, his first international trip since his enthronement. Luiz Soares, 40, who has lived in Varginha since 1995, talks of how "a person who is famous and respected worldwide will walk on the same ground as we live," comparing it to the great honor of Mother Teresa's visit to the community in 1972.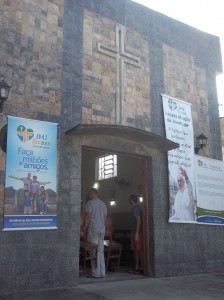 Luiz, coordinator at the Manguinhos Park Library and a social work student, also talks of how the community is being prepared for the visit, describing the authorities performing a rapid clean up of the area around the São Jerónimo chapel where the Pope will perform mass. He says, "Now we're seeing services that we don't see very often. They're preparing the community: covering roads with asphalt, painting, creating sidewalks where it's always been a path of earth, trimming trees because it reduces the amount of insects. The dengue team have come in."
While the rapid clean-up services Luiz speaks of may not be a regular occurance in the community, there are many visible signs of recent government interventions in Manguinhos. Since the Growth Acceleration Program (PAC) was launched in the community by then president Luiz Inácio Lula da Silva in March 2008, Manguinhos has as part of the PAC received a civic center, housing projects, library, women's center, and a renovation of the train station and surroundings. Last week, on Tuesday July 26, Governor Sérgio Cabral inaugurated the newest project: a "Worker's House" (Casa do Trabalhador) to provide 30 professional training courses in areas from bar tending and events to childcare and make-up.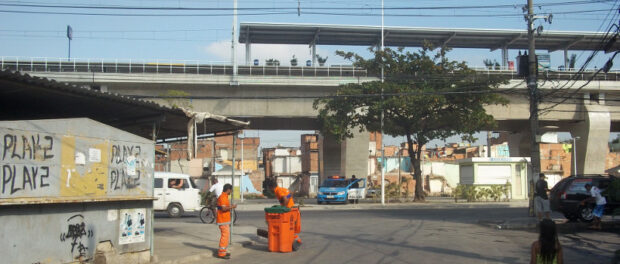 All these developments and more were listed as PAC promises by then-president Lula in his speech at the launch of the program in Manguinhos in 2008. Before the mention of playgrounds, cycle paths, skate parks, sports center, food kiosks and an amphitheater, amid a list of other infrastructure improvements to come, Lula made a key promise to address the favela's most urgent problem: basic sanitation. However, five years later, residents say this most urgent of needs remains neglected, with in many cases conditions actually worse following PAC works in the community.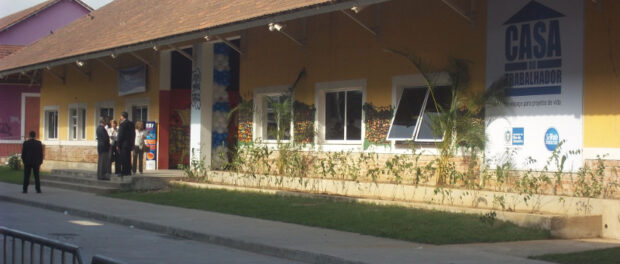 Built on an area that used to be the swampland fringes of the Guanabara Bay, Manguinhos has long suffered with sanitation problems. Several canals run through the favela and frequently flood during heavy rains, a problem that has been exacerbated by dumped waste materials from construction projects. Along with nearby Complexo do Alemão, the region's sewage is precariously channeled into the Faria-Timbó River which carries it to the Guanabara Bay. The need and project for the canal drainage and the installation of a sewage collection tube to safely transport sewage to a treatment center, and not pollute the Bay, has been around since the 1980s, and was part of the mismanaged Guanabara Bay Depollution Program of the 1990s. Promises for the sewage collection tubes to be imminently installed were renewed with the PAC, in particular the second phase of the program, PAC 2.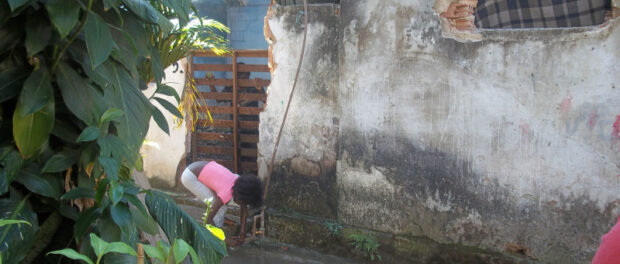 In October 2010, Rio state government announced that R$800million would be spent on sanitation works in Rio and that the Faria-Timbó river sewage collection tube would be launched in the following months. In July 2011, Executive Manager of the State Environment Secretariat's Program for the Sustainable Sanitation of the Municipalities Surrounding the Guanabara Bay (Psam), Gelson Serva, announced R$1billion plans for sanitation in Rio until the Olympics in 2016, including the construction of two sewage collection tubes for the Faria-Timbó River and Manguinhos. Eleven months later, in June 2012, the President of federal bank Caixa Econômica, alongside Governor Sérgio Cabral and State Water and Sewage Company (Cedae) president Wagner Victor, announced a R$176million financing of the installation of the Faria-Timbó sewage collection tube to service residents of Manguinhos, Complexo do Alemão and Maré, with 6.1km of tubing to transport 1.9 liters of sewage per second. Four months later, in October 2012, Cedae's President announced the same project, this time with a R$250million budget, to build a sewage collection network for the Faria-Timbó River with construction to start within the next three months.
Residents have grown weary after two decades of announcements that don't translate into action and results. When reporting the announcement of October 2012, community newspaper Maré de Noticias wrote, "If the announced investment really is made, problems […] will be minimized." The doubt expressed is not without reason. In the latest announcement by Cedae's President on June 4th, regarding the Olympic sanitation promises, Victor merely spoke of "reducing the waste that comes from the Faria-Timbó River and flows into the Guanabara Bay." There was no mention of the sewage collection tube.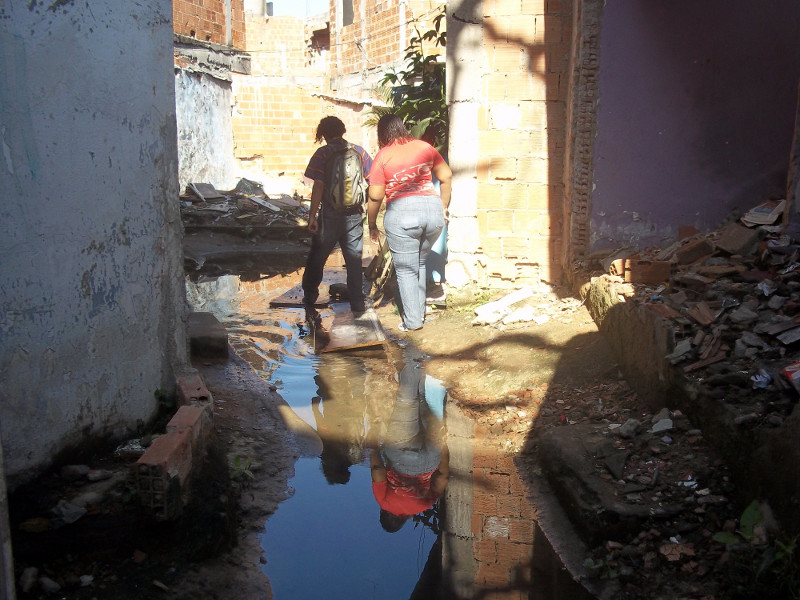 Stalling on such an essential issue for so long when huge public sums are announced to have been released for the implementation of the project is, at best, gross negligence. It perpetuates conditions that have serious health impacts for residents and hinder all development efforts, when development is what the PAC explicitly aims to accelerate. It is due to this negligence that despite the showy interventions in the community TIME magazine recently reported on Manguinhos summarizing it a "miserable slum."
Research shows that spending on health and sanitation are most effective in combating poverty. Sanitation watchdog, Instituto Trata Brasil, reports that every year in Brazil 270,000 people have to take time off work or school due to stomach problems caused by lack of access to a proper sewage system. They report that 11% of work absences are due to problems linked to lack of access to sanitation systems and calculate that such absences cost R$238million per year. Additionally, the difference between school attendence among children who have and who don't have access to proper sewage systems is 18%.
After five years of PAC in Manguinhos, the favela communities still await improvements in sanitation. Coordinator of the Manguinhos Human Rights Laboratory and resident for 15 years, Fernando Soares explains: "The sanitation has not improved, on the contrary it's gotten worse. That's in general, for those in an eviction area, it's worsened a lot, to the point of calamity conditions."
Since 2009, several areas of Manguinhos have been undergoing a brutal removal process, particularly the areas of Beira-Rio and Beira-Linha a few hundred meters across from the São Jerónimo chapel Pope Francis will be visiting. The semi-demolished structures where vacated houses have been destroyed while adjacant, still-occupied homes stand amidst the rubble are clearly visible from the chapel, and those still residing in this area–many of whom are desperate to leave, having signed papers, but await compensation or alternative housing to do so–live with streams of open sewage and stagnant water filling the alleyways. According to Fernando, three residents have died this year so far from health conditions provoked by the removal situation.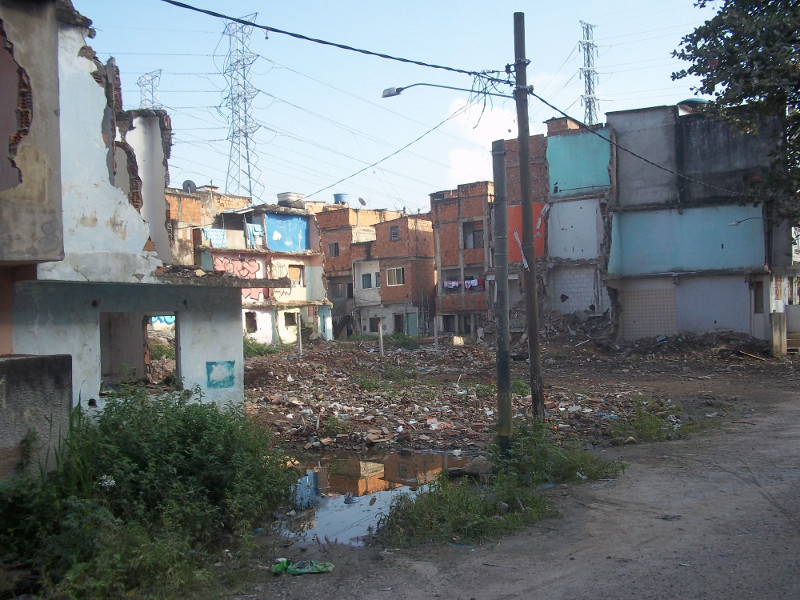 For Fernando, the removals and sanitation issues are the greatest problems facing Manguinhos today and direct consequences of the lack of community participation in the PAC project. He says, "All this is happening because this process of urbanization is made from the top down. There were public consultation meetings, because by law they have to happen, but the denouncements made by the community were not taken into consideration."
The complaints of lack of participation go back several years. Following the heavy rains of 2010, the Forum Social de Manguinhos released the statement saying "Unfortunately, the managers of PAC-Manguinhos, the state and city governments, have not permitted effective participation of the communities together with the projects and the meeting of residents' demands. This could have avoided the problems occurring in the projects and works, questioned by residents and associations. With the PAC, works arrived before planning that could have been effectively participatory in formulating integrated public policies."
While the unglamorous yet urgently needed sanitation infrastructure projects remain slow-coming, the residents of Varginha can count on the attention of the world as they welcome the head of the largest religion in Brazil to their community and in anticipation receive basic services that, according to Luiz, have never been received with such speed and dedication. He's very happy to see it but says it's disappointing that a grand international visitor was required to prompt the provision of services. "It would be more joyful if he came and there was no need to do any extraordinary operation, that everything was already in place."
Residents are looking to use the attention on their community with the Pope's visit this Thursday morning to bring visibility to human rights violations and poor health and sanitation conditions in Manguinhos. A demonstration event is planned including a memorial of Beira-Rio resident Dejanira Nascimento, featured in this RioOnWatch article of March 2013, who passed away last week. The event will take place from 8.30am in Beira-Rio, near to the Manguinhos train station on Avenida Leopoldo Bulhões. For more information, see the Facebook event page.