For the original in Portuguese on Canal iBase click here.
A heated debate took place at the Engineering Club last Friday July 19 over the Rio state government's attempt to install a cable car in Rocinha. Amongst over 120 attendees were many Rocinha residents, who were protesting against the cable car, arguing that the priority for the community is basic sanitation. In terms of mobility, the architect Luiz Carlos Toledo stated that a funicular tram, planned in Rocinha's first urbanization plan in 2007 is not only much cheaper, but also would not drain local business, as a cable car would.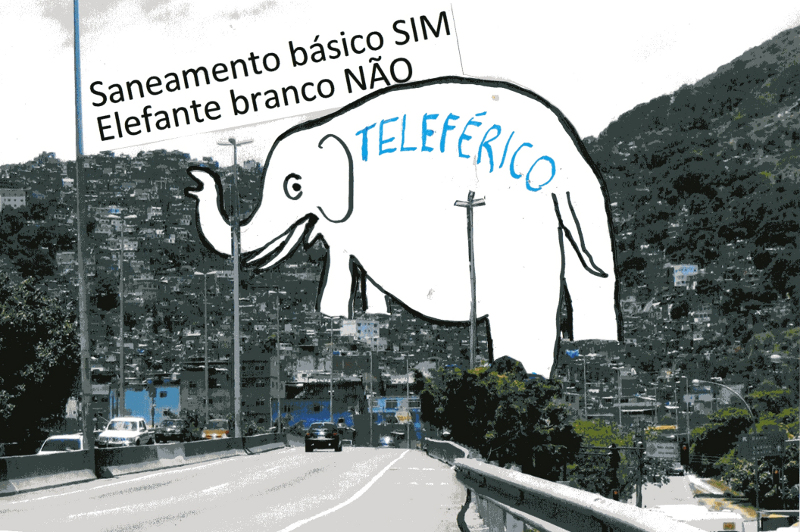 Toledo tore apart the idea that the cable car would be a good thing for Rocinha. He broke his argument down into four points.
"First of all, since the cable car is a French technology its cost varies depending on the price of the dollar, which is currently high. Therefore, with this type of investment, there would be very little budget left for basic sanitation. Another factor is that, as the cable car does not stop on arriving at a station, instead only reduces speed, those with mobility difficulties face problems using them, and often stop using them for this reason. The state government says that the cable car is much faster than the funicular tram, but I would say that if in fact they invested in improving the alleyways in Rocinha, it would greatly improve residents' mobility. The funicular tram creates more integration than the cable car. At the tram stations, there could be many communal spaces, including for local businesses and cultural activities," says Toledo.
The Director of iBase, Itamar Silva, confirmed that in Santa Marta, where he lives, the funicular tram is the best example of infrastructure in the community, which has been through various urbanization plans.
"Although the funicular tram in Santa Marta is not sufficiently maintained, it is used by locals to carry their shopping, building materials and some of the community's waste, which doesn't happen with a cable car."
Alan Brum, from the NGO Raizes em Movimento (Roots in Movement) added another argument against a cable car in Rocinha, based on his experiences in Complexo do Alemão: "In Alemão, the cable car only serves 7% of the population of around 140,000 people. The focus is on tourism, not residents."
In Alemão, sanitation issues are far from being resolved. Representing Rio's state government , Ícaro Moreno, president of the Public Works Company (Emop), was interrogated by the audience. Ícaro stated in the debate that public hearings will be held in Rocinha's 32 sub-neighborhoods.
However, community leaders complain that, until now, the local population's voice has not been heard on the issue of the cable car. "They have not listened to anyone, yet they want to install a facility which has not been successful in Alemão, instead of investing in basic sanitation. In some of the sub-neighborhoods, such as Vila Verde where the issue of open sewage is critical, locals were not even considered in the federal government's PAC2 (Growth Acceleration Program). The first phase of PAC left many public works unfinished in Rocinha. For example, the day care center has been turned into a car park. Faced by this situation, how can they say they want to build a cable car?"