For the original in Portuguese in O Dia, click here. 
See our December 2010 video documenting the eviction of the communities cited in this article.
The Popular Committee and the Human Rights Commission hear from former residents of Recreio communities removed for BRT construction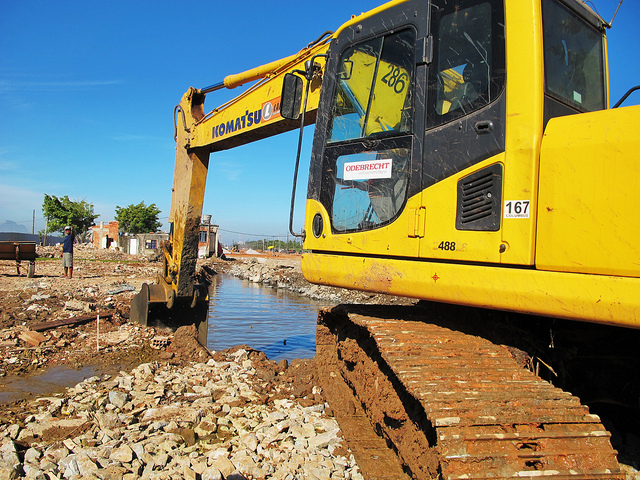 Rio – The communities Recreio II, Harmonia, and Restinga, in Recreio, don't exist anymore. They were removed for construction of the BRT Transoeste (bus line and highway). Yet nothing has been done with the land they once occupied. The space is empty and the families that were forced to leave their homes complain they are not satisfied with what they were paid for their properties.
On September 4, the Popular Committee on the World Cup and Olympic Games visited the site, along with representatives of organizations such as Amnesty International, and members of the city council's Human Rights Commission, who participated with the aim of reporting the cases and asking for a public hearing concerning removals in the city.
"The money I received wasn't enough to cover anything, and my house didn't need to be removed," said Selvita Rufina, 50 years old, during her visit to Recreio II where she lived for 16 years. She says she had to go to court to get the R$37,000 the city paid for her house, which was removed in 2011. "I lived in my own house for 16 years. Now I'm renting in Campo Grande," said Selvita.
Where the Harmonia community once stood, the 18th Headquarters of the Municipal Secretariat of Conservation now operates. In a written statement, the secretary reported that the occupied land was "of great importance to the implementation of the BRT."
"We question the way the evictions were conducted and the motives behind them," said Renato Cosentino, member of the Popular Committee. He stated that the removals serve real estate interests and that some ventures are being launched in these spaces.
In a written statement, the Municipal Housing Secretariat reported that 156 families removed in Recreio had received apartments from the Minha Casa, Minha Vida program, or had been compensated. Asked about the impasse, the Municipal Works Secretariat explained simply that there were no materials in the area and did not address the question of vacant land.