On Saturday November 9, the ninth edition of Raízes em Movemento (Roots in Movement) Institute's Circulando event took place in Complexo do Alemão in Rio's North Zone. Subtitled "Dialogue and Communication in the Favela," the day's program went from 9am to 11pm and included poetry, debate, graffiti, and musical performances, with the focus overrall on human rights.
The event included exhibitions of photography by Bruno Itan, Alexandre Correa, Seu Rodrigues Moura, Flavia Viana and Maria Buzanovsky and the creation of new works of graffiti on walls along the Central Avenue.
Just outside the Roots in Movement Institute's headquarters, organizers built a yellow tent to host a debate and exhibition on the work of environmental group Verdejar Socioambiental and an open-mic for poetry and song.
Nearby, the Guerreiras da Arte (Art Warriors) collective mounted an artisan fair and SESC carried out training workshops. There was a presentation of capoeira, as well as music and dance by the Anjos e Querubins Popular AfroBeat Orchestra and the Renovation Dance Group (who came from Pelotas in the south of Brazil). Occupy Alemão also organized a book exchange and posting of messages. In the evening, rap and funk groups such as Bonde 2Cria, Eddu Grau, and Rapper Fiel gave shows, as well as a Dança do Passinho dance battle and headliner Rapper Filipe Ret.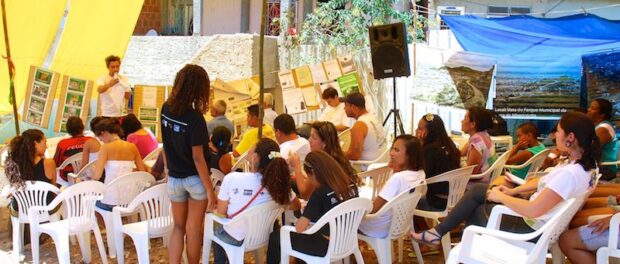 Human rights themes took prominence at the Verdejar debate, where leaders from the NGO discussed the 16-year fight for an ecological park in the Serra da Misericórdia. Despite promises of millions of reais for the park, the director explained, today it is being used as a pretext for removal of families who have lived in and around the area for as many as 40 years. Edson, one of Verdejar's directors, asked repeatedly "What sort of park is this?" calling attention to City government repeatedly giving license for the operation of three highly-pollutive rock quarries within the area designated for the park. Verdejar has started a campaign through the "Pressure Cooker" platform of political activism group Meu Rio to call for the Secretaries of Housing and the Environment to enter into a discussion with local groups over the future of the park.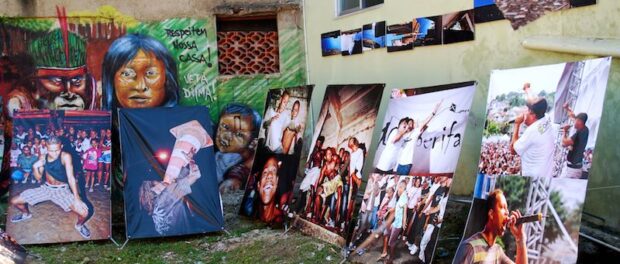 Residents shared their experiences of threat and removal while volunteers from the Occupy Human Rights campaign of the ALERJ's Human Rights Commission collected information about these and other human rights violations in Alemão.  One of the numerous screenings of the film "Dear Mandela," which looks at anti-evictions activism in South Africa, also took place inside the Institute at this time, followed by a discussion and debate. Pamphlets from the Direitos 1Manos campaign of Adubando Raizes Locais were also distributed to address historic rights violations experienced by favela residents.
Ricardo Moura, coordinator of the Adubando Raizes Locais project, emphasized the dialogue with multiple social movements that Circulando affords in a reflective piece published on the Roots in Movement Institute's site. Both the Verdejar debate and the "Dear Mandela" film, he wrote, "focused on inserting an agenda of rights of and for favelas."
Moura goes on: "These moments are important, especially when we remember this was a public event that was open in all senses, horizontal and collective."  Though Circulando represented the closing of one project–Abudando Raizes Locais–its character of being creative, inventive and powerful, as Moura described it, paves the way to many future openings.