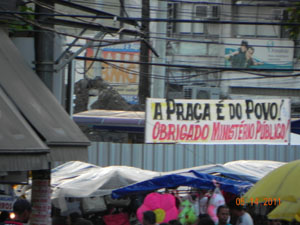 An abandoned square has become famous! A place for entertainment, inhabited by the homeless, street vendors, and pagode-lovers alike, this square's existence is now being threatened by new construction. The Carlos Gianelle Square, located in Alcântara, one of the most populated neighborhoods of Sao Gonçalo in the Rio de Janeiro Metropolitan Region, was sold by Mayor Aparecida Panisset for the meager sum of R$150,000 (approximately US$93,000). A shopping mall, connected to a nearby bus terminal, is scheduled to be erected in the square's place. On May 12th, 2011, neighborhood residents took to the streets surrounding the square for a protest.
"The resistence of the population is due to the sale of a public landmark that is considered an emblem of traditional and historic significance to the neighborhood," explains small business owner Ulysses Soares, 50, owner of the nearby market ATC. He is one of several business owners who, together with the OAB (Order of Brazilian Lawyers), organized a street rally and produced a petition in favor of the plaza. The petition received approximately 3,000 signatures. "No one is against the construction of a shopping mall. The real question is the legality of the act," adds the market owner.
One of the controversies is the price of the square, sold for R$150,000 in an area where a store does not sell for less than R$200,000. But the real issue lies within the law, which prohibits the sale or transfer of a public square at all. According to prosecutor Karine Gomes, "disaffection" (the use of a plot of public land for private means), is unconstitutional. "A square can never be demolished for commercial exploitation," she explains. At most, the protesters would accept a trade of their square for a public hospital, another of the city's major needs.
Residents protests were not heard by the municipal government, but they did find sympathy with the 4th Criminal Court, from which a temporary restraining order has suspended construction until the judiciary addresses the legality of the work. The area around the square is now entirely cluttered, affecting both vehicular and foot traffic. "The construction has taken over a space where cars used to drive; it has ruined the traffic loop and blocked the pathway of pedestrians, generating unneccessary disruption," laments university student Samantha Rodrigues, 23, who lives near the square.
The project does not forsee any evictions, but, nonetheless, construction nearby will greatly inconvenience neighborhood residents. They are also worried about the heightened traffic flows – both on foot and by car – given the creation of the shopping center. "We have a square, and it can't just be taken away," protests small business owner Paulo Sergio, who runs JN market and who also participated in the May 12th protest.