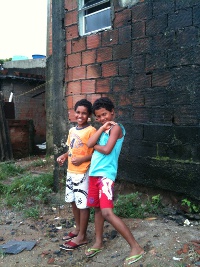 Since the threat of removal, community leaders were only invited to speak with the mayor after they led a demonstration with hundreds of protesters representing 20 communities outside City Hall in early March. Yet these "conversations" are described by organizers as "one-way dialogues," where the City states its intentions without much room for discussion. The next meeting has been set when the city will present its resettlement plans and provide an opportunity for the community to present an alternative plan for the area (to compete with the Olympic bid plan that took top technical experts 3 years to prepare).
As months passed and the Mayor snapped up other momentary opportunities for evicting residents that allowed him to ignore the legal process—like the intense rains of April 2010—it became clear that the Olympics had simply provided a rare opportunity to make plans for the city that avoided the obligation for public comment while making evictions publicly acceptable to the middle class and the bulk of neighborhoods who wouldn't be affected. In fact, much like George Bush's "you're with us or against us" mentality, efforts at fighting evictions have been covered by the mainstream media, since last October, as practically traitorous.
Immediately upon visiting Vila Autódromo on a weekday one senses a unique tranquility in the air. No loud music. No screaming children. "This is a dormitory community," the Neighorhood Association President, Altair Guimarães, tells me. Everyone's at work or in school.
Vila Autódromo is one of the 18% of Rio's communities that have remained peaceful (no drug or vigilante militias), through citizen action. As one resident explains, "This is a community where anyone can appear at all times of day and no one will question, 'who are you here to see.' This is a family community, everyone knows each other, everyone lives well, whether near or distant neighbors."
Throughout the community's history, residents worked together not only to build their homes, but all public spaces too: streets, sidewalks, simple sewerage and water distribution networks, the football (soccer) field, church, and Residents Association. See a slideshow of Vila Autódromo on Global Post.
As described on the official notification sent by Rio's public defenders to the IOC on May 18, 2010, "One observes in Vila Autódromo a gradual social evolution of the families which, over the years, encouraged their children to undertake study and professional development. In addition to being a space built through the constant effort of residents, Vila Autódromo also appears as a diversified network of the city's workers: electricians, plumbers, mechanics, doormen, construction workers, seamstresses, small business owners, (teachers, and police officers), among others…offer fundamental services." Most residents pay property tax, as a way to defend their right to stay.
"An eventual removal would cause grave problems with regard to adaptation, in addition to the disappearance of all the urban patrimony and with regard to the social relations developed among residents during this long period."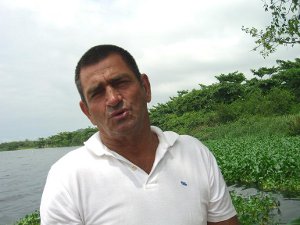 Sharing his perspective, which echoed that of dozens of others interviewed independently by visitors to the community in official reports and the media, one resident told me: "There is nothing the city could offer me that would make it worth my while to leave. What I'd really like is for them to leave us alone, that everyone stays where they are, and that they sought to legalize and improve our situation, so people could pay their taxes, and for something worthwhile. No politician has ever done anything for this community."
A technical team of engineers and architects assembled to study the situation ask: "Why are condominiums, shopping centers, and other commercial developments being approved for the edges of the Lagoon?" In fact, just across the street from the community, 5 luxury condos are going up. The billboard outside the closest one encouraging passers-by to purchase, reads "Place your dreams at the top of the podium. Three rooms in the region that'll grow most by 2016. And you'll get to see it all from your very own box seat."
"The 2016 Olympics: A Win For Rio?" is a five-part series by Theresa Williamson.
Check out part 1, part 2, part 4 and part 5.