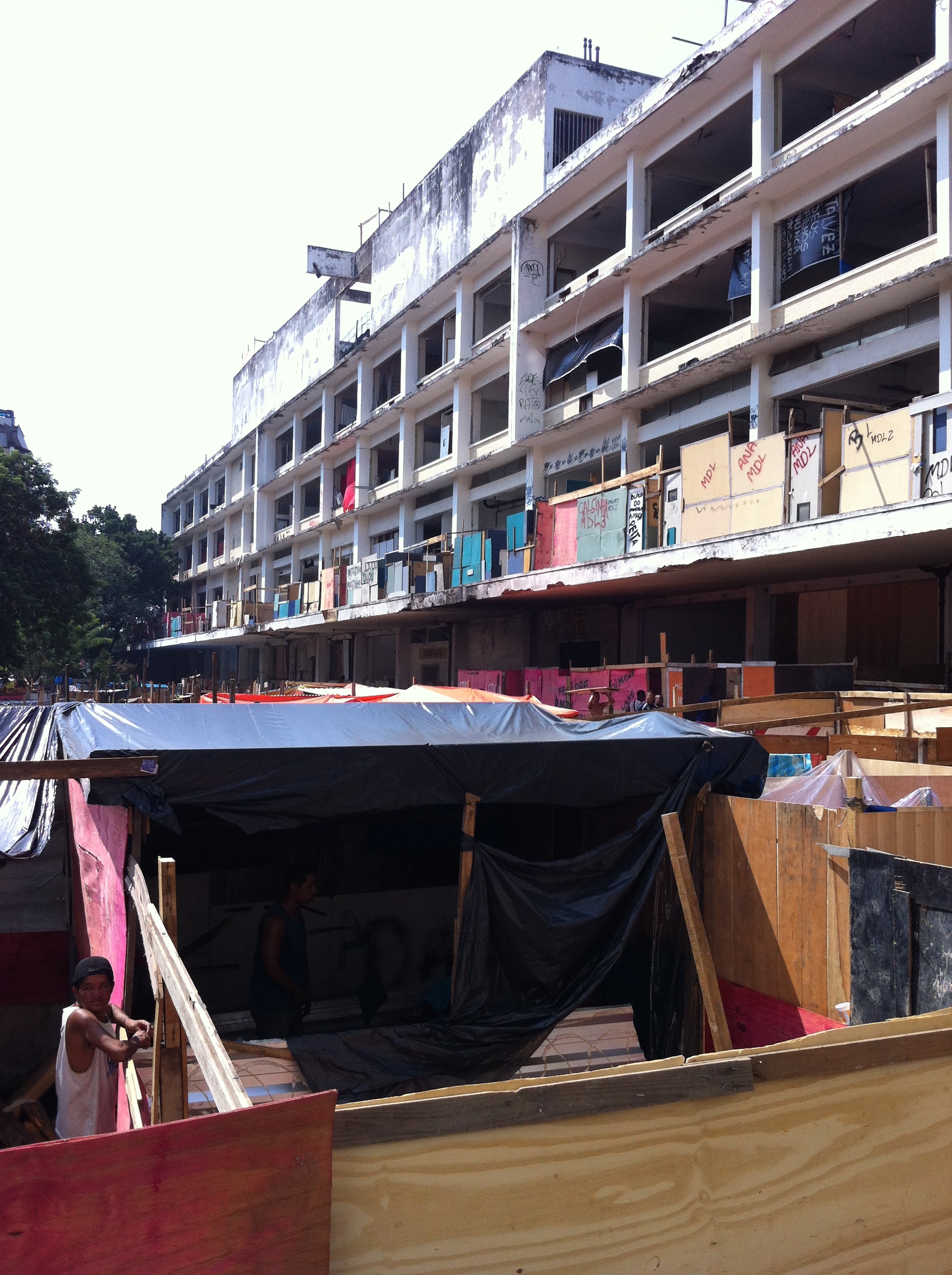 Thousands of families have been occupying the abandoned ex-Telerj complex in Engenho Novo, North Zone, where new arrivals have been claiming residence since Sunday March 30. The occupation involves over 8,000 people, according to the residents, with more arriving every day. Many families left their homes from the communities of Mandela, Rato Molhado, Jacarezinho, Cosmos, Manguinhos, Duque de Caxias and Morro do Sampaio. Others who lived homeless on nearby streets also participated in the occupation.
The space was collectively distributed as families arrived and began to erect their single-space rudimentary barracos (make-shift shelters) made from plywood and reclaimed materials, without any roof, furniture, or floor. Many barracos (typically 4m x 4m in size) were built on the insides and rooftops of the buildings, whilst others emerged in the remaining unoccupied outdoor spaces. Every barraco had a name painted on it claiming its personal space.
The 50,000m2 complex is shadowed by two six-story buildings and one warehouse, all arranged around a vast outdoor car park. Formerly a part of Rio de Janeiro State Telecommunications Company (Telerj), the complex was sold in the privatization of Brazilian telecommunications in 1998 to TELEMAR (today Oi). Eight years ago Oi abandoned the building leaving it derelict and empty. Local residents of Engenho Novo claimed the space was frequently utilized to sell and use drugs, reported O Globo.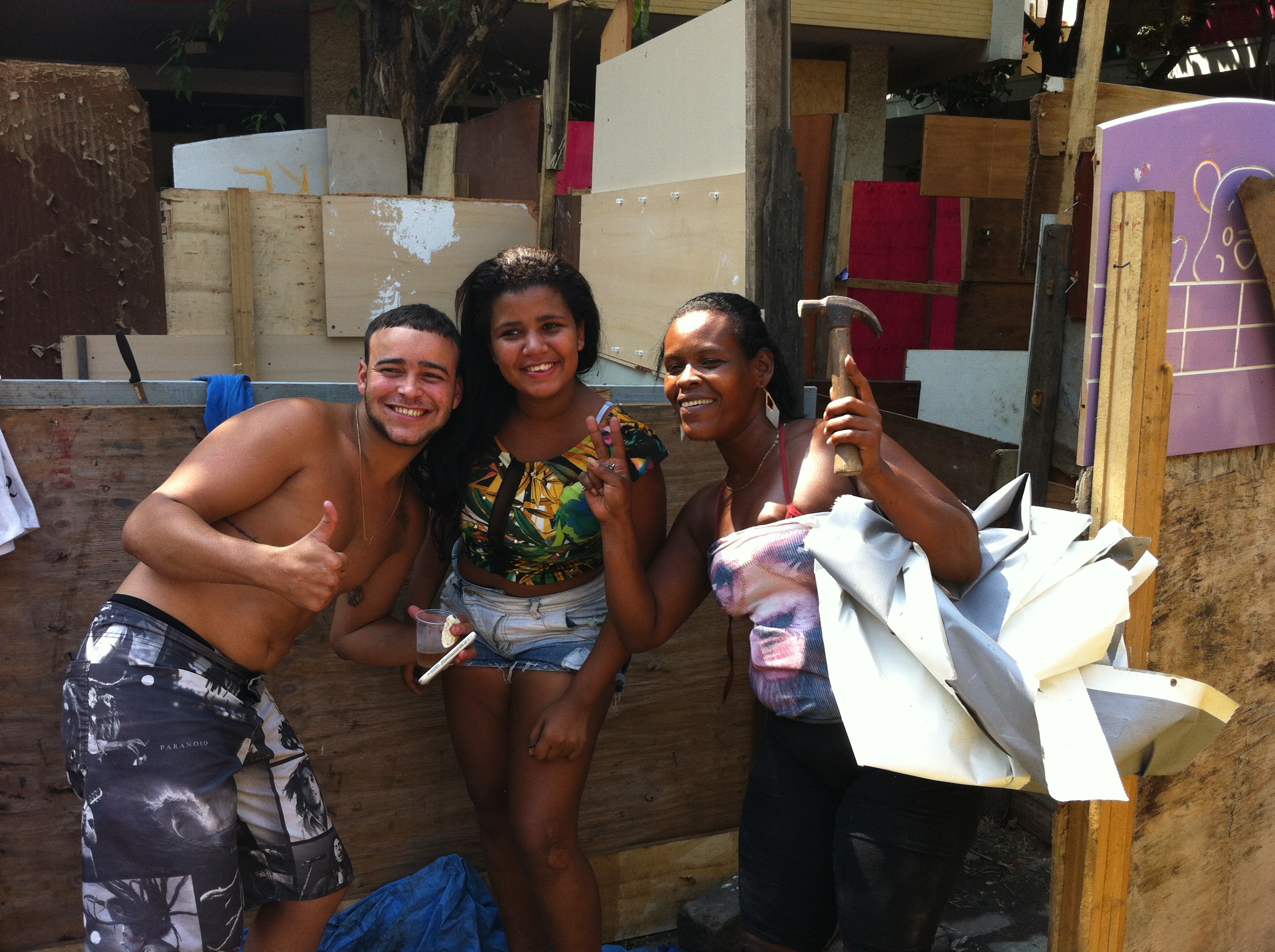 Judge Maria Aparecida Silveira de Abreu ordered a removal injunction against the occupiers with no space for negotiations. A meeting took place at the Fórum do Méier Civil Court on Tuesday April 8 to decide a strategy and timeline for the eviction. No public conclusion from the meeting was revealed. Maria José da Silva, the only public representative with apparent ties to the community, Guilherme Simões from the Homeless Workers' Movement in São Paulo, Humberto Cairo from the Brazilian Bar Association (OAB) representing the Military Police, representatives from Civil Defense, Fire service, both state and municipal governments, and the site owners (Oi) all met to discuss the exit strategy. A residents' meeting scheduled for later that evening with Maria José da Silva was cancelled.
Resident's respond to multiple issues
Speculative housing prices, inadequate health and education services, expensive travel, threat of removal, risk of flooding, landslides, and other issues they felt were ignored by the state were among the reasons articulated by the newly formed community as to what drove them to occupy the space.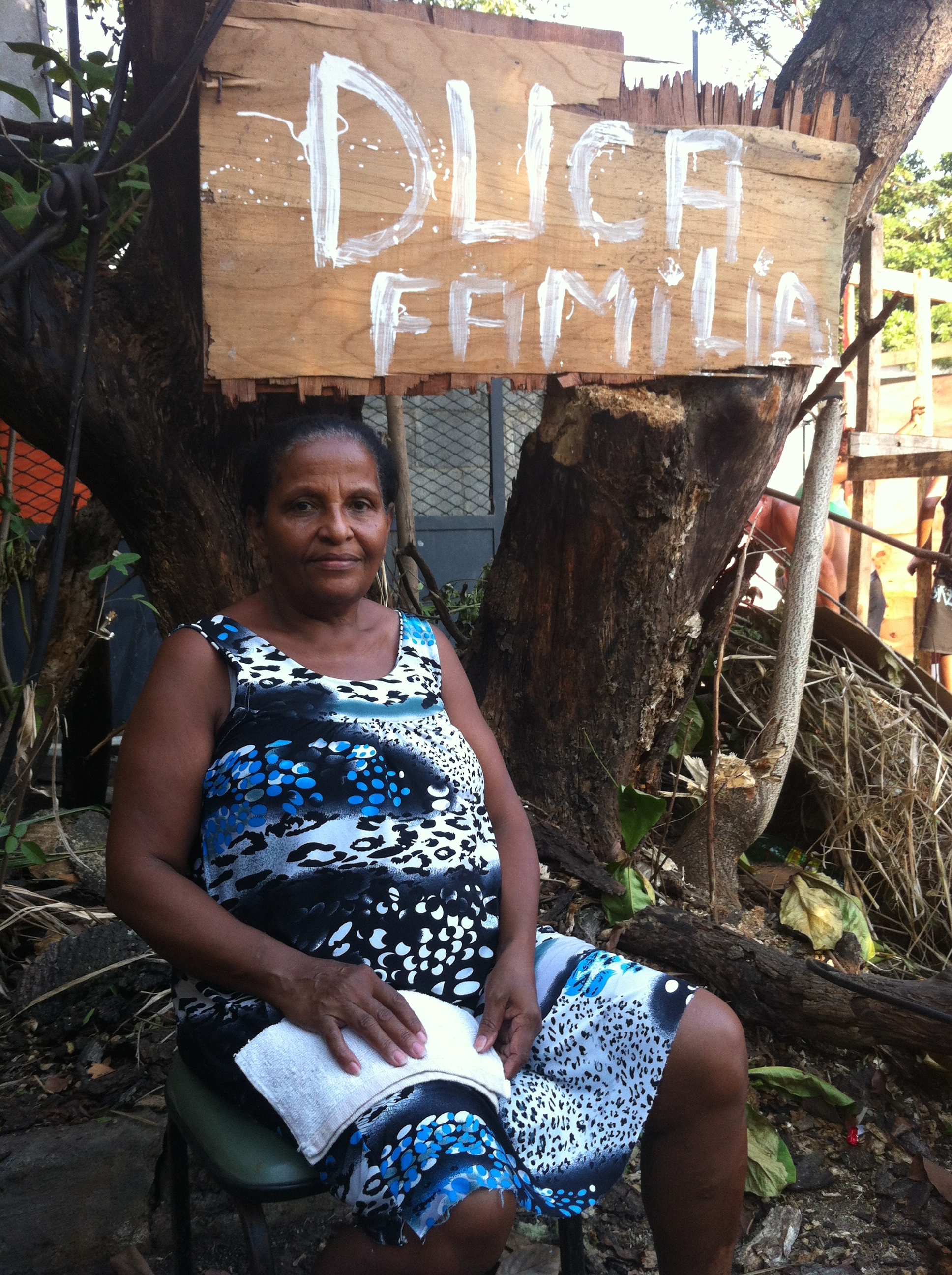 Until recently, Joseli, 61 (pictured right), lived in a rented single-room house in Manguinhos with her daughter and four grandchildren where they paid R$600 a month. She continues to earn the minimum wage of R$724 per month in her job as a cook where she has diligently worked for over 30 years. Despite her hard work, she stresses that wages do not meet the basic costs of living. She went on to explain that, "When the children get sick, either there are no doctors, or no medication in the hospital," echoing a common sentiment across the occupation. Joseli looks forward to her 65th birthday when she can claim her bus pass paid for by the state.
Only 4.5km from the Telerj site, the Maracanã stadium, site of the World Cup in Rio de Janeiro, offers a physical manifestation for the occupiers to focus their sentiment. Marcela, 26, lived in Jacarezinho with her son and husband until recently. Her husband works long hours delivering paint by bicycle around the North Zone, but still they continue to struggle to pay for basic goods. "A worker is worthless in this city," she explained. "What is this [effort] all for, if we can't even pay our way? I just want a little house… It's no comparison to what they have spent on the [World] Cup."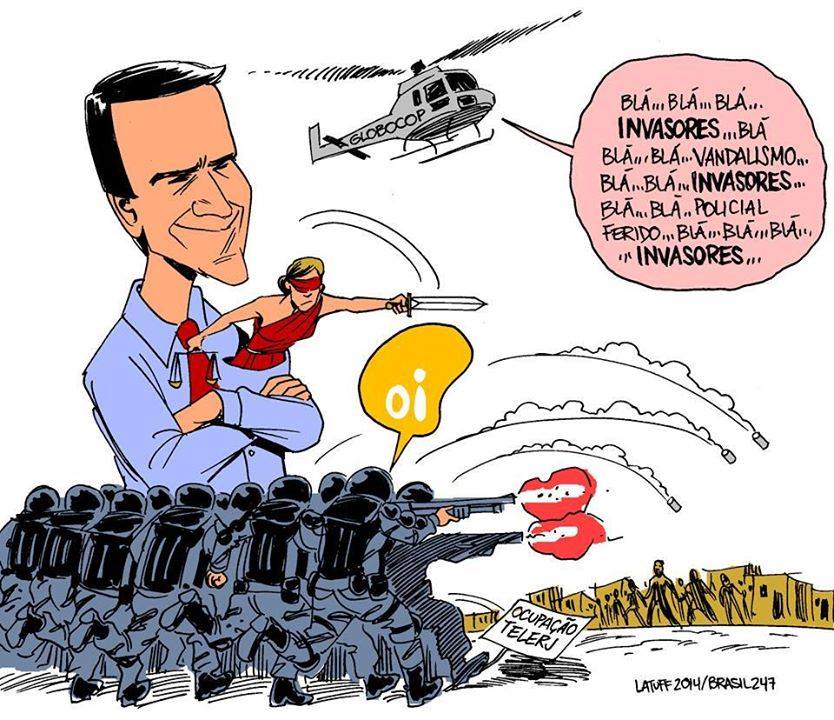 On Thursday April 10, Mayor Eduardo Paes attempted to divert attention away from the media's focus on the government's responsibility. Paes claimed, "I recognize an invasion, with all the characteristics of being professional and organized," in an attempt to coopt public opinion and criminalize the occupation. He suggested it was a premeditated attempt to obtain social housing, such as through the public housing program Minha Casa Minha Vida, meant to house those in need but often used to rehouse victims of forced evictions. O Globo also indicated the occupation was organized by a single or group of organizers, suggesting that a Facebook campaign informed many of the residents. When asked, residents of Favela da Telerj were not aware of the social media campaign.
Although the precise mechanics of the mobilization remain unclear for now, it is clear by the scale and speed of the occupation that this is a community response ('organized', or not) to a broad range of social issues shared by a number of diverse communities across Rio de Janeiro.
Families stressed they wanted a non-violent solution to the situation, claiming they are open to dialogue with the state.
An eviction like many others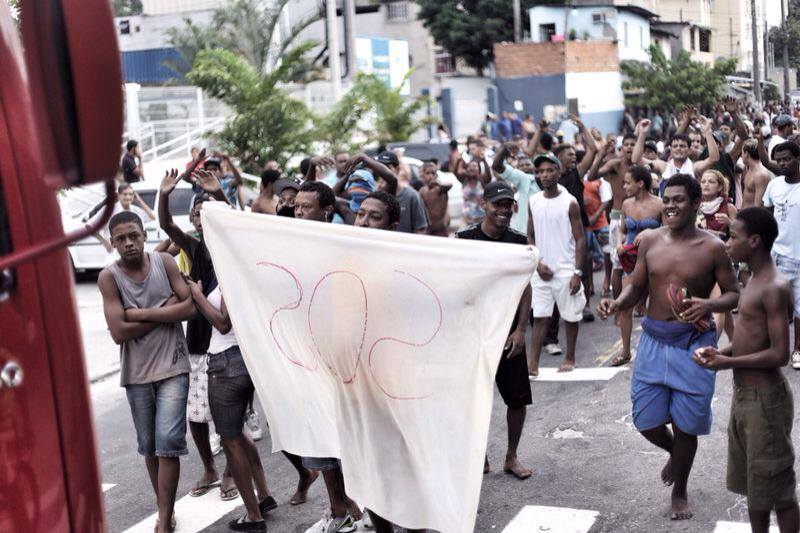 The eviction of Telerj began at 4am in the morning today, Friday April 11. According to O Globo, 1,500 police from the BOPE (Special Operations Battalion), Choque (Shock Battalion), and UPP (Police Pacifying Units) participated. Officials from the Fire service and Méier Civil Court are also present.
In a live television report O Globo reported the unconfirmed deaths of three children killed by tear gas, later suggesting they were injured. At the time of publication, the newly formed community continues to show solidarity and resist against the police attack by tear gas and rubber bullets. Meanwhile, O Globo reports acts of "vandalism" by the community.
Despite the eviction, the qualities of the occupants and their project will be remembered as ephemeral, injecting creativity, improvization, collectivity, and workaround ethics into a space once abandoned and deserted.
(Inset photo credits to the author and Midia NINJA; album credits to Midia NINJA)