At a time when the world's eyes are turning to Brazil, and in particular Rio de Janeiro, security concerns could not be more pressing. As northeastern World Cup host city Recife experiences a police strike, Rio is struggling with growing insecurity as cracks in the Pacifying Police Unit (UPP) program become increasingly difficult to ignore. Here follows a rundown of the most recent incidents.
Rio's World Cup security operation was initiated early, on Monday May 5 with an extra 2,000 police officers on the city's streets. The operation was brought forward in response to the rise in robberies and street muggings (up 85% and 43% respectively from last year).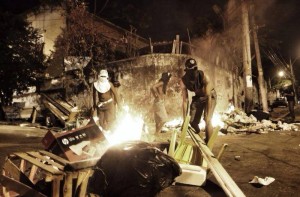 On that same day, Vitor Gomes Bento, 8 years old, was shot in the head during a shootout between UPP officers and drug traffickers in Morro dos Macacos in Vila Isabel, North Zone. The incident caused great outrage and protest amongst residents. Vitor was discharged from intensive care yesterday and transferred to a children's ward.
In Complexo da Maré, on May 10, journalist Camila Marins, cartoonist Carlos Latuff and photographer Naldinho Lorenço were threatened by army officers against documenting, saying they needed authorization and were "without authorization, documenting is prohibited." The repression of communication is widespread, with resident reports of similar incidents on the Maré Vive Facebook page.
On Tuesday, May 13, youth in Complexo do Alemão organized a peaceful demonstration to protest against the false arrest and detainment of Nilson Lopes. One of his friends and organizer of the protest posted afterwards: "It was as I said, that they would say that drug traffickers organized yesterday's protest. That's right guys, we turned into traffickers without even knowing it. This is the justice of Brazil right, what can you do?"
This week Al-Jazeera reported on the drug traffic soccer club in the Vila Aliança favela in Bangu, West Zone. On Wednesday May 14, local newspaper Jornal Extra posted footage of the traffickers shooting off their AK-47s in celebration, which has subsequently been very widely reported, both locally and internationally (over 1,300 English reports according to Google News). In response, on Wednesday afternoon, State Governor Fernando Pezão announced the installation of the 38th UPP in Vila Kennedy–already occupied by military forces and neighbor of Vila Aliança–for May 23. In the UPP official release: "According to the governor, the definitive installation of a pacifying police base in the area will also allow security improvements in neighboring communities, like Vila Aliança."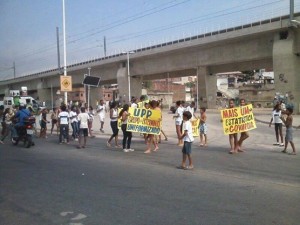 Also on Wednesday afternoon, Jonatan de Oliveira Lima, 19 years old, was shot in the back and killed by UPP officers in Manguinhos, North Zone. There has been increased police presence in Manguinhos since, with commerce and schools shut yesterday. Interviewed by O Dia, Jonatan's mother, Ana Paula de Oliveira, 38, said: "Those killers shot him and still want to say that my son shot them. They shot him and left my son to fall to the ground." Jonatan is the third person to be killed by UPP officers in Manguinhos in the last year.
An important Amnesty International study was released this week, revealing that 80% of Brazilians believe they would be tortured if detained by police. The study interviewed over 21,000 people in 21 countries, with Brazilians fearing police torture most, followed by Mexicans (64%), and then Turkey and Pakistan (both 58%). The UK (15%), Australia (16%) and Canada (21%) are the countries where people least fear police torture. Speaking to BBC Brasil, president of the Brazilian Bar Association (OAB) Human Rights Commission, Wadih Damous, said, "Police violence is perceptible and rooted in the country's public security policies."
Also this week, it was reported that the Public Ministry is investigating and accuses Military Police Tenant-Colonel Márcio de Oliveira Rocha, former commander of the Shock Battalion, of running a gang extorting money from moto-taxi drivers and alternative transport providers in at least three UPP favelas in Tijuca.
There are currently frequent shootouts reported in Rocinha and Pavão-Pavãozinho, both South Zone favelas located in close proximity to the hotels anticipating the soccer delegations and fans in the next month.
This is all in the last 10 days.
It is undoubtedly a crisis moment. Order, it seems, will be maintained during this time by force alone. There's no time (or apparent political will) for democratic negotiation and participation. The "non-lethal" arsenal bought by the police forces in the last months attests to this. According to G1, "between June 2013 and April of this year, Brazil's public security organs have bought more than 270,000 pepper spray and tear gas grenades and missiles, as well as 263,088 rubber bullet cartridges of various types and models."