The map shows that hundreds of residents from Vila Autódromo do not want to be removed from their homes, disproving the City's statements. Residents wants Mayor Eduardo Paes to uphold his promises of urbanization.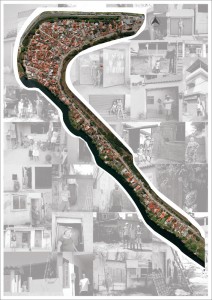 The residents of Vila Autódromo are fighting for their rights to stay in their homes and are facing a battle against Rio's City government to show that they exist and are not just a few, as the City states, but many. In partnership with the technical team for the Vila Autódromo People's Plan, they have created a register of those who do not accept being removed from their homes. There are 187 families, totaling 596 people, and there are still houses being counted. These residents expect the City to keep its promise of urbanization. Last October, Mayor Eduardo Paes committed to allow residents who wished to stay to remain and urbanize the area. Shortly after, an intense campaign to psychologically pressure the community was initiated, threatening those who want to stay and refusing to present an upgrading plan [to bring in promised infrastructure to those homes].
Residents have gathered fortnightly to procure legal information and ways that will make the City uphold their right to a permanence project. In March of this year, Rio's City government launched the Parque Carioca housing complex as part of the Minha Casa Minha Vida federal housing program. The launch of the  new housing complex has increased pressure on the community. City representatives have been in the community daily, affirming that Vila Autódromo will be completely removed.
The City government worked with directors of the Public Defender's Office to demand the demolitions of houses of those who've accepted to leave, even though they were outside the plans that required removal. Residents upheld that the houses located outside of the demolition plans should be maintained intact in order to resettle those residents wishing to stay in the community [but who currently occupy houses in the trajectory of road works]. In spite of the City's affirmation that part of the community would be urbanized, the project presented until now impedes access to houses, creates drainage problems and does not show how many families will need to be resettled. With the demolitions, construction is starting in the community and the uncertainties of those who wish to stay increase.
"We want our rights to be respected. The City promised urbanization and has not fulfilled that promise. The Public Defender's Office directors have pitted those who want to stay against those who are leaving. Those who want to stay also have the right to be defended and we will fight for this," states Inalva Mendes Brito, who has lived in Vila Autódromo since the 1980s.