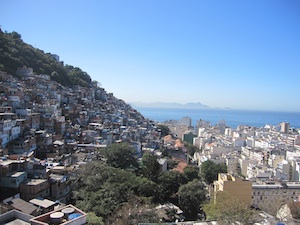 "É uma vista privilegiada," – it's a priviledged view – explains Cremilson Rosa de Oliveira as he sits atop his hostel in construction in the heart of Cantagalo, Rio's 3rd oldest favela. The striking views of Copacabana and Ipanema beach from the top of a favela provide a fascinating, juxtaposed and accurate picture of Rio's extreme inequality.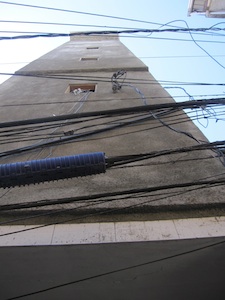 The hostel, to be named Alto Ipanema (High Ipanema), is set to open at the end of 2011, just in time for New Years and Carnival, and de Oliveira anticipates many more tourists through the hostel's doors with the mega-events scheduled for the coming years. De Oliveira plans to use the iconic images of the favelas to attract foreigners to experience life within Cantagalo for themselves, "para saber, para conhecer a vida aqui" – to experience life around here – for a price of R$55 per night.
Pacified two years ago by the city's community policing program (UPP), de Oliveira believes Cantagalo will be a safe but authentic experience. "Cantagalo mudou muito," – Cantagalo has changed a lot – de Oliveira explains as he talks about its history and when the UPP came in.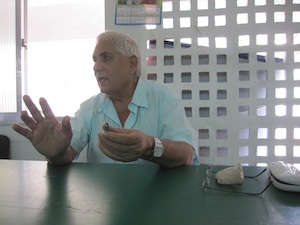 Cantagalo was first settled by former slaves nearly a century ago using mainly wood for construction. There was no electricity or running water. People carried water up from the local lagoon and conditions were hard, relays Luiz Bezerra do Nascimento, president of the Centro Social de Nossa Senhora Fátima do Morro do Cantagalo who has lived in the community for over 40 years. Thirty years ago, the government stepped in to provide water and electricity, vastly improving the conditions in the favela and making it an inexpensive place to live. "No one paid until five years ago when everything was privatized," Nascimento reflects. Today, homes are made of brick, often occupy 2-3 floors and are finished on the inside.
In recent years the community was controlled by the gang Comando Vermelho, until it was pacified by the UPP in 2009. "It was hard," says Nascimento, "because as president of the association, I had to respect the authority of the drug traffickers, but I also had to make sure I was respecting and obeying the police. Now that the UPP is in the community, it is very peaceful and safe, and many welcome their presence."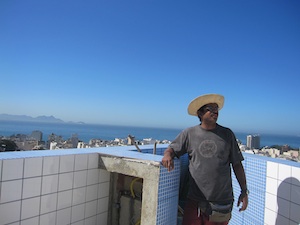 Adailon F.C. Silva, another resident of Cantagalo and a director at the Crianca Esperanca children's center agrees: "We've had more opportunity since the UPP arrived, a good friendship." Even though he thinks the UPP has been helping the community, F.C. Silva adds that he doesn't think Cantagalo will be affected by the mega-events coming up. "The mega-events will only affect the rich people in Zona Sul, like the people living in Ipanema or Leblon. We will stay the same."
This is where Oliveira disagrees with Silva and sees opportunity. He believes that businesses like his hostel have the opportunity to show outsiders what it is like in these communities—that people can live peacefully on little means while still enjoying 'vistas privilegiadas' and showing the government that people in Cantagalo and other communities should be integrated and proud assets of the city of Rio de Janeiro.