For the original by Viva Favela correspondents in Portuguese on Viva Favela click here.
If in some way the favelas and asphalt share similarities at this time, it is in the lack of enthusiasm for the World Cup. Ribbons, flags and streamers in the national colors are scarce. The huge banners which would cover entire streets in previous events, today have moved onto a few walls in deserted areas like Rua Canitar, one of the main entrances to the Complexo do Alemão.
With few exceptions, despondency regarding the World Cup permeates a wide circle of communities throughout the city, leading to testimonies like the one correspondent Rodrigues Moura heard from a neighbor: "People are fearful, because no one knows what might happen. When you suggest to someone you pull resources to buy decorations you hear: won't that create trouble?'"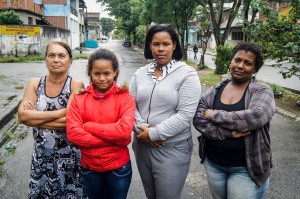 The feeling, that in Alemão there is fear of interfering with the recommendations of groups in conflict with the Pacifying Police Unit (UPP), is revealed in other favelas as the discredit of the government. In Vila Kennedy, housewife Maria Cristina told Guilherme Júnior that cities have been made over for the Cup. "Everything is for the gringo to see. A mulatta is hired to dance samba and after her shift, she goes back to the favela to sleep in a shack."
However, electrician Paulo Afonso, also a resident of the area, does not agree with this. He does not think that Brazil will be the final champion, but he bets that it is enough for Brazil to win the first game for people to run into the streets. "The next day everyone will be painting the cobblestones and sidewalks." This is how physical education teacher Fernando Borges also feels. Although he identifies the expenses as unnecessary and in the millions, he considers it "more than a dream," for a soccer lover like him, to watch the World Cup in his own country.
Fernandes Tavares, a newspaper seller who lives in Piedade, also felt this way. "When they made the announcement, I was thrilled," he said to correspondent Júlio Lopes. But he became discouraged in the face of incomplete works and no significant improvement. "I think they took from our children to build stadiums," he concluded. But like the cook Mônica Souza and student Juliane Santos, also of Piedade, Tavares thinks that enthusiasm will return when Brazil takes to the pitch. "Unfortunately, we Brazilians forget quickly."
Maybe that's what awaits the people of Morro do Fubá, where Raphael Smith interviewed the Carnival designer Luciano Santos. "I see no preparation on the hill, I see no excitement or movement. It does not seem like there is a World Cup and, worse, it does not seem like it's Brazil," affirms Santos. Nevertheless, Ron Leal da Rocha, a bar owner on Rua Euclides da Rocha in Morro de Cabritos, will not fail to cheer on the Brazilian team. He told correspondent Júnior Almeida that not even the dissatisfaction with the political situation the country is facing will prevent him from organizing barbecues on match days when Brazil plays.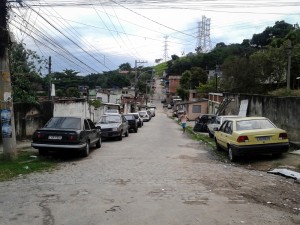 Also unhappy is history teacher Luiz Felipe Bergara, who accepts the sport as an instrument that unifies people of different social classes and ethnic groups, but disagrees with the choice of Brazil as World Cup host. Resident of the Penha neighborhood, he told Cairo Aquinas that he sees no sense in building modern stadiums, if "we do not have public health, security, or quality education."
In general, respondents echo what they have heard in protests that relate poor quality of services offered to the population with the costs for holding the Cup. None, however, distinguish between what is public money and private investment. This is clear from the testimony of Carolina Mara of Nilópolis. The Cup, she says, "is not a priority like health, education and security, which are being treated with contempt because there is the obsession to make everything nice for foreigners."
This thinking, with minor variations, cuts across pacified and unpacified favelas. In Rocinha, despite the banners that encourage residents to adorn the streets in order to compete for prizes offered by the Neighborhood Association, few have rallied. Among them is Kimberlin Souza, who wants little to do with soccer. "I am not excited nor see any reason for joy, when I see people going through hardships," she told the correspondent William de Oliveira.
At the other end of the spectrum, Katia Pires, from Complexo do Caju, who despite the indifference of the majority of the community in Parque Boa Esperança, went knocking door-to-door gathering help to decorate the Rua Amanhecer. "You never know what will happen tomorrow. So I think it's important to make the most of these events to increase unity among people in the community," she told correspondent Lina Soares.
The same spirit inspires housewife Rosangela Oliveira in Madureira, who decorated her house and street with style and with the help of her daughter. "Here everything is in the family. I watched the last World Cup with a granddaughter. Now I have two grandchildren. With my son, husband, daughter and brother-in-law, we throw a party and bet that we will be champions."
Excitement greater than this is only in Sepetiba, where business owners like Carlos Tavares, although they admit difficulties, have great hope in the increase in beer sales. To help with this, correspondent Telma Lopes discovered, the Praça do Coreto will have a big screen where residents can watch the games and, who knows, celebrate on the streets.