For the original by Beatriz Lindolfo in Portuguese in Maré de Notícias click here.
Traffic in Rio de Janeiro isn't easy for anyone. Maré de Notícias went to the bus and van stops, in both directions, near Footbridge 10 on Avenida Brasil. We heard the opinions of Cariocas about the current works and the time it takes them to travel across the city. All those interviewed said they are spending at least double the time they spent in traffic one year ago.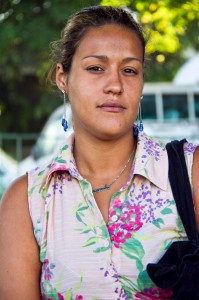 Interventions such as the Transcarioca and Porto Maravilha, as well as the demolition of the Perimetral Highway, are being experienced by the population as works of urban "immobility." The City's prohibition of van routes connecting the North and South Zones had already worsened people's daily lives.
Luana Galvão is a resident of Nova Holanda in Complexo da Maré and works in Botafogo. She has to take two buses to get to work. Before, it would take between 1 and 1½ hours. Today, with the works, her commute has increased to three hours. Luana considers the morning journey to be the worst, when traffic is more intense. "It's disturbing everyone. I hope in the end there will be an improvement in these traffic jams," affirmed Luana, who has not lost her optimism.
Rio residents nonbelievers in the future
For many people, these works shouldn't even be happening. The feeling is that there are other priorities that should come before the billions of reais that have been spent on preparation for the World Cup and Olympic mega-events. Amanda Wolf, resident of Campo Grande, works in Barra de Tijuca. We came across her waiting for a bus on Avenida Brasil. Before the works, she would spend 30 minutes to get to work but it now takes double that time. "These works are unnecessary expenditure. They're only improvements for certain events. They should invest in education, health, safety in the streets and public transit," she says.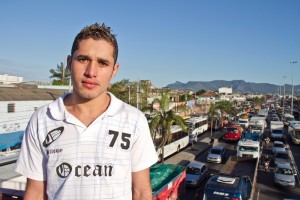 André Luis, a van driver on the 818 route between Avenida Brasil and the Norte Shopping mall, said that it used to take 40 minutes to complete his route but it's now taking 1½ to 2 hours. "For us Maré residents, this traffic is terrible. It will improve for those who work in Barra," he believes. In a day he used to complete up to 12 circuits. That number has fallen to 7, at most. The driver changed his timetable owing to the traffic jams; he has stopped working mornings in preference of the afternoons and nights when the situation isn't as bad.
Glauber Nascimento, another Maré resident, works in Del Castilho and it now takes him an hour to get to work, whereas before it took only 30 minutes. "For me, these works are only for show," he said. For him, the biggest difficulties are the cramped conditions and long time spent on the bus.
Another change felt by those interviewed regards the weekends. Saturdays and Sundays used to be a lot calmer, without the inconvenience of traffic jams. The same cannot be said today.
According to the Muncipal Transportation Secretariat, the city will continue having interventions that affect traffic until the Olympic Games in 2016. The Transcarioca, at least, will be ready shortly before the World Cup.
Photos by Elisângela Leite/Redes da Maré