The Commonwealth Games 2014 in Glasgow, Scotland (G2014) closed on August 3 after eleven days of sport. Scotland's athletes "brought home the gold" by winning over forty medals, adding to the patriotic sense of achievement from Scotland's first ever modern sporting event. Other Commonwealth accomplishments shine with the US$8.28m raised for UNICEF. Thirty-two local authorities are intended to receive sports equipment to engage Scotland in long term physical fitness and a training initiative will be offered to the youth who volunteered over the Games as a reward in skills development for future employment. Scotland is working to live up to its legacy expectations.
Brazil's World Cup took place a month before the Commonwealth Games. Amid the football fever and global excitement were reports of forced evictions, human rights abuses at protests and ongoing controversy and violence associated with Rio state's Pacifying Police Unit program. The international media placed microscopic focus on Rio de Janeiro to assess whether Brazil's second largest city can adhere to the standards expected by the Internaional Olympics Committee for the fast approaching 2016 Olympic Games.
Mega sporting events can be the cause of collective cheer, excitement and success, but they can also highlight and exacerbate existing social problems or create new ones as a result of the hosting process. The tensions created by the hosting of the World Cup in Brazil, including concerns over government spending, FIFA's demands and the social and economic costs involved have been well publicized through street demonstrations and subsequent coverage. Brazil has shown that mega sporting events can act as a catalyst for greater discussion and understanding about the effect on local people and the Commonwealth Games must go through the same critical process.
Protests before G2014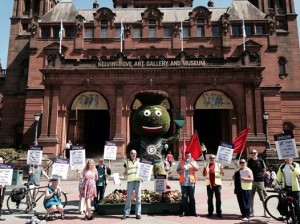 On the opening day of the Commonwealth Games, low-paid workers of the Glasgow City Council-owned Glasgow Life company began a two-day protest over payment for additional hours and imposed shift changes. Union representatives stated that workers were already on low wages and shift changes had been without their agreement. Workers had planned to take strike action on July 21 but cancelled after Glasgow Life called in lawyers and legal action was threatened. The freedom to protest was contested. Beyond workers' rights, cause for protest included the forced eviction of family homes to make way for the Athletes' Village, including one case where a 52 year old woman lost her court appeal to keep her home. A day center for adults with learning difficulties was closed to make way for the Games: a prime example of how real needs can be dismissed for mega sporting event hosting.
Negative local impacts and increased inequality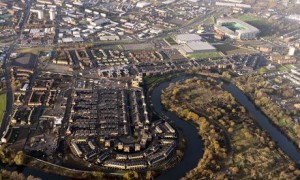 Residents of the Dalmarnock district of Glasgow were enraged by the security fencing surrounding their homes near the Athletes' Village, sparking complaints of the lack of consideration by the Games' organizers and absence of discussion over the measures. Researchers Dr. Gerry Mooney, Dr. Kirsteen Paton and Dr. Vikki McCall wrote of the "caged off" atmosphere and feelings amongst the Dalmarnock residents, claiming selective engagement was a motive that contradicted the local level promise by organizers and council officials at the time of the bid to host the Games in 2007. Strong resentment had been building for some time as Dalmarnock amenities including a community center and local shops were bulldozed.
Residents experienced further distress with the rat infestation thought to result from the construction work for the Commonwealth Games Athletes' Village. One 50-year-old said: "They are all over Parkhead and Dalmarnock. I've seen school children chase them in the street." Research on urban rat infestations and the risk to public health has found that older areas of cities, particularly deprived areas like Dalmarnock, are especially prone to rodent visitors. It is also implied poorer environments may also have lower levels of complaint due to greater tolerance of the rats. This was certainly not the case in Glasgow and Dalmarnock residents were vocal in their outrage, voicing their intolerance of the situation in the national press.
Mega sporting events often further exclude those who already experienced social exclusion and build upon larger frustrations over public spending and priorities. This was felt keenly by Brazilians in relation to the World Cup 2014, as discussed further at the 2nd International Mega Events and Cities conference in April this year where the lack of positive urban development in Rio de Janeiro was highlighted. Despite mounting evidence that mega-event hosting does not benefit local people, Scottish officials hope that the Commonwealth Games–declared "the best games ever"–will bring the opportunity to host further sporting events.
Evaluating such events with a critical eye and comparing experiences in different countries can reveal recurring themes. Combined with information-sharing this critical look can, it is hoped, inspire more collective action and ensure real, positive legacy achievements.
Janine Ewen is a Scotland-based researcher studying the impacts of the World Cup 2014 on Brazil's sex workers and the wider population of Rio de Janeiro, and the impacts the Commonwealth Games 2014 in Glasgow, Scotland. In 2013 she conducted primary research in a Rio favela running a health clinic, teaching English and playing sport.