Bairro Carioca, one of Rio de Janeiro's flagship Minha Casa Minha Vida (MCMV, or My House My Life) housing projects, is frequently referenced by local officials as exemplifying transit-oriented and highly affordable public housing, given as an example of the transformative potential of investment in public housing. The 11 condominiums that make up the project–heavily branded as Bairro Carioca (which translates to "Rio Neighborhood")–are now home to approximately 11,000 people. This is the specific site the City has been using to illustrate MCMV to international reporters covering Rio since 2013.
Bairro Carioca falls under the umbrella of the federal housing program Minha Casa Minha Vida and is designed for low-income families earning up to three minimum wages or less than R$1600 (US$713) per month. The families who were placed in apartments within Bairro Carioca were relocated from government-designated risk areas within Rio's favelas or displaced as a result of eminent domain for new urban infrastructure projects. Families come from a geographically diverse group of favelas including Manguinhos, Bananal, Varginha, Morro de São João, Metrô-Mangueira and parts of Complexo do Alemão. These families now face the challenge of creating a new community within Bairro Carioca.
The project was finished earlier this year, when the last of the 2,240 apartment units were launched on May 17. At the inauguration, Rio's Mayor Eduardo Paes stressed the importance of homeownership for beneficiary families.
He said: "Everyone who builds his or her own life wants, from very early on, their own home. Today, we are delivering the last 740 apartments here in Bairro Carioca, solving the problem of many people who did not have the security of peaceful sleep in one's own home."
RioOnWatch took a stroll through Bairro Carioca, and here's a brief summary of what we found…
Transport Links
Bairro Carioca is located in Triagem, just a five to ten minute walk from the metro, bus and rail stations. Close proximity to transportation is an incredibly important, unique, feature of this project. Most of the housing built through MCMV has been isolated from transportation and other services, with over 50% built in the extreme West Zone of Rio (two hours away from the city center). Bairro Carioca, on the other hand, is built in the accessible North Zone, where, outside the metro station in Triagem, moto-taxis line up, eager to guide residents through the rows of condominiums down the block. Despite good access to central Rio via public transit, the design and density of the housing project and restrictions on business within the apartments means many of the daily commercial needs (which are not met within the official Mercado Popular grocery store) require trips outside the boundaries of Bairro Carioca–a stark difference from many favela communities.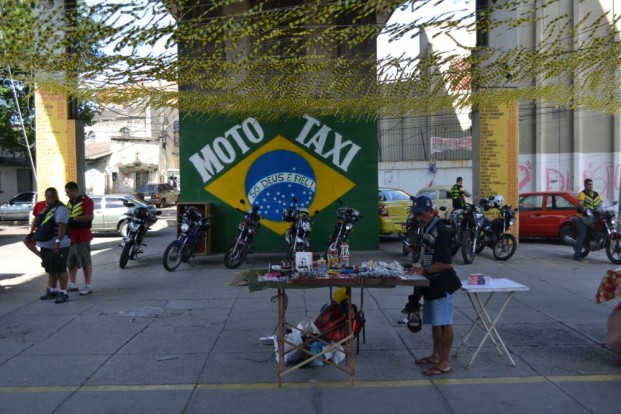 Gated Condominiums
Upon entering the main gate, just past a health center and small plaza, visitors and residents alike are struck by the scale of the project, with identical five-story buildings on either side of the main thoroughfares. Each building functions as an independent condominium. They are gated separately and host varying degrees of security, infrastructure and maintenance, as residents must organize to take care of these semi-public spaces.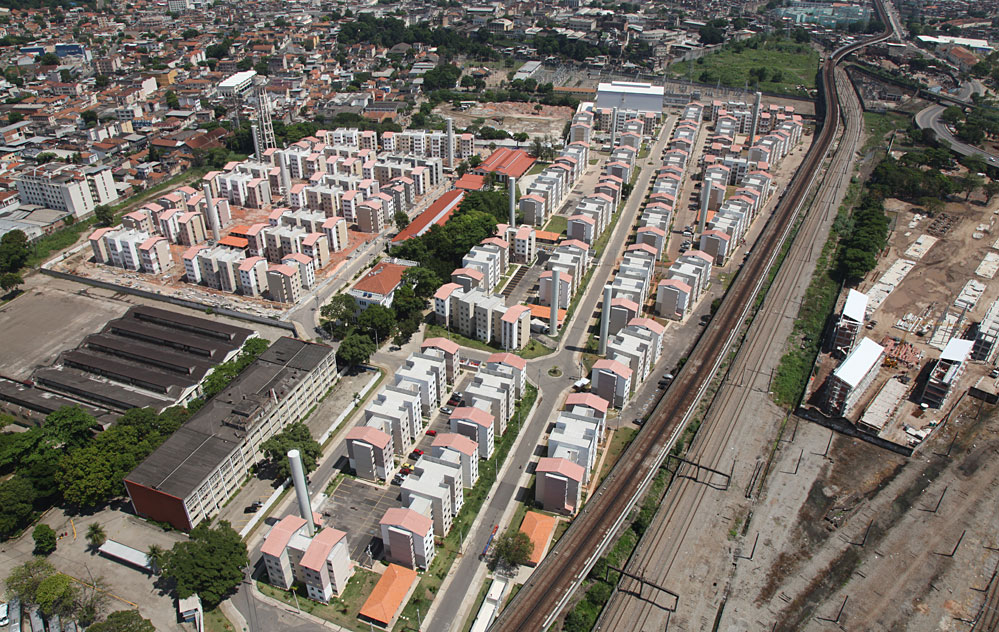 Homes
Despite little activity on the street, signs of family life peer out of the cookie-cutter windows as curtains and laundry are hung out to dry and bird cages cling onto an exterior wall. Each apartment has an interior area of 45 square meters with two bedrooms, kitchen, bathroom and a small service area.
Bairro Carioca received unwanted press shortly after the first units were launched in 2013 due to severe flooding on the site, which was attributed to poor planning and faulty construction. As first-floor residents suffered severe damage to their apartments and personal property, many questioned being moved out of government-designated "risk areas" only to be exposed to new risk factors.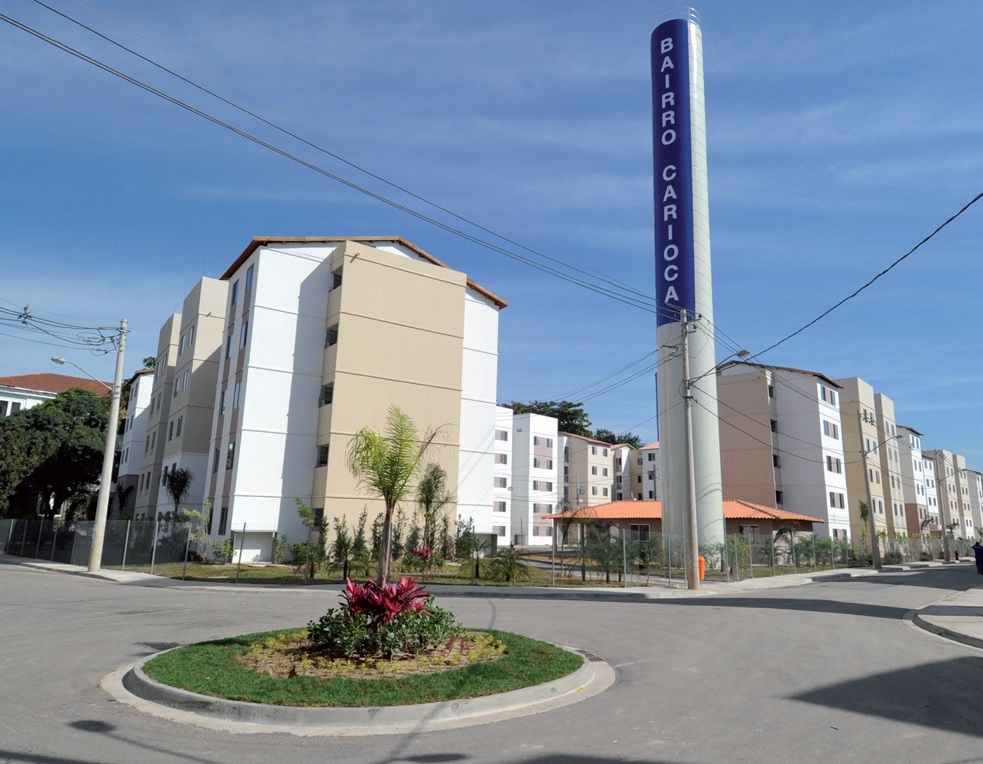 Local Commerce
At the heart of the 125,000 m2 site, two men approach the Mercado Popular (popular market). The market is centrally located within the project and features several businesses: a restaurant, pharmacy, drug store and beauty salon. In this highly regulated environment, residents are not allowed to adapt first-floor housing units to commercial spaces or restaurants as is common in favelas. Over time, however, it is likely that newer, informal businesses will emerge to meet needs of residents and create business opportunities, as has been the experience in similar projects.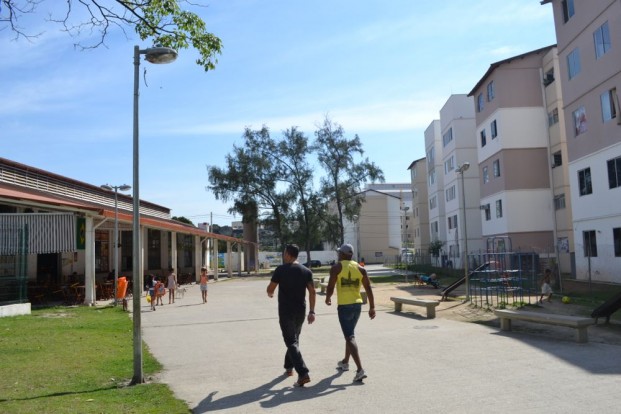 Educational Facilities
The Santiago Andrade Learning Center is one of the services highlighted by the authorities as making Bairro Carioca an exemplary project. This space is a high tech library and work space designed for children, teens, and adults. The space promises to offer courses in computer literacy and information technology among others, although the calendar appeared blank for the time being. A staff member at the center said it was a huge success among youth in the neighborhood and provided an important, safe space for recreation. Additionally, Bairro Carioca features a pre-school, elementary school, gym and health center.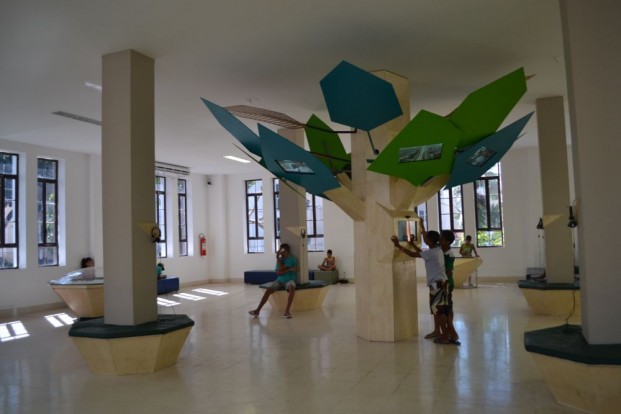 Contrast to the Surrounding Area, Facing the Big Picture
The housing deficit in Rio is calculated at 220,774 homes. Given the expenditure of some R$115 million (US$52 million) on the Bairro Carioca project, the fact resources have been readily available for MCMV investments that involve favela home demolitions and re-construction contrasts sharply with the disinvestment suffered by the promising Morar Carioca program, the City's signature favela upgrading program, which, had it been implemented, held the promise of bringing missing infrastructure to all the city's favelas, benefiting Rio's 1.4 million poorest citizens, by 2020. According to municipal officials, a minimum of R$75,000 (US$34,000) is spent per unit of homes built under the MCMV program, for a minimum of R$5 billion (US$2.27 billion) on the over 66,000 units pledged for Rio so far. This is only R$3 billion (US$1.36 billion) short of the full budget for the Morar Carioca program which would provide decent living conditions to residents of all the city's favelas.
The hyper-investment in housing, roads and technology within the highly planned built environment inside Bairro Carioca is immediately contrasted by one man and and a strong political message just past the final row of MCMV condominiums.