Um País Chamado Favela (in English, A Country Called Favela) by Renato Meirelles, president of Data Popular, and Celso Athayde, co-founder of CUFA, examines the accomplishments of favelas and their economic advancements, with analysis of informal housing and its economic power from trained specialists and favela residents.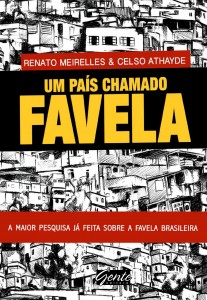 The study "X-Ray of Brazilian Favelas," produced by the newly established Instituto Data Favela, investigated 63 favelas from ten different regions of Brazil, interviewing 2,000 people. The core findings relate to the economic resilience of the favelas, with increasing employment rates and wages. The findings are approached with caution and framed within socio-political historical contexts. Statistics are accompanied by residents' real life stories and testimonials.
Changing the favela narrative
The unmet promises of improving favelas through upgrading and the structural exploitation that favelas suffer are considered throughout the book. The narrative of poverty and misery does not represent favelas: on the contrary, it's one that feeds a narrative of stigmatization and "othering." Meirelles and Athayde tell very different stories of the favelas, providing a more accurate and broad depiction of what the last ten years have brought to the economy of favelas. The objectives of this book are to demystify and eliminate naivety, ignorance and the romanticizing of favelas, to engage and stir action in favelas themselves, and attract the attention of both State and private actors.
The protagonists of these stories are the 11.7 million people who live in favelas (6% of Brazil's total population). If favelas were a state, it would be the fifth most populous in Brazil. The authors write that average wage in favelas has increased 54.7% in the last ten years, from R$603 (US $269) in 2003 to R$1,068 (US $460) in 2013. This is significantly greater than the national average wage increase of 37,9% over the same period. Meirelles and Athayde argue that the increase of wages in favelas is the result of job creation and redistributive mechanisms like the federal subsidy program Bolsa Família.
Proportionally, favelas have more middle-class residents than Brazil as a whole: 65% in favelas compared to 54% nationally. In Rio, informal neighborhoods have lower unemployment rates than formal ones: 3.6% compared to 4.8%. The 2013 study found that 49% of favela residents are in formal employment, 21% are informally employed, 19% work autonomously, 4% are employers, 3% work as public servants, and 3% retain other jobs.
Favela entrepreneurship & success
The authors contemplate how favela earnings can be kept circulating within the communities. Favela Holding is the solution Meirelles proposes–a community entrepreneurship incubator that has been promoting favela start-ups. Favela Holding's latest project is to build a a US$9.5 million shopping center in Complexo do Alemão. The mall would have 500 stores, generating 6,000 direct and 4,000 indirect jobs. Different from other conclusions of the book, this is the one that is most sharply contested among favela leaders.

A Country Called Favela documents stories of entrepreneurship and business success, from the Hostel Favela Inn that provides accommodation and tours in Chapéu Mangueira in Rio de Janeiro near Copacabana beach, to the Banco Palmas initiative that is expanding community banks and microcredit programs in Fortaleza, and Carteiro Amigo, a community-created and managed mail delivery system that has mapped and registered 12,000 addresses so far, allowing mail access including Internet deliveries to and from nine communities in Rio de Janeiro.
The refavela transformative process
What contributes to favela residents' success? The study indicates that 14% of favela residents believe their success is due to family support, 40% believe they succeeded because of their faith in God and 42% give credit to their own efforts. Making the best use of available capital, solidarity networks and credit economy is essential. Mixing social ties (relatives and friends) and formal financial tools (such as micro-credit) is a significant component of favela business success. Favelas show that cooperation and generosity are routes to success.
However, the authors alert against renewed threats of dependency and clientelism, a Trojan horse that anyone could import to the favelas. Meirelles and Athayde argue the favela must be responsible for its own transformation, writing: "Favela must become refavela, reinvent and reprogram itself. If it does not co-manage the process of transformation, this will preserve the order of imbalance and disharmony, entrusting into others' hands the construction of their future."
Documenting the hopes and dreams of residents for a juster future for all, the authors emphasize the spirit of solidarity of favelas: "By nature, favelas are more collective and each of its residents represents a complex set of desires, aspirations, resentments, grudges, loves and dreams. Negotiating with one favelado is, in many cases, negotiating with everyone."
Solidarity and belonging contributes to happiness. 94% of favela residents consider themselves happy (1% more than Brazilians on average); 81% of them like favelas, 66% wouldn't leave their community and 62% are proud to live there. The determination to combat stigma, push forward economic development to combat financial insecurities, as well as the many battles favela residents fight that can't be mentioned in one book, show the resilience and hope coursing through Brazil's favelas.