This post is RioOnWatch's third and final contribution to Blog Action Day 2014 in which bloggers around the world reflect on this year's theme: Inequality. Check out our series of articles marking this day.
Brazil is known for its historically high levels of social inequality, and perhaps there is no better place to witness the consequences of such extreme inequality as Rio de Janeiro. While the country's GINI ratio has decreased impressively over the past decade–meaning that the gap between the top income earners and poorest segment of the population has shrunk–Rio, the nation's second largest city, has remained the same during this same period, despite receiving the same federal policies which have reduced inequality in the rest of the country. This means the improvements are being offset by local policy and development patterns. The processes that drive this worrying trend are complex, and as varied as the opinions that Rio's residents hold about them.
RioOnWatch has long been covering the public policies, evictions and human rights violations associated with Rio's preparation for its mega-events and how current urban transformations are felt and perceived in the city's favela communities. In this article, we look at a project on the other side of Rio's chronic problems of inequality: an island of wealth in a city marked by segregation: Rio's newest upper class housing development with no qualms about showcasing its intentions. For they are represented in its name: Ilha Pura, or Pure Island.
A New Model of Urban Exclusivity & Isolation
Ilha Pura is a new real estate development currently under construction in Barra da Tijuca, the fast-growing wealthy neighborhood in Rio's West Zone and location of the largest number of 2016 Olympic Games events. Comprised of more than 3,600 units housed in 31 buildings built up in seven clusters with costs estimated to R$4 billion (US$1.65 billion), Ilha Pura will be larger than the entire upscale neighborhood of Leblon. The promotional video, which plays in a movie theater at the Ilha Pura showroom and casts 91% white actors, advertises that the development will be "the neighborhood that is born ready." Ilha Pura's apartments in the first round of sales start at R$765,000 (US$315,000). Prospective buyers or investors can take a tour and check out a model of the gated community, fully furnished model apartments, and a shrine-like area displaying previous works of constructors Odebrecht and Carvalho Hosken.
The name–"Pure Island"–emphasizes its mission of renewal while implying isolation from its surrounding urban context. And it is indeed a fitting name for this housing development that plans to completely restructure the way urban space is thought of in Barra da Tijuca.
The project is an exercise in self-containment: pools, huge parks, playgrounds, gyms, sports facilities, work spaces and a 4km bicycle track are all part of Ilha Pura's ambitious landscape design, all within its heavily-secured borders.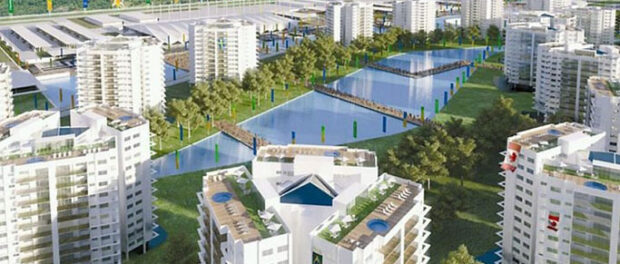 Due to its massive scope, Ilha Pura takes the growing tendency of developer-led condominiums in Rio de Janeiro's West Zone to a new peak. Yet, its scale and design are only two of the reasons it is garnering attention. The development will begin as the Olympic Athlete's Village, housing 1,800 athletes for the 2016 Olympic and Paralympic Games, after which the apartments will be sold off to private buyers.
Ilha Pura's special relationship with the future mega-event is an example of the seamless coordination between City and private developers, as the project has gained several privileges afforded to state-sponsored urban renewal projects leading up to the Olympics. The neighborhood was developed alongside–and is set to be serviced by–the new TransOlímpica Bus Rapid Transit line, the same project slated to evict 900 families in the nearby Vila União de Curicica favela. The BRT TransOlímpica performs, thus, a double function for the building of Ilha Pura. It connects it to the rest of the city with public transportation, and simultaneously displaces nearby low-income primarily Afro-Brazilian communities, consolidating Ilha Pura's intended isolation from the city's "problems and impurity."
It seems the people being evicted from the surrounding favelas will only be present in the region as the workforce for the functioning of gated communities like Ilha Pura. Yet now they will still be able to service these areas because the BRT will allow access from increasingly distant housing to the doorsteps of their employers. The political and territorial control exerted by real estate developers in Barra is indeed exemplified by Ilha Pura: constructors Odebrecht and Carvalho Hosken are two of Brazil's biggest construction conglomerates. Carvalho Hosken's founder and CEO is the largest landowner in Barra da Tijuca and Odebrecht is known as a major donor to political campaigns as well as a central player in recent government corruption schemes.
Claims of Sustainability
Beyond Ilha Pura's claims to fame around its scale and design, and as the future Olympic Athlete's Village, the development has claimed the prestigious status of first LEED-ND-certified development in Brazil. LEED is the most widely recognized certification of green buildings, with architecture firms worldwide clamoring to gain higher and higher certifications as a way of proving value and outcompeting one another. LEED-ND is the US Green Building Council's certification that goes beyond buildings to rate the sustainability of entire neighborhoods.
Having just made the cut, with 47 points out of a minimum requirement of 40 for certification, Ilha Pura's development is billed as an entirely sustainable urban oasis. During a tour of the sales facilities, an Ilha Pura representative touted eco-friendly features that make the development sustainable: rain-water collection systems that will supply semi-potable water, reflective glass that will lower air-conditioning energy usage, electric vehicle recharging posts, and elevators that regenerate energy through friction. These features are explained and celebrated in the many brochures and information packets available for prospective investors and buyers.
However, Ilha Pura appears to be inconsistent with LEED-ND goals of focusing growth and redevelopment in existing urban areas that are already served by infrastructure, while avoiding sensitive water resources and habitat areas, and not encroaching on agricultural land and floodplains.
It's worth noting that Ilha Pura didn't achieve two LEED-ND credits that could have mitigated its socio-economic inequities: the Mixed-Income Diverse Community credit, which is achieved by including a mix of housing types and affordable price ranges; and the Community Outreach & Involvement credit, which is achieved by involving neighboring residents and businesses in project design.
The other troubling aspect of the Ilha Pura LEED-ND certification is that an organization as globally influential as USGBC gives the appearance of operating contrary to its own guiding principle to foster social equity (see the USGBC's Strategic Plan). And it's ironic that Ilha Pura was certified at the same time that USGBC released a Social Equity pilot credit for the LEED-BD+C rating system. In its march around the world to capture green certification market share, USGBC needs to rethink its historical focus on big developers, and broaden the application of LEED to include and benefit all the citizens of a community, 'pure' and otherwise.
With several pending LEED-ND projects in the pipeline in Brazil, one wonders who they will be oriented toward.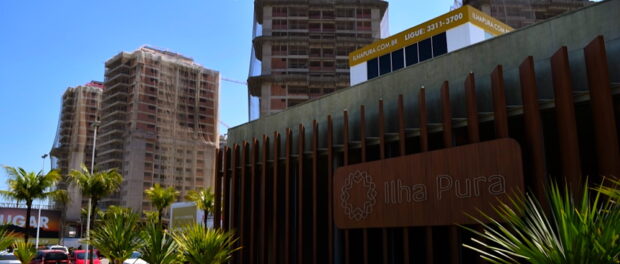 The Language of Purity & Exclusivity
One of the most iconic characteristics of the "Pure Island" project is the peculiar language its developers employ to describe it. Statements plastered on the walls of the project's sales building show the public relations attempts to articulate its legitimacy: "Humanize and Urbanize;" "Innovate and build up a legacy;" "Respect and Enjoy."
The word "accessibility" is repeated without any apparent consideration about the problems Ilha Pura presents on both ends. While transport access will increase with the upcoming changes in infrastructure, the likelihood that wealthy Brazilians choosing a gated community lifestyle will use such infrastructure is minimal, and the neighborhood is over an hour from Rio's city center. And in terms of the broad connotations of accessibility, the project is inherently inaccessible: it's exclusivity is in fact its major selling point to wealthy prospective buyers. The language of purity in the very name of the project reveals the lack of questioning of the conditioned inequality in Rio by its high society.
The promotional videos playing in the Ilha Pura movie theater make many references to Barra da Tijuca's future as a new center of urban activity in Rio. Images of the area's beaches, lagoons, and mountains accompany statements on Ilha Pura's "immersion in nature," it being the "ideal place for me," where "everything has been thought out (for me)." The voice, that of Brazil's famous actress, Fernanda Montenegro, finishes by saying that here, "she can breathe a different air, not only purer but lighter."
Can Inequality be Sustainable?
While Ilha Pura can rightly claim to operate at a certain level of environmental sustainability, there is a glaring inconsideration of the region's social sustainability. By presenting itself as an elite development tied to the city's Olympic legacy, Ilha Pura looks to attract buyers who wish to experience the "new" Rio being built up in the area. With this, the nearby low-income communities such as Vila Autódromo or Vila União da Curicica, which developed organically over decades according to their residents' housing needs and visions, are under threat of eviction. Despite the Ilha Pura PR attempts to present the project as a key component of an up-and-coming urban center, the isolation and segregation implied in the project's name and structure only contributes to greater tensions between those who live within guarded compounds and those who live in communities marginalized and threatened with eviction.
Watch for yourself: