Last Wednesday October 15 started early for Faveleira, a cultural activism organization based in the Acari favela in Rio's North Zone. By 10 am, group leaders were mopping floors, decorating walls and setting up the sound system in a small house in Rua Pereira da Silva in preparation for Fela Day.
Fela Day is a celebration of the life of Fela Anikulapo Kuti, the Nigerian musician who is known for his Afrobeat sound and relentless resistance to the Nigerian military dictatorship throughout his life. Fela Kuti followers commemorate the artist every October 15, and this year, Faveleira hosted their first Fela Day with a workshop, lecture, film screening and several music performances.
Faveleira was formed in 2010 when a group of community artists and activists came together to build a space that would produce and disseminate art that is not mainstream, but that people "need to hear," organizer Wesley DelirioBlack said. Since then, every Wednesday is Faveleira Night, an evening dedicated to local musicians and artists. The group also offers other activities such as capoeira classes.
"[Faveleira Night] is important because it reaffirms our Afro-Amerindian identity and because it is a space where issues that are not being disseminated are discussed and spread," Wesley said. "Another important aspect is that it brings us all together every week, and it creates perspectives and sparks dialogues, and helps people understed issues better."
Now called the Poet Deley de Acari Revolutionary Popular Cultural Committee (CCPR)—a tribute to Deley de Acari, an elderly lifelong local activist and poet—the community center once belonged to a drug lord and then for a long time to the Military Police, Wesley said. Acari, a large low-lying favela in the far North Zone of Rio, has a long history of drug trafficking and violence and remains under drug traffic control. In this context, Faveleira has turned the violent history of this specific community space into a place of culture and hope.
"[This space] is very important to us because for ten years this place was a space of repression, torture, and disappearances. The youth who walked in disappeared," Deley de Acari said. "The room that is now our office was a cell used for torture and beatings. The people who walked by could hear the moans and screams."
Now, the white walls are plastered with art. A quote by George Orwell covers the wall in front of a mural of Marcus Garvey on the opposite wall. Wesley set chairs in a semicircle ready for the Fela Day event, and by 4 pm, people began arriving.
The first event on Fela Day was a workshop on turbans conducted by Caroline Amanda Lopes Borges, the founder of the Bastet Queen project, which values the use of turbans. She first explained the connections between the hair accessory and black identity, and then showed a crowd of about 30 people several ways to use turbans.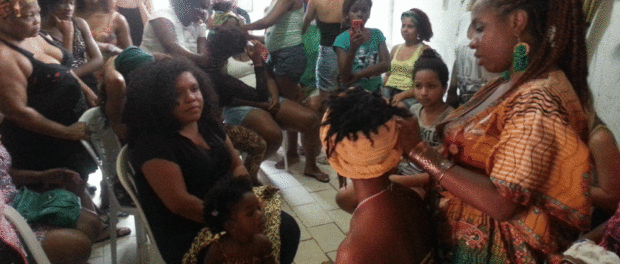 Immediately after the workshop, a lecture by special guest Carlos Moore, author of Fela: This Bitch of a Life, Kuti's biography, began. Moore is a Cuban social scientist and researcher who has battled global racism for many years. More than 60 people attended the talk, some sitting on the floor or standing by the doors outside. Many of them were from other communities in the city and several were university students.
Moore said Kuti is only now being discovered around the world, and despite Kuti's incessant advocacy for the poor in Nigeria, he is being introduced as a popular product for middle class people. Kuti lived his entire life in a poor neighborhood in the Nigerian capital city of Lagos. "[I]t is necessary to take Fela there, where he always lived, to the people for which he sacrificed himself, the poor, the very poor people who live in the favelas," he said. "That is the only weapon we have to fight against the commodification of Fela."
Wellington Agueá, resident of Morro do Turano, in Tijuca, attended the event particularly to hear Moore speak about Kuti: "This place here, Acari, is a dangerous place, a lot happens here. There have been massacres, floods. It's a place of Black resistance, and that is why I'm here… Fela Day had to be here because that was Kuti's life. Kuti lived in an Acari in Nigeria. He didn't live in a Nigerian Copacabana or a Nigerian Leblon."
At about 8pm, the crowd moved to a small patio next to the house, where Music is the Weapon, a documentary about Kuti, was screened.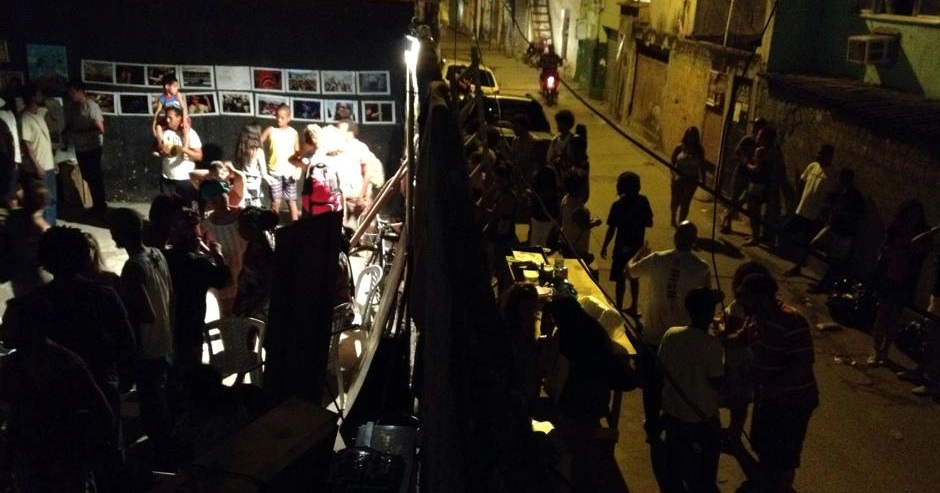 The weekly Faveleira Night music event then began. The DJs of Sistema Kalakuta kicked off the playlist with none other than Fela Kuti. The patio became a dancefloor, and the music was only interrupted by announcements of more music to come by local performers including Faveleira members MC Pingo, Wesley DelirioBlack, Mano Teko and DJ Buiú.
The melodies went over the walls of the community center, where crowds extended the celebration onto the street, drinking, eating yakissoba noodles, conversing and singing along.