The government is proving incapable of facing an enormous and challenging public health problem: drug abuse. State and municipal neglect in  Nova Holanda, one of the 16 favelas that make up Maré, has resulted in the biggest cracolândia (cracklands) of Rio de Janeiro, with almost 500 crack users.
The visibility of the problem, thanks to sensationalistic news coverage over the past year, has shown users in a daily state of persecution, using drugs or fleeing from capture attempts by the Municipal Secretariat of Social Assistance (SMAS). It's served as a way to condemn and shock the general population, with regard to drug addicts who gather along Avenida Brasil. Big media outlets have portrayed them as criminals by blaming them for any robberies, assaults and even rapes that occurred nearby.
Following media reports and capture operations, in 2013 the City of Rio put both a Military Police and Municipal Guard car in the area, 24 hours a day, as a means to oppress and prevent the return of users who were near the entrance to Parque União. The control didn't last long; instead it resulted in the migration of drug users to the inside of Maré after the police occupation of the favelas of Manguinhos and Jacarezinho, where they (amongst them, men, children, pregnant women and the elderly) used to congregate.
The operations were a failure in how to deal with an inhumane and incomprehensible situation. An example of this was in January 2013 when a 10 year old child died after being hit by a car on Avenida Brasil, when he was running from Military Police agents and SMAS who were carrying out a collection operation. Many deaths go unnoticed because there is no interest in covering those who hide inside Maré, but they exist and suffer every day.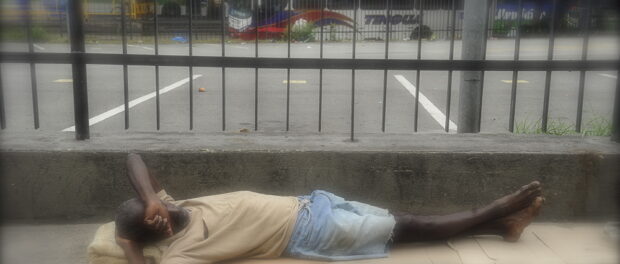 Brazil, the biggest crack consumer in the world according to a study by the Federal University of São Paulo (USFP), handles this issue as a case of public security and not as a public health issue. These procedures and mega operations featuring health and police agents are carried out arbitrarily, resulting in detentions, imprisonment and even involuntary hospitalization/sectioning–actions authorized by Social Services and Childhood and Youth Services. The underage drug users who are picked up are sent to compulsory treatment centers in municipal shelters; and adults, to Centers of Psycho-Social Attention, both deprived from the liberty to choose.
According to the Report of the 4th National Inspection of Human Rights, compulsory hospitalization should be provided as a method sanctioned only by a judge. What happens in practice, in contravention of law nº 10.216, is abuse, physical violence and constant humiliation. There are also records of physical and psychological torture.
According to a press note from the  Rio de Janeiro City Council, there are 13 Centers of Psycho-Social Attention (CAPS), 4 Centers of Psycho-Social Attention for Alcohol and Drugs (CAPSad) and 7 Centers for Infantile Psycho-Social Attention (CAPSi), totaling 24 specialized units in the municipality. Three other statewide and federal networks means this sums up to 27 CAPS. The article also reveals this number of attention centers is not enough, because the country has 6,300 homeless people, with 600 of these in need of intensive support for crack addicts. Other official numbers from the Ministry of Social Development reveal the situation could be much worse: there were 32,000 homeless people in 2008. Without a choice of recognition as part of society, the world of drugs ends up the chosen path by many, due to the lack of access to housing, education, health and other rights which, according to the law, they should possess.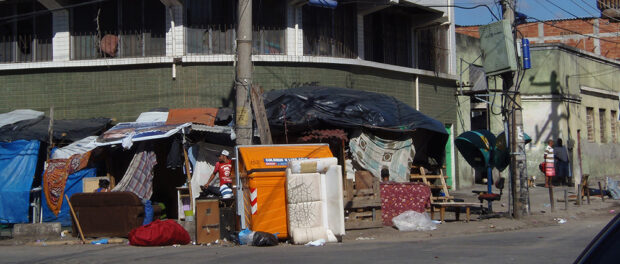 The effects of drugs are degrading to the body and mind, generating paranoia, irritation, emaciation, depression, heart and respiratory problems amongst other issues. The addicts' vulnerability to urban violence makes the situation even worse. According to Adnéia Trupati, director of the federal educational program Crack is Possible to Overcome (Crack É Possível Vencer), "when a person becomes sick because of a chemical dependency, biological and psychological capacities are affected, as are social relationships. Police intervention will not deal with these three aspects. In the federal program, there are socially and psychologically supportive activities, which could meet all psycho-social aspects that may help beat the chemical dependence." Currently the focus of the program is on prevention.
Over the past three years, one of the ways to hide the crack users in Nova Holanda has been investing billions in 'Public Security' which, since April of this year, has meant almost 2000 heavily armed military soldiers occupying the streets and alleyways of Complexo da Maré with war tanks. The Pacifying Police Units (UPPs) have been implemented in Rio's favelas for greater control of the territory since 2008. What this security belt demonstrates is that while there are still drugs in the favela, treating users as criminals is not the solution. Now, due to the ease of finding it and its low price, crack is the most sought after substance.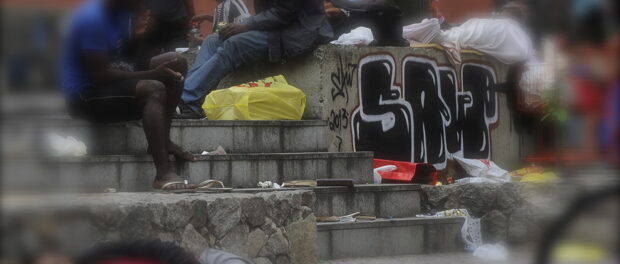 An example of someone who overcame addiction in Maré is resident Sebastião Antonio de Araújo, or Tião. Tião is the coordinator and founder of the Instituto Vida Real, which offers courses and roles for young people and adults and is situated close to the current crackland. He overcame the chemical addiction thanks to his daughter and support groups in the community. In recent years, he has also promoted the socialization of former drug users.
In August this year, the SMDS carried out a project which brought social workers, psychologists and health agents to the streets to talk with these people who had the opportunity to expose their fears and needs. The action, called Papo de Rua (Street Chat), promotes changing the approach to help chemical addicts. Another initiative that has been promoting social inclusion of groups of homeless people and crack users, is their participation in theater workshops in Complexo da Maré. Created by the Centro de Teatro do Oprimido (Theatre of the Oppressed), the space looks to bring socialization for those who don't receive any help from the government.
Those who need treatment live in an inhumane way, finding difficult ways to survive amid a militarized favela which receives investments for security but not for health. What is urgent is the need for the city and state governments to consider those who live marginalized and segregated from society. So far the commercial media silences the problem, strangely ignoring it in the year of huge events and the military occupation of Complexo da Maré.
*Thaís Cavalcante is a 21-year-old community journalist, born and raised in Nova Holanda, one of the favelas in Complexo da Maré. Working as a community reporter over the past 4 years in her community, Thaís decided to study journalism at university and believes in the power of information to change our reality.