For the original by Henrique Coelho in Portuguese, published in G1, click here.
On Tuesday November 4, more than 350 families completed their fourth day of occupation of a 60,000m² area in São Gonçalo, located in the Rio de Janeiro Metropolitan Region, according to the calculations of the new residents. The occupiers say they do not want the site to become another favela in the city. According to the City of São Gonçalo, the land belongs to the company G Bastos Trade and Plastic Packaging Industry LTD, owned by Walter Bastos Gonçalves.
"On the contrary, we want to draw attention to a social problem that afflicts many parts of Brazil. We want a proper public housing program," said Felipe Brito, one of the representatives of the occupation movement.
The occupation of the area, which according to residents has been abandoned for at least 30 years, was organized by coordinators of the Landless Workers' Movement (MTST). Guilherme Guimarães, one of the movement's representatives, said he was contacted by families about six months ago and, after checking out the land, began talks with leaders of communities situated on the border between the Jardim Catarina and Santa Luzia neighborhoods.
"We talked to leaders from various communities, and on Friday October 31 decided it was the right time," he said. He believes the solution to the housing shortage in the region includes the construction of housing units as part of the federal government's program, Minha Casa Minha Vida (MCMV).
"With all its problems, the 'Entidades' form of Minha Casa Minha Vida [a small portion of the larger program, which funds self-managed housing cooperatives] can provide a solution for those who live in at-risk areas, or simply do not have housing, which is a universal right," he said. He says that on separate days two people came to them claiming to be owners of the property but without presenting documents.
Water for the camp is provided by a neighbor who made the artesian well of her residence available. The bathrooms are improvised and electricity is set up through informal connections. Later this week, William says the occupation will be divided into groups, with collective kitchens for each of them.
Camp is set on fire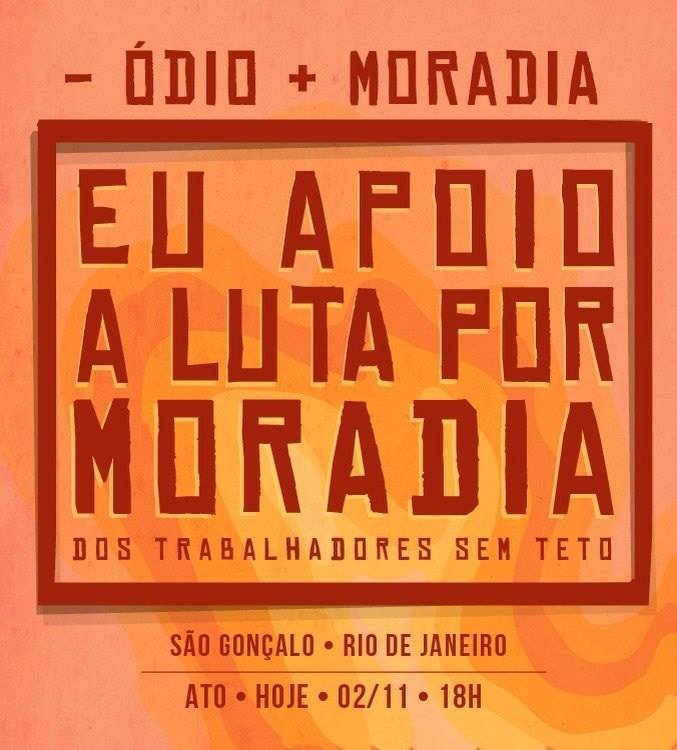 While they built precarious shelter, with bamboo and plastic sheeting, on Sunday November 2, occupiers had an unpleasant surprise: a fire engulfed a part of the camp during the night.
"It was arson, to intimidate us. But we will not leave until the situation is resolved," said Felipe Brito.
After the episode, the campaign, "Less Hate, More Housing" was launched on social media sites. Parliamentarians, artists and social activists embraced the idea and posted pictures supporting the occupation, which has been christened Zumbi dos Palmares.
In a statement, the mayor of São Gonçalo has said the area is not public land and has requested a letter for the landowner to present at the notary's office. The statement also says that discussions are being held as to the best way to solve the problem. According to the municipal government, the housing shortage in the city is 20,000 out of a population of 1.2 million.
Hope and work
Thais Rosa da Silva, 19, was cutting bamboo around noon, under a scorching sun, to separate her tent from her neighbors'. She arrived at the camp on Saturday November 1, coming from Magé, in Baixada Fluminense.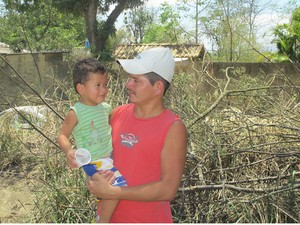 "I was paying a rent of R$350 ($135), and my boyfriend let me know what was happening. So I came here with him. I want a house of my own. This here is my best option. I think we'll stay here for a long time," she says.
Ariane Méri, 22, who lived in the Cano Furado favela next to the occupation, said he never knew of any public use of the area. "This here was used to dismantle cars, for homicides, only bad things. A cousin of mine was raped after being brought to this area about two weeks ago. It was terrible here," he says. "Now it's safe to walk around."
Almost at the edge of the camp lives Bruno Pereira, 32, and his two-year-old son. Bruno's wife, unemployed since June after working at the Rio de Janeiro Petrochemical Complex (Comperj), now works at a gas station on Avenida Amaral Peixoto, near the site.
"I was fired along with 600 employees and was living in my mom's backyard in Cano Furado. I decided to come after I talked with my wife. It's a chance to have something of my own, right?" he said, with his son in arms.