Encrespando, an event celebrating Black Awareness Month, drew in large crowds last Friday November 28 in Engenho Novo, a community in Rio de Janeiro's North Zone. The event, held by Meninas Black Power (Black Power Girls – MBP), an organization that fights racism in Brazil, promoted the use of natural hair as a symbol of black pride.
"The point of [the event] is the empowerment of black children, women, and men, of black people," said Jessica Liris, a member of MBP.
The event was held in a small auditorium in the school Colégio e Projeto AIACOM. A display of black toy dolls lined up against the wall welcomed attendees at the entrance. The dolls were part of the exhibition, "Black Doll is Identity" (Boneco Pret@ é Identidade), which stressed the significance of children seeing themselves represented early on through dolls. "It's fundamental in the building of the individual," the exhibit emphasized.
Inside the auditorium there were about ten vendor stands selling artisan clothing, accessories, and hair products–all meant to highlight an Afro-Brazilian style.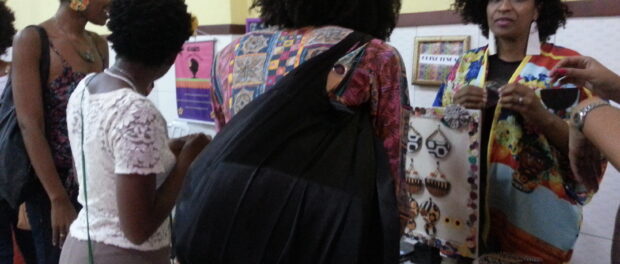 Angelica Souza de Santos, owner of the online beauty product store Quixotesca, presented handmade products at the event.
"It is the first time we've come to this event at the school. It is interesting to show our culture to youth and people who work at the school," she said. "Brazil is a country with a large African culture, and it's important to hold these events to bring people closer to it."
MBP is an organization comprised of ten women volunteers of all ages who use hair as a tool to battle racism in Brazil. It was founded in 2012, and since then, the group has toured several communities in the city and its peripheries to offer workshops and lectures especially aimed at children and young students. According to Liris, the group strives to arm black youth with affirmative information and examples concerning black culture. The goal now is to expand beyond Rio de Janeiro. There is currently a smaller chapter of the group in Espírito Santo state, but most of their activity is online, she explained.
With no official sponsors, Friday's celebration was made possible by a partnership with Colégio e Projeto AIACOM, which provided the venue. It included performances by students, and the school also catered the event. The event was the third successful edition of Encrespando, Liris said.
"There are a lot of black women keeping their natural hair, yet we don't have the space to sit and chat about it, we don't have the space to sit and think," she said. "So I think that is why a lot of people [come to these events]."
Carla Arlindo, college student at Rio's Federal University UFRJ, attended the Encrespando event, she said, because of its welcoming and accepting environment.
"When we walk down the street like this, sometimes we get strange stares. People look at you as if you were a mutant," she said. "These events make you feel welcome… we are all together, it's a black warmth, a human warmth, it's incredible."
As part of the event's program, the group offered a human rights workshop. Maria Fernanda Batista, a lawyer and MBP member, explained how to report cases of racism in Brazil.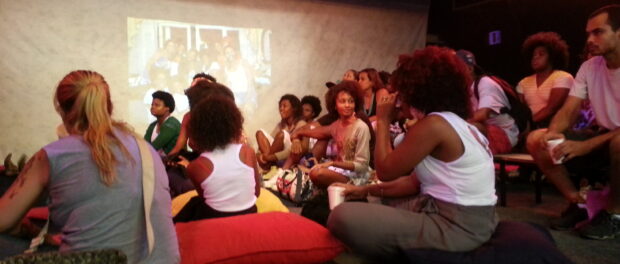 Élida Aquino, MBP founder, moderated the workshop and Q&A. She urged attendees to report any cases of discrimination reminding them it is their legal right to combat racism and show that such behavior is not appropriate.
"When will this end?" she asked. "Why do our features have to be synonymous with suspicious?'"
The hair movement
"The culture of consuming fashion is a reality for communities in the periphery. Because of their socioeconomic situations, the youth in these communities are strongly influenced by media to get, have, and become." – Mattos (2013)
For years, the media has established an image of beauty that idolizes straight hair, Aline Silva writes in Blogueiras Negras. This hair movement "[says no] to centuries of an imposition of beauty standards that do not belong to us, that mutilate us, that kill us, that deny us our rights."
Arlindo, for example, chooses to wear her hair naturally because it is a form of self-worth.
"You have to value where you come from, not what was imposed on you," she said. "It's important to value these events because with them you are giving value to who you are,  you are affirming that you value your beauty."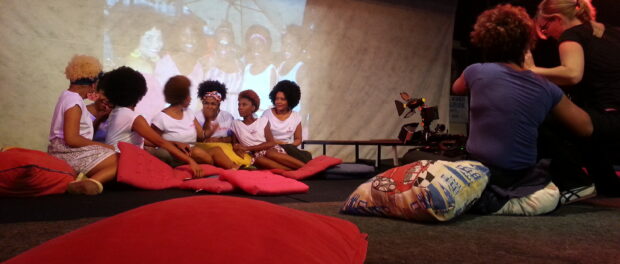 To this natural hair movement, Silva writes, the media has responded declaring it a fashion, something that will surely pass. However, the movement is a choice, a rebellion, a political statement and self-affirmation, she counters.
Vicio Cacheado: Estéticas Afro Diásporicas, a study conducted by Ivanilde Guedes de Mattos and Aline Silva earlier this year, analyzes the movement "as a phenomenon of African Diaspora." The researchers found that in Brazil, there has recently been a shift away from hair straightening among black women. There has been an increase in black women seeking advice online–especially on social media–on ways to return to a more natural look. In fact, there are numerous YouTube channels, blogs and Facebook pages dedicated to beauty tips for Afro-Brazilians.  The market for curling hair products also shows signs of growth, the study states.
Natural hair as a political statement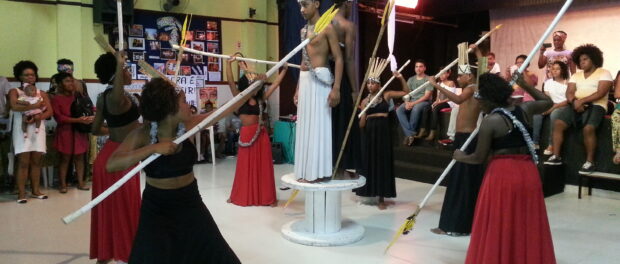 "During the 1960s black people who actively worked to critique, challenge, and change white racism pointed to the way in which black people's obsession with straight hair reflected a colonized mentality. It was at this time that the natural hairdo, the 'afro,' became fashionable as a sign of cultural resistance to racist oppression and as a celebration of blackness. Naturals were equated with political militancy." – bell hooks (1989)
Much like the 1960s American hair campaign hooks describes, in Brazil the hair movement has become a revolutionary statement against racism.
Organizations such as Encrespa Geral, Vicio Cacheado and Meninas Black Power are among those leading this campaign. Encrespa Geral, for example, has a large virtual community and several chapters around the world including in the US and Europe.
Silva of the popular Blogueiras Negras site points out black women in Brazil want the revolution that hooks explains died down in the US after the Civil Rights Movement. "Because your hair speaks for you," Silva writes. "And it is clearly saying that we CHOOSE to face racism head on."