Change in BRT TransOlímpica Route Announced in Vila União de Curicica: Good News or Trojan Horse?
Hundreds of residents from Vila União de Curicica filled the local Parque União de Curicica samba school on the night of Monday December 22 to learn of the proposed change to the TransOlimpica Bus Rapid Transit line route. The West Zone neighborhood stands about 1km from the future Olympic site and was being threatened with one of the largest evictions yet announced for the 2016 Olympics.
Rumors of the new route had been circulating through the neighborhood over the past week but nothing official had been announced yet. The crowd was addressed by State Senator-elect Tiago Mohamed, Deputy Mayor Alex Costa, Congressman-elect Pedro Paulo Carvalho and a coordinator of the BRT project, Eduardo Fagundes, from the Municipal Works Secretariat. The Olympic logos featured prominently in the presentation, accompanied by songs by Coldplay.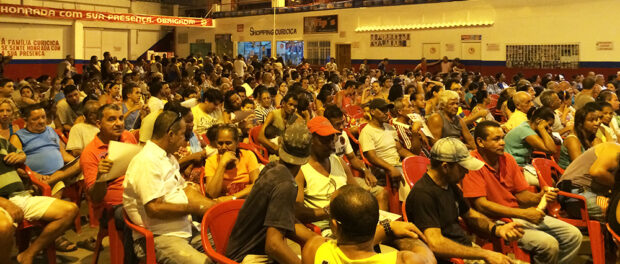 The new plan, unveiled via Powerpoint presentation, cuts through the favela and then runs along its northern edge. Under the previous plan, 881 families were to be removed from their homes, whereas the new plan only necessitates 191 removals within the community with an additional 50 'formal' properties nearby, and promises upgrading and improving public works in the community. The new plan was met with relief by residents hoping to remain in their homes, but many of those who had accepted relocation to public housing units in Colônia Juliano Moreira through the federal housing program Minha Casa Minha Vida (MCMV) were extremely upset as authorities implied no longer being in the path of the road project would be used to disqualify them for a unit.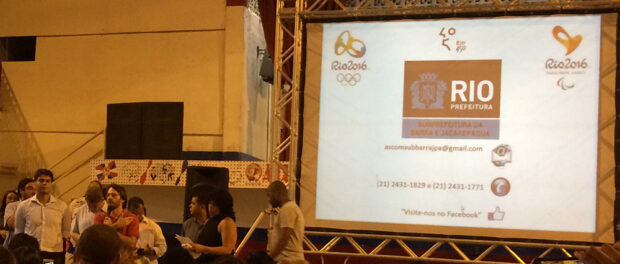 The announcement made no mention of the demonstrations and mobilization of those fighting to stay in Vila União but was certainly understood as an achievement by the group, which will now focus on holding the City government to their word regarding their upgrading promises.
"We disturbed the government and now the City is responding, but the mobilization will continue, stronger every day," said Robson da Silva Soares, a member of the resistance.
The announcement pit people who wanted federal housing against those who wanted to stay. Each rallied behind different residents who had a chance at the microphone. Some questioned whether this was the actual motivation of the authorities: to cause disruption that would lead to community infighting which would then facilitate removals. Unfortunately this 'divide and conquer' strategy is an all too familiar one, and also worked against the fight to stay in nearby Vila Autódromo.
Adding to the complexity, a sub-group of those wishing to stay are those who'd prefer fair compensation for their homes instead of an apartment. These are people who have invested large amounts of time, money and labor into their homes. Pedro Paulo also acknowledged that offers to date have been very low and that the Deputy Mayor's office will continue to meet with these people on an individual basis.
Before the project diagrams were unveiled each official present took time to address the community. An about-turn on previous blaming of residents, Tiago Mohamed explained the reason for the previous shift in offer from public housing to a social rent allowance was because this public housing financing was now to be handled through Banco do Brasil rather than Caixa Econômica and required much more paperwork. Mohamed and Paulo both stated this new plan is more costly for the city, adding an additional R$100 million to the project's total outlay, also claiming they have constantly been seeking alternatives to relocate as few residents as possible, in what sounded like an election speech.
Pedro Paulo, whom Mayor Eduardo Paes recently indicated as a successor, did  most of the speaking. He argued that with previous projects, modifications were easier because the investment was entirely public, but that because the BRT TransOlímpica is a Public-Private Partnership, with 30% of the financing being private, the modification process was more difficult. Though briefly, Paulo indicated that the community will now receive land titling, urbanization and upgrading projects–which had been originally promised in 2012 under the City's defunct Morar Carioca program. Should his word be kept, this level of certainty will allow residents who have stopped improving their homes for fear of eviction to resume projects and construction, and vital improvements will be made that allow residents to stay and flourish.
Paulo finished his speech by framing the change in the plan as a huge favor the City is doing for Vila União, joking that it was an early Christmas present they had brought to the community.