For the third time since its inception in 2012, BoreArt, a group of young residents in the Borel favela in Tijuca, North Zone of Rio, launched a modern art show in their community. The 3rd Exhibition of Modern Art in Borel opened on December 6 and is the second in partnership with Rio's Museum of Modern Art. The exhibition will run until February and features works from famed artists Gabriela Gusmão and Alfonso Tostes e Cabelo, who were selected by MAM curator Luiz Camillo Osorio.
Four community residents are displaying the art on the walls of their own homes and will open their doors every Saturday to anyone who wishes to enjoy the exhibition.
Borel resident Luciane Brito Galdino has collaborated with BoreArt since the beginning of the project. Now, two photographs by artist Gusmão are hanging on her living room walls. Brito Galdino is responsible for housing the art and presenting it to visitors.
"What she [Gusmão] said, I will write down and memorize," she said. "When people come, I'll know how to explain the work's meaning."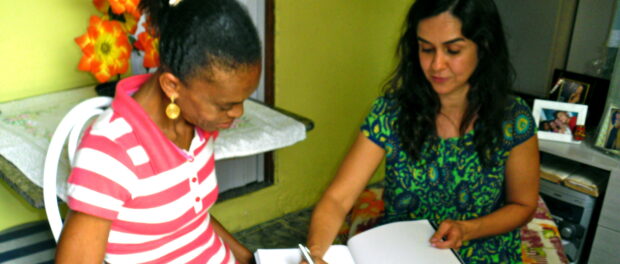 Brito Galdino said that when she was recruited by BoreArt, she was excited about a project that would bring something positive to the community that has suffered through so much violence and oppression. Her son, who lives in a house next to hers, is also taking part.
"I'm teaching my son to have that vision as well, it's very good," she said.
Gusmão, who attended the launch, explained her photographs are part of an exhibition called 'Metaphormoses,' which she recently presented in Berlin. Borel is the first location in Brazil to display her new work.
It is Gusmão's first time collaborating with BoreArt, and she said taking part in such a project has significant meaning.
"This project has something very special because art is not confined to institutions like museums or galleries," she said. "We are bringing art to unconventional spaces which are the houses of people here at Morro do Borel. On the other hand what we have is art arriving at the eternal place of art that is life."
The launch also featured some graffiti artists who decorated Rua Nossa Senhora de Fatima, a street by the soon-to-be renovated staircase.
Graffiti artist BLOPA recently began collaborating with BoreArt. He gives workshops and works with Borel youth who are interested in art and design. Graffiti, he said, saved his life, and he hopes through this project his art can have just as great an influence on people in the community.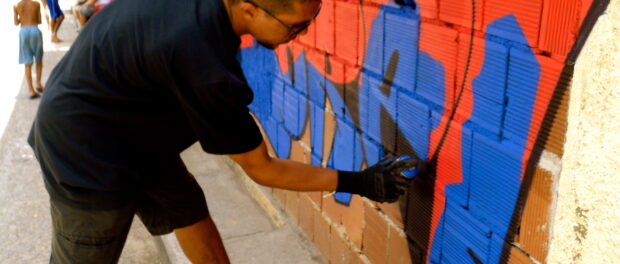 "Because graffiti took a while to arrive in my life, I feel very fulfilled when I get to pass on my knowledge to children," he said. "For people in Rio de Janeiro, crime is a popular path, often not because they want to, but because they need to. Graffiti is a different path."
The event also launched the remodelling of the Escadaria do Borel project, which will transform a popular local staircase into an urban artwork. Members of BoreArt plan to decorate the staircase in the style of Rio's famous Escadaria Selarón. BoreArt member Isabela Santos said the staircase is a work in progress. The group will continue to accept donations of tiles and will be placing them until the steps are completely covered.
For more information and to donate tiles, contact Isabela Santos on +55-21-98711- 8006, email galeria.boreart@gmail.com, or contact the group via Facebook. Tiles may also be mailed to:
BoreArt a/c Agência de Redes para Juventude | Rua Teotônio Regadas, 26 – sala 603 | Santa Teresa, RJ | CEP 20021-360 | Rio de Janeiro, RJ | Brazil