Hundreds of families were evicted from the Favela Nova Tuffy occupation in Complexo do Alemão on Tuesday December 16. Over 2,000 people had been living in the abandoned factory owned by businessman Tuffy Habib for seven months because they could no longer afford to pay rent after the prices went up due to rising rent costs in the region.
The Military Police arrived at the occupied building at 6am and started the process of vacating people from the building at 8am. The occupiers filed out of the building peacefully, boarding six buses to be taken to Olaria Atlético Club to be registered by the Municipal Housing Secretariat (SMH) to either receive social rent allowance or be put on the Minha Casa Minha Vida (MCMV) housing program wait list.
O Cidadão journalist Gizele Martins reported: "Even without police brutality, the large number of police was frightening. It's questionable how housing issues in the favela are treated as a police matter."
Martins also spoke to an occupier who told her: "After the Growth Acceleration Program (PAC) arrived, the rent increased a lot. It's around R$800 [USD$295] for a small house. I earn minimum wage, how am I going to pay? I can't!"
Community media outlets of Complexo do Alemão covered the eviction throughout the day, reporting that many residents' lives were disrupted because the police blocked Avenida Itaoca for most of the day. No buses, moto-taxis or cars were allowed through.
Coletivo Papo Reto reported that once the occupiers arrived at Olaria Atlético Club, many of them were not allowed to go in to register.
They reported: "And the saga of Tuffy residents continues. Now they are being stopped from entering Olaria Atlético Club where they were taken to be registered by the Municipal Housing Secretariat. The mood is tense. The shock battalion is present."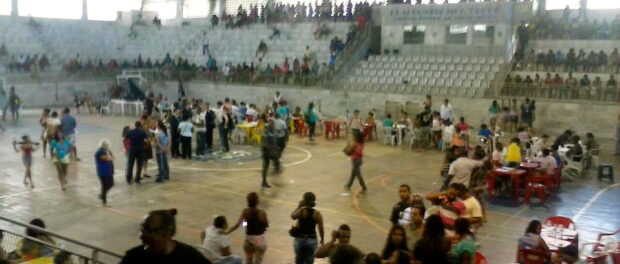 After occupiers managed to register, they were told to go to a shelter nearby called Center of Rehabilitation Rio Acolhedor (Centro de Recuperação Rio Acolhedor) in Paciência. RioOnWatch spoke to occupier Marlene over the phone, who said most people were turned away because it's a shelter for drug addicts: "The police dropped us off at the end of a road and told us to walk straight to the shelter. When we got there, they didn't even know we were coming and we couldn't all stay because it's a shelter for addicts. They were nice and gave us food but mothers with small children couldn't stay."
Marlene had been in the occupation with two of her children and is now staying with her brother until a solution is offered.
"Because of the cable car, the rent is too expensive now and I can't pay," she explains. She also said she couldn't have stayed in the shelter in Paciência because she works in a hospital near the occupation and expressed concern for people who do not have relatives to house them after the eviction.
RioOnWatch contacted the Rio Acolhedor shelter and was told they were unable to house most of the families because the shelter is for adults, and children are not allowed to stay according to the law. They also clarified that around 36 families were brought to them but were told to go to the Maria Teresa family shelter in Jacarepaguá, West Zone.
Coletivo Papo Reto later reported that after the eviction, the housing and shops built by Nova Tuffy residents were destroyed (see photos).
"After building commerce, houses and lives in Tuffy, residents watch everything be destroyed in front of their eyes," they reported.