Trucks and construction workers pass by the residents of Vila Autódromo. The 2016 Olympics construction site next door is growing, with huge buildings taking shape behind the fence adjacent to the community. Many of the empty lots left behind by demolished homes are now being used as parking lots. A large hotel is quickly appearing behind what was once a row of trees planted by residents decades ago, and the constant sounds of the construction site and the demolition of houses overwhelms the atmosphere in the community.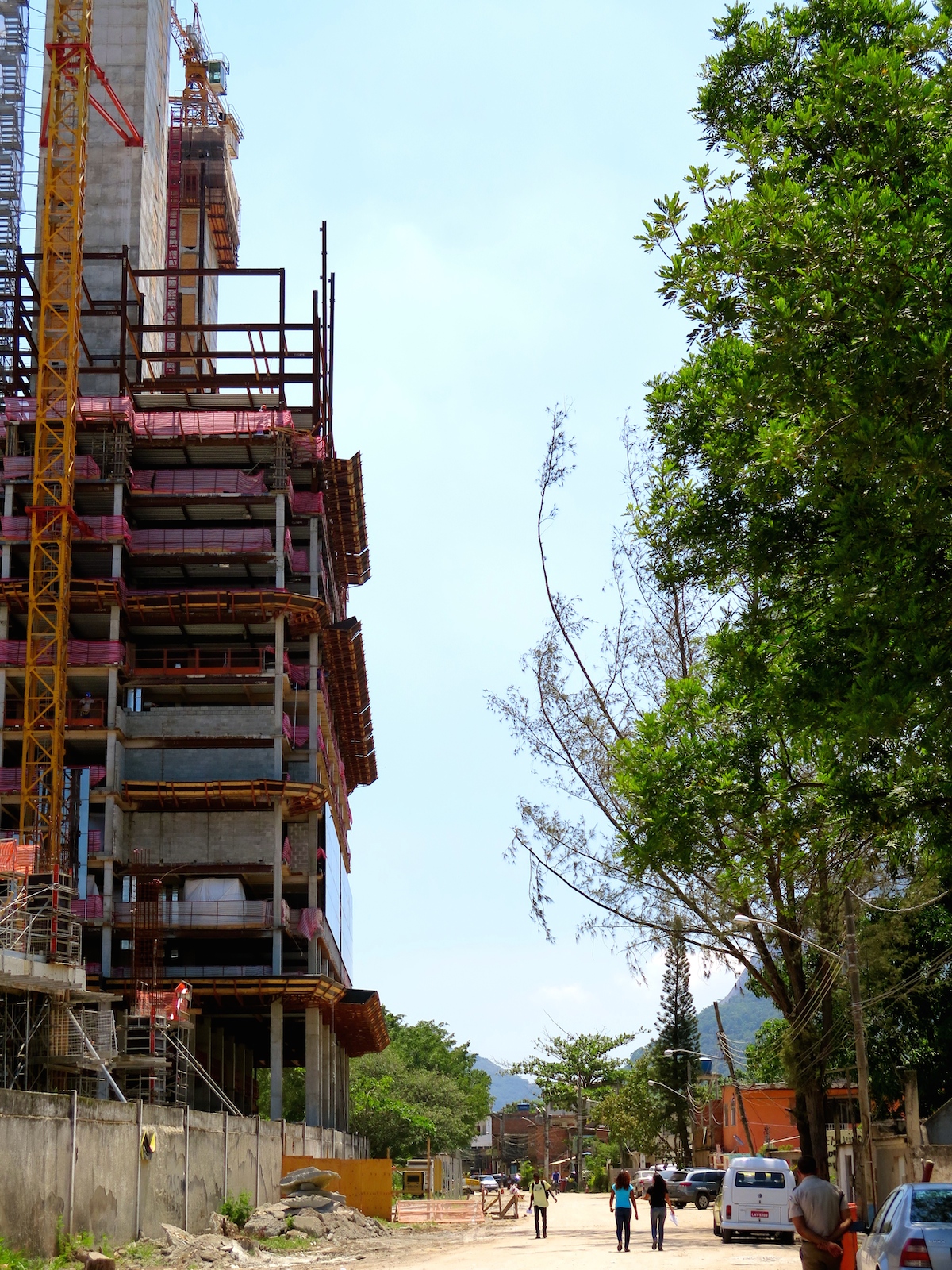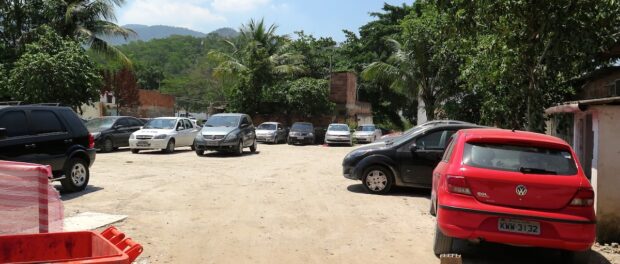 Around half of the original residents have now accepted deals offered by the government and left the community. The longer residents stay, the better the deals they are offered. But these meetings are always held one-on-one and in private, so residents aren't aware of what has been offered or accepted by neighbors. Maria da Penha, one of dozens of families committed to staying regardless of the offer, says that sums up to R$2.3 to R$2.5 million (US$870.000 to US$950.000) have been offered to some of the families for their houses–the first market-rate compensations in favela history. Each house is a different case, Maria says, and the method to make residents leave is to approach them individually. She expects half of the residents still remaining will leave eventually, explaining that many of them are waiting to be offered the market rates others have received before they make a deal. The fact market-rate compensations are being offered is of incredible historic significance and means other favelas facing similar pressures will have this precedent to ground their struggle for fair compensation. Yet Maria says no amount of money can make her leave.
"I don't want money, I don't want anything, I want to stay (…) I am happy [here], and money can't buy happiness," she said.
Maria has lived in Vila Autódromo for 22 years. She explains that her history is in that community: her daughter was born there and she built her house with her own two hands. "I built my house to live in, not to sell it or to move from it," she said. She feels so much love for the community and speaks of the calmness and peacefulness she feels here.
Residents know they have a right to stay and thanks to the efforts of the Neighborhood Association to promote their rights through legal, media and protest channels, are not being forced to leave until they agree to compensation offers. Due to the visibility generated in this community, and their legal claims, in 2013 Mayor Eduardo Paes publicly pledged that no one would leave the community without their consent and that those who stayed would receive public works. In order to convince people to leave, then, offers began climbing, from an apartment in a closely located public housing development with a swimming pool, to multiple apartments for one family, to growing compensation, and now full market-rate compensations.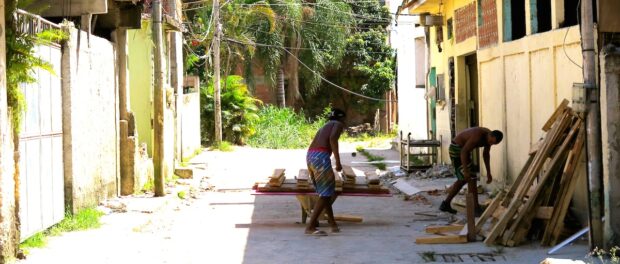 Even so, residents feel pressured, Maria explains. They are visited in their homes by authorities who offer them money to leave while the sight, noise and pollution associated with the growing construction next to the community add pressure for them to take the offers, even among those who would vastly prefer to stay.
Pressure from the authorities comes at a primal level: the community is suffering problems with running water as the City cuts off services in order to make staying unbearable, and then there are those living with constant dust from demolished houses. One woman spoke of severe respiratory problems that have emerged. At the same time, the Municipal Guard is stationed at the community's entrance prohibiting residents from bringing construction materials in. And some on the second floor who have had downstairs neighbors take settlements, now live on top of smashed walls and debris. They also suffer with the social loss of the emptiness left behind by those who left.
But the strength and organization of resistance among Vila Autódromo residents continues to be inspirational, especially for other communities facing eviction. Symbolizing hope, a playful form of civil disobedience emerges as a group of residents hang out in what used to be somebody's house–now, it's an empty lot where they set up a plastic pool for kids to play. In doing so, residents rewrite the fate of a community partially erased by bulldozers.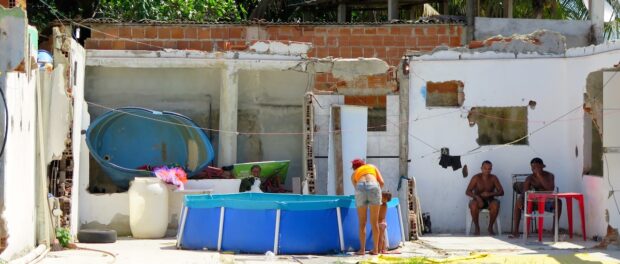 The future remains uncertain for the remaining residents but those who stay have the law on their side and will not give up their homes easily. As she explains, Maria "will not give up her 22 year history for 15 days of Olympic Games". She will not leave so that her community can become a luxury development post-Olympics, as is generally presumed to be the real reason for the authorities' commitment to evict the residents of Vila Autódromo. Maria stands on the roof terrace of her home, facing the beautiful lagoon and mountains surrounding the city. She looks out over the houses remaining and says: "There are still a lot of houses left, right?"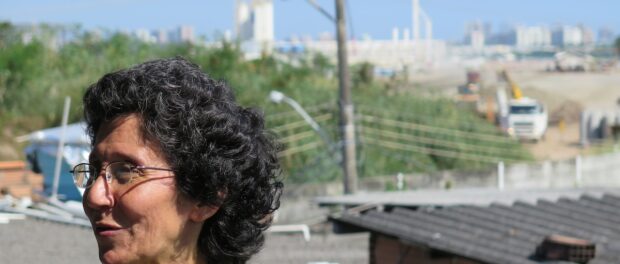 Don't miss the full album below, or click here to see on Flickr with captions: