Amnesty International Report Reveals Brazilian Human Rights Crisis
An Amnesty International report launched Wednesday February 25 revealed a worrying human rights crisis in Brazil. The Brazilian chapter of the report State of the World's Human Rights 2014/2015 raises concerns about police violence, torture, prison conditions, indigenous peoples' rights, LGBT rights, reproductive rights, fire arms market and impunity dating back from the dictatorship.
The yearly report was officially released at an event at Cândido Mendes University in central Rio, where the concerns raised were debated by Atila Roque, Executive Director of Amnesty International Brazil, Edson Diniz, Director of Redes de Desenvolvimento da Maré, and Luiz Eduardo Soares, public security expert, anthropologist, writer and professor.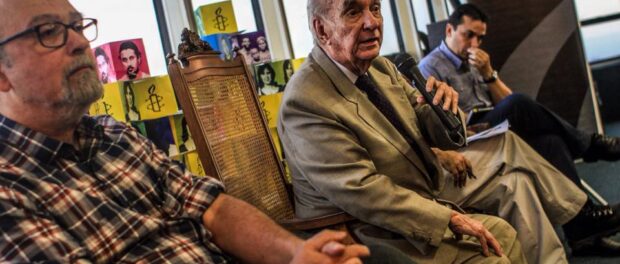 In a press release, Amnesty International warned: "The growing curve of homicides in the country, the high fatality in police operations especially in favelas and low income areas, the excessive use of force in policing protests before and during the World Cup, the rebellions in overcrowded prisons and incidents of torture show that public security in this country needs special attention from its authorities."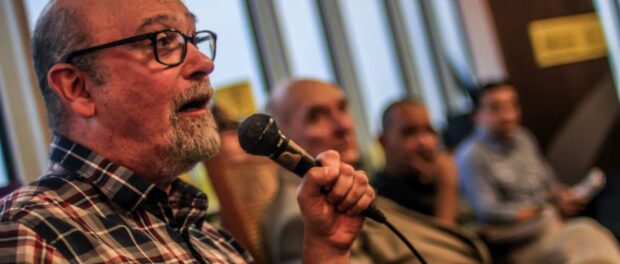 For Edson Diniz, director of Redes de Desenvolvimento da Maré, favelas and low income territories are usually seen as 'enemies' but this has to change. He said: "We need to de-normalize the logic of war. Complexo da Maré is not at war, it is not enemy territory that stands separate from the city. We cannot accept this kind of discourse, as if the favela were the enemy, and we can accept the shoot-outs. The top authorities justify violent actions as if this were the case. We need to react."
To former State Security coordinator, anthropologist, writer and professor Luiz Eduardo Soares, the real enemy is not the policeman but the antiquated practices that are taught in the police academy. He said: "The policemen in Rio de Janeiro are working in similar conditions to slavery. This sentence was written by a representative of the Public Ministry in Rio de Janeiro. How can we expect respect of human rights from them? We have today policemen fighting for de-militarization of the police. The policemen are not our enemies, but their practices are."
To Fransérgio Goulart from Fórum de Juventudes, to talk about human rights violations in Brazil is to talk about institutionalized racism. "I have to call attention to the fact that to discuss public security is to discuss racism in Brazil. We should talk about symbolic violations too. Young people bring forward stories of violations we cannot see. One fundamental issue is that the favela reproduces what the society says. Therefore, the democratization of communication is necessary," he concluded.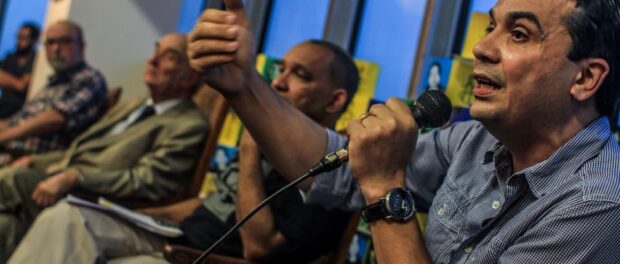 Recommendations
Amnesty International has compiled a list of recommendations for Brazilian authorities to fix the human rights crisis. Among them is the de-militarization of the police, a national plan to reduce homicide rates and the implementation of a human rights defenders program that will protect activist groups across the country.
However, during the debate, Julita Lemgruber, sociologist and coordinator of the Center for Study of Security and Citizenship of Universidade Cândido Mendes addressed the 'war on drugs' policies as main sources of state violence.
"We are talking about violence, public security, human rights and we haven't mentioned drugs," she said. "It's as if public security in Rio de Janeiro had nothing to do with drugs. What is behind the deaths in Maré? What is behind police violence and public security that loses its way? What is behind 56,000 homicides in Brazil? We need to change our drug policies. This insane war on drugs kills more than it saves. It's an illusion to think we will end drug use."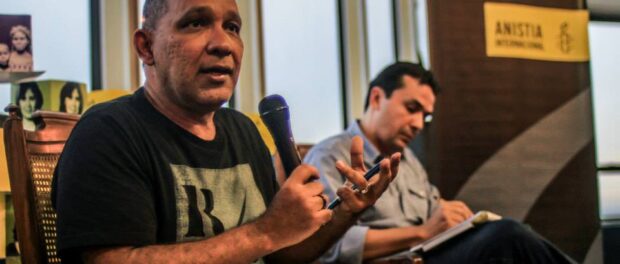 Amnesty International director Atila Roque told the audience that people cannot be silent. "Our democracy is made on top of too much silence. We can't let the silence settle. We need to talk about human rights."
The full report can be read here and a video about violence in Brazil produced by Amnesty International can be seen below (in Portuguese):